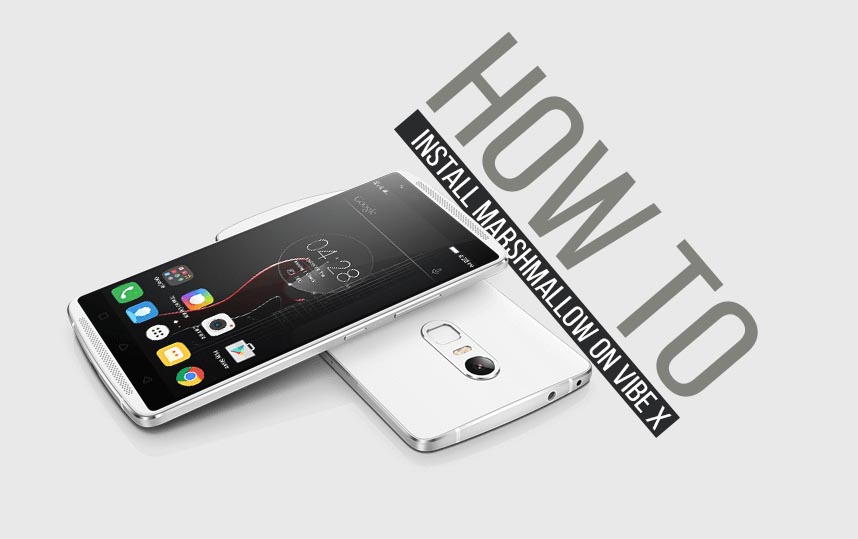 This guide is to Update Marshmallow for Lenovo Vibe X3 with X3a40. Lenovo rolled out the Marshmallow update for Lenovo Vibe X3. Right now it is available for X3a40 model variant update Marshmallow. The Lenovo Vibe X3 announced on December 15 and came Out of the box with Android 5.1 Lollipop. Now the device started to receive the new Marshmallow STOCK Firmware. The update is rolling out in a phase wise manner. If you still have not received the OTA, then you can follow the below guide to flash manually to STOCK Android 6.0 Marshmallow on Lenovo Vibe X3. Remember you won't get the OTA update if your device is rooted or Installed Custom ROM. But you can do it manually by following this guide. This Guide is to update Lenovo Vibe X3 to Android 6.0 Marshmallow manually. Now you can download the Official Stock Android 6.0 Marshmallow for Lenovo Vibe X3 smartphone. You can use it for daily. If you want to enjoy this Stock Marshmallow ROM on Lenovo Vibe X3 then you can follow the below steps to update Marshmallow for Lenovo Vibe X3 manually.
This Stock firmware for Lenovo Vibe X3 is based on Marshmallow. You can now update it manually to Stock Marshmallow ROM on your Lenovo Vibe X3 today. Download the Android 6.0 Marshmallow ROM for Elephone M3 and Update it using the QFIL.
What is in Android 6.0 Marshmallow ?
Android 6.0 Marshmallow was another codename for the new version of Android after Google's Android 5.0 Lollipop. It was unveiled on Google I/O 2015. This is the eighth major version of the Android operating system. This has a huge incremental and feature on this update. IT brings you a feature which saves a lot of battery on your phone called Doze mode. This feature will keep your phone idle while you don't use the phone. Marshmallow primarily focuses on improving the overall user experience of Lollipop, and introduced unique features like Now On Tap, new permissions architecture, a new power management system, Native Fingerprint support, and other internal changes.
This was posted by an XDA member OsFreakxx in XDA forum. Full Credits to him for this guide
PRE-REQUISITE :
Download the Latest Stock Version: DOWNLOAD
Download the QFIL TOOL and DRIVERS : Download and Extract it
Charge your phone to at least 70%
Back up your device just in case if you need it later
You need either Laptop or PC

This is for Lenovo Vibe X3 with X3a40
If This Bricks Your Phone I Am Not Responsible Although It Is Very Safe But If You Do Anything Stupid It May Brick The Phone If This Happens Repeat All The Steps Again Without Messing Up It Should Fix The Phone.
How To Update Official Marshmallow for Lenovo Vibe X3 with X3a40 Variant
First of all, Download the Drivers+QFIL for your appropriate Windows PC. (Download QFil Windows 10 for Windows 10 and Windows 7 for Win 7)
Extract the Zip file Drivers+QFIL to new folder.
Please remove any other smartphone drivers if you have installed before (PC Suite/drivers as they may cause conflicts. Microsoft Emergency Driver (installed for restoring Lumia devices) is known to conflict, please uninstall it.)
Now go to the extracted Drivers+QFIL folder and run the appropriate 'INSTALL_DRIVERS_&_QFIL.bat' and follow the instructions.
As we said, take a full back up of your smartphone before flashing or doing any mods. (Very Important) – Backup Songs, Videos, SMS, Contact, files etc because this will erase your internal memory with QFIL flash method.
After that, Now run the QFIL Program. (If Unable To Find It Search It In Start Menu You Will Find It There)

Now select and Check-box the Flat build option just like show in the screen shot.
Now in QFil Application, Click on 'Browse', and select the file named 'prog_emmc_firehose_8992.mbn' from the 'X3a40_S217_160623_ROW_QFIL' folder which you extracted.
Tap on 'Load XML' and select the 'rawprogram0.xml' and again 'patch0.xml'.
Now you will see two files in the RAWPROGRAM
Once you have loaded, Now connect your phone to PC using USB Cable.
You need to Boot your device to EDL mode by Power off the device, Now connect USB Cable and quickly pressing and holding power button for ~1 second. QFIL's 'No port available' text should change to 'Qualcomm HS-USB QDLoader 9008 (COMXX)'. The display will stay off so, don't worry about it.
Now put your device on any surface which is stable enough. Don't hold the device in your hand.
Now in your computer, tap the Download button on QFIL. (If you are late, the device will power on normally and you need to go back to Step 11 and repeat the same.)
Wait for the flash to complete and 'Download Succeeded' message appear at the bottom.
Once it is done, Unplug your USB Cable and press and hold the power button for 10 seconds to boot the device (If display doesn't turn on press and hold the power button again for longer time, it will boot.).
Once you have finished the initial set up, open dialer, dial '####682#', choose your region

(IN – For India)

and confirm.

[Don't Skip This Step Its Important]

You successfully Updated Official Marshmallow for Lenovo Vibe X3
NOTE – IF Having Trouble In Installing The Drivers Or Detecting The Phone In QFIL Google On How To Disable Signature Enforcement In Windows 8 or 8.1 or 10 And After Doing That Again Install The Drivers.