Pokémon Sword and Shield was released in November 2019, and are role-playing games made for the Nintendo Switch. It was developed by Game Freak and published by Nintendo and The Pokémon Company. The game has you start as a young Pokémon trainer whose goal is to become the Champion.
The journey takes place in the Galar region, where you will have to take down Leon, the Pokémon League Champion. There is plenty of new Pokémon introduced in the game, including Vanilluxe, which is an Ice-type. This post will tell you where to find Vanilluxe in Pokémon Sword and Shield and its abilities. Let's get started!
Vanilluxe: Location in Pokémon Sword and Shield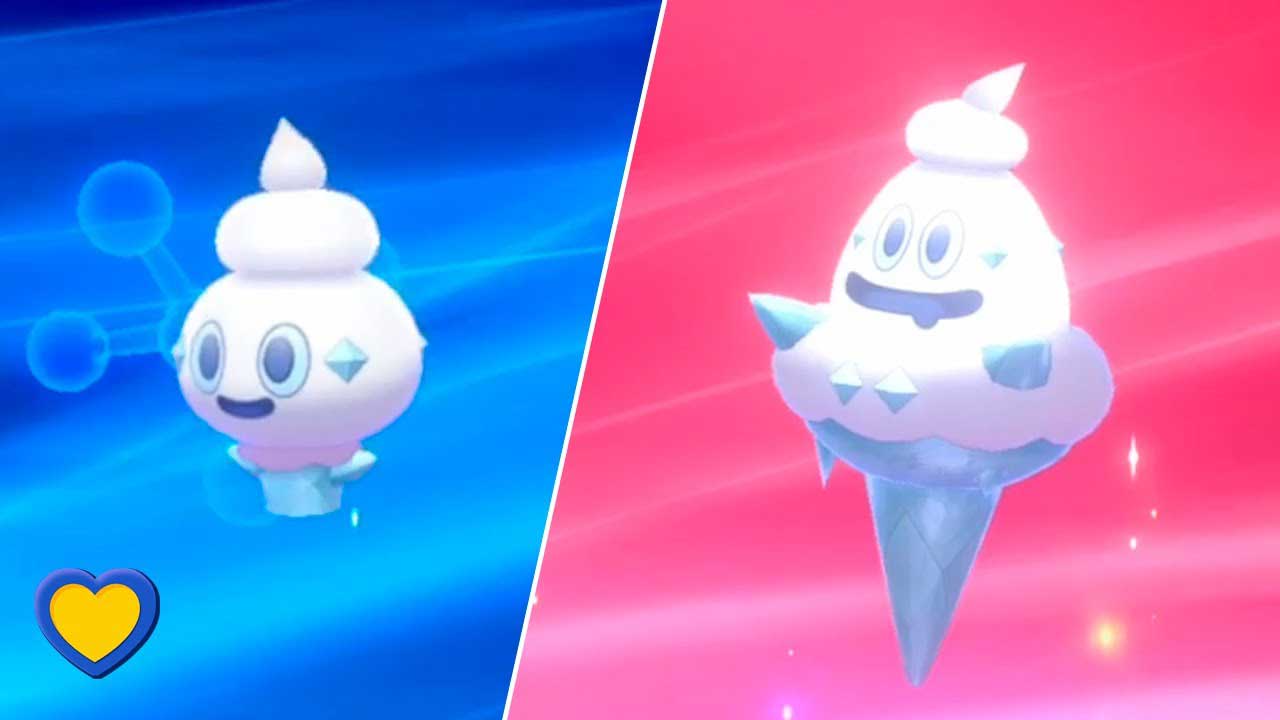 Vanilluxe is the final evolution of Vanillite and is a two-headed ice Pokémon that looks like double-scoop ice cream. Being an ice-type Pokémon, it requires plenty of water. It can store the water in its body and use it to attack opponents with blizzards or snow clouds. Although Vanilluxe always grins, it can be very moody and unstable. It is weak against Pokémon that belong to the Fighting, Rock, Steel, or Fire-type.
Vanillite can be capture at several locations, but it only spawns in cold or snowy weather. After capturing Vanillite, you can evolve the Pokémon to Vanillish at Level 35. The final evolution to Vanilluxe takes place when you're at Level 47. There are several locations in the game where this Pokémon can spawn. However, the weather has to be cold and snowy to increase your chances of spotting a Vanillite. Below are some of the locations where you may come across this Pokémon.
Vanillite wanders around Bridge Field during snowy and cold weather. There's a 50 percent chance of bumping into one.
You may be able to find one in East Lake Axewell in snowy weather or snowstorm.
The Pokémon also spawns in West Lake Axewell during snowstorms.
It is also found in locations such as Giant's Cap – Area 2 and 3. There's also a fair chance of capturing one around Giant's Mirror. Once again, the weather conditions have to be favorable.
Lake of Outrage is a good location to spot Vanillite during snow and snowstorm.
There's also around 10 percent chance of finding this Pokémon in Route 10 in all weather conditions.
The Motostoke Riverbank area is also a good area to look for Vanillite during snowy weather and snowstorms.
Both North Lake Miloch and South Lake Miloch are places where you may find this Pokémon in snow or snowstorm.
Those were the best locations in Pokémon Sword and Shield to find Vanillite and then evolve it into Vanilluxe. It is also possible that you will capture a high-level Vanillite, which can then evolve immediately.
Vanilluxe: Abilities in Pokémon Sword and Shield
Now, let's take a look at the abilities and other stats of Vanilluxe. As mentioned in the beginning, this Pokémon is an Ice-type and is weak against Rock, Steel, Fighting, and Fire-type Pokémon. The maximum IV stats for Vanilluxe are as follows;
HP – 75
Attack – 95
SP Attack – 110
Defense – 85
SP Defence – 95
Speed – 79
When Vanilluxe gets really angry, it can create blizzards that will damage and freeze anything in its way. Both friendly and enemy Pokémon will be affected by this blizzard. This Pokémon has three abilities, with two being normal, and one hidden.
Ice Body – When used, Vanilluxe will regain its HP during a hailstorm.
Snow Warning – It can summon a hailstorm when going into battle.
Weak Armor – This ability will lower Vanilluxe's defense, but raise its Speed.
And there you are. The location of Vanilluxe in Pokémon Sword and Shield, as well as its abilities. We hope this guide helped you figure out how to capture this Pokémon and learn more about it.
Also, check out our iPhone Tips and Tricks, PC tips and tricks, and Android Tips and Tricks if you've got queries for it or want help. Thank you!