Samsung is quite busy with the launch of the new Galaxy S20 series as well as its new foldable phone the Galaxy Z Flip. Both the devices will be unveiled at the Unpacked event on February 11, 2020. However, there are other things like the roll-out of the security and firmware updates for the compatible devices that have burdened the Korean OEM for the time being. Ever since the launch of Android 10 by Google, Samsung has pressed the gears on pushing out the updates. But the point to note is that there are quite a bunch of Samsung devices that are yet to get a stable update.
Among them is the Galaxy S9 series. In fact, in a recent development, Verizon will push the Android 10 (OneUI 2.0) beta update first before the rollout of the stable update. This also gives us some indications that the stable Android 10 update might not arrive as soon as we are expecting. A Verizon user asked the Samsung support about the Android 10 (OneUI 2.0) update for the Galaxy S9 to which, the Chat exec responded that the carrier is planning a beta update before the rollout of the stable update in March 2020.
You can check out the screenshot of the chat below: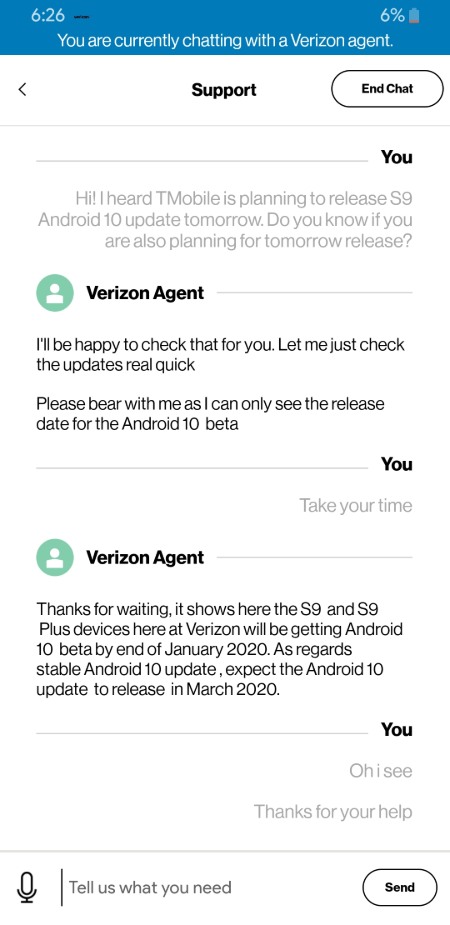 Besides, one point to note that the Galaxy S9 was served with the latest January 2020 security patchset which was based on Android 9 Pie. This hinted towards that the Android 10 update for the device is still a couple of months away. However, the Verizon OneUI 2.0 beta update will begin rolling out in the coming weeks which will be limited to select units. So, if you wish to get your hands on the Android 10 update on your Galaxy S9 then, keep checking regularly about any notice or notification on your device. We will keep you in the loop once we have more information in this regard.