Here in this article, we will share with you Verizon Moto G6 Software Update Tracker and Android Q Timeline. Verizon Moto G6 software update based on Android Pie has rolled out last month. However, the update received quite late but the users will be very happy to get the latest firmware update at least. The Motorola Moto G6 Pie OTA for Verizon carrier came with the firmware PDS29.118-14 version previously and brought the April 2019 security patch as well.
The OTA update was rolled out via batches and the update also brought improved system performance and updated system security. There is no current update released by the company or from the Verizon yet for the Moto G6 device. In March this year, Verizon has also released Android Oreo-based software update with the version of ODSS27.104-95-6 and it brought March 2019 Security Patch with system improvements.
While in the February month, Motorola has released January 2019 Android Security Patch level for the Verizon Moto G6 handset with the software version of ODSS27.104-95-2. It brought January 2019 patch and better battery backup and system performance as well.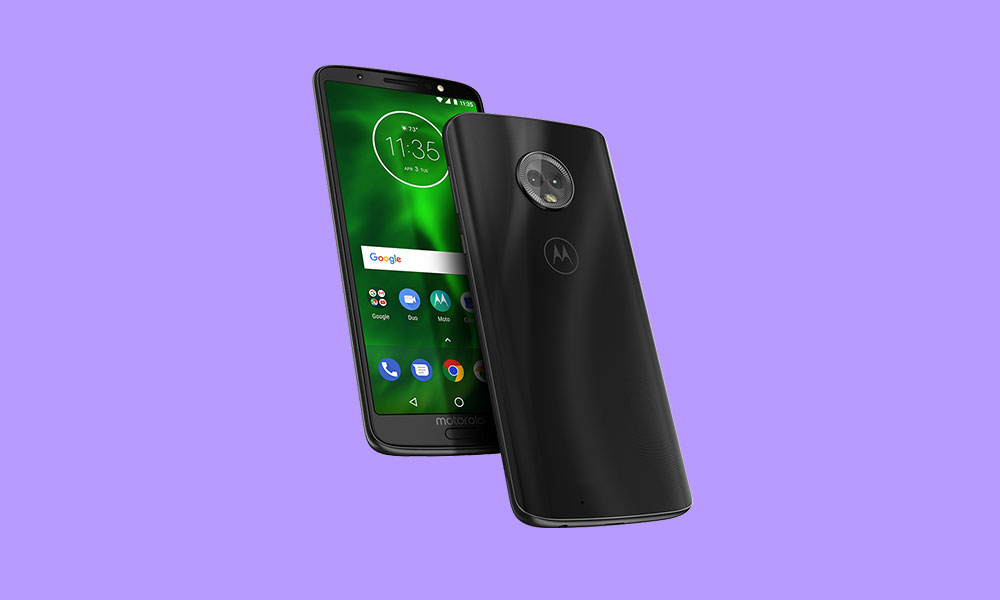 You May Also Like: List of Android 10 Q Supported Motorola Devices
Verizon Moto G6 Software Update Tracker
We have provided the most recent Verizon Moto G6 Software Update Tracker list below. The list will be updated with each and every latest firmware update as soon as possible. Check out the recent firmware update list.
Software Version
Changelog
PDS29.118-15-11-14

What's changing:

Includes changes to address some Call Filter app issues, like Caller ID info not being shown for missed calls, mobile number displayed twice for international calls, and number not displayed for incoming calls.

PDSS29.118-15-11-13

What's changing:

The current software update provides the most up to date Android security patches on your device

Android Security Patch Level: April 2020

PDSS29.118-15-11-2

October 2019 Security patch

PDS29.118-15-11

August 2019 Security patch

PDS29.118-14

Android 9.0 Pie
April 2019 Security Patch
Improved System Performance

ODSS27.104-95-6

March 2019 Security Patch
General Bug Fixes
System Improvements

ODSS27.104-95-2

January 2019 Security Patch
Improved Battery Back up and Performance
Verizon Moto G6 Android Q Timeline
Android Q (Android 10) is the latest Android version in Google's Android OS platform after the last year's successor Android 9.0 Pie version. The Android Q is already in its developer beta stage and will soon be official by September this year for some of the flagship-grade and Pixel devices. Then the rest of the smartphone OEMs will try to provide updates as early as possible with fewer bugs to their devices. Currently, Google Pixel and Essential Phone are getting top in the list followed by 15 other device brands.
Next, the Android One-powered devices will gonna receive the Android Q update by the end of this year or early 2020. Then the rest of the smartphone OEMs like Motorola, Lenovo, Xiaomi, Oppo, Vivo will start rolling out the update via batches globally to its eligible device models. However, these brands also provide faster updates to its flagship or most eligible devices when Google releases its new version as expected.
Moto G6 was launched back in June 2018 and came with entry-level budget category specifications. Though the handset looks quite sturdy and stunning too in terms of the built quality. The front-mounted fingerprint sensor Moto G6 offers good battery life and average camera quality. The Verizon Moto G6 has started receiving Android Pie update in last month which was quite late in terms of the expectations. So, we can also expect or assume that the Verizon Moto G6 may get Android Q update in mid-2020. However, there is no confirmation from the company yet. We have to wait for the official announcement.
If you're a Verizon Moto G6 user, enjoy the recently released Pie update on your device for now. Till then, stay tuned for more info.