In the recent years, Chinese OEMs have been marking their presence in the Android market quite vividly. We mostly see their device design inspiration coming from other reputed OEMs. Yet these new OEMs always try to stay on the track with other market competitors. They always maintain a good list of specifications while producing a budget smartphone. This results in a good response from the customers. Vivo is one such OEM that has been marking its identity in various regions with its latest smartphones. Vivo continues its stronghold as it will bring some new devices, Vivo X21, and its variants to the market soon.  The upcoming Vivo X21 specifications were recently spotted on Geekbench. We will discuss on that.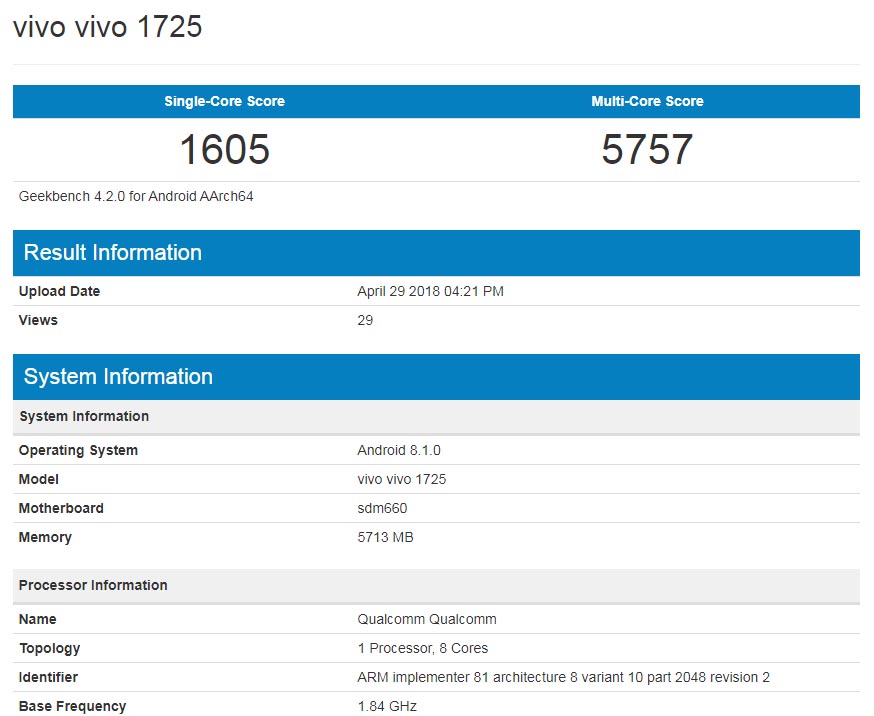 As you can see the model number that represents the upcoming device is 1725. The phone will get its power from 1.8 GHz Qualcomm Snapdragon 660 chipset. The device will sport 6GB of RAM while running on Android 8.1 Oreo out-of-the-box. the Vivo X21 will definitely have a variant X21 UD on the basis of internal storage. X21 will come in 64 GB and 128 GB, whereas X21 UD will exclusively drop with 128 GB storage only.
We expect both the variants will flaunt a 6.28-inch Super AMOLED Full HD display with a resolution of 2280 X 1080 pixels. the camera info is not adequately available but we know Vivo always maintain the phone's camera quite in a high range. So, we believe the phone will pack a dual 12 and a 5-megapixel camera in the rear with a single 12-megapixel camera on the front.
Vivo has its primary market in the Asian regions. so, as usual, we expect Vivo x21 and its variant X21 UD to appear over India, China, Malaysia, Taiwan etc. Speaking of which, this upcoming phone has received its certification in the countries above. So, this pretty much confirms about the Vivo X21/X21 UD market availability.
There is not much difference between Vivo X21 and X21 UD. The fingerprints scanner set-up, finish variant and internal storage are the prime factors. UD is the acronym for Under Display Fingerprint Scan. In X21 UD, the fingerprint scanner is on the front display whereas in X21 it is at the rear end.
So, this was the Vivo X21 Specifications a glance. those who are fans of the low budget yet fully packed latest smartphones, Vivo X21 and X21 UD is your game.