All the Vivo X30 Pro users should start rejoicing as the Vivo has started rolling out the Vivo X30 Pro Android 10 (Funtouch OS 10) beta update in China. We can expect that the update will soon start for other regions pretty soon. It's worth mentioning that Google is all set to release the Android 11 Public Beta in June this year and the Developer Preview 3 is already running. So, all the OEMs are trying to close the Android 10 update process within a timeline.
Although Vivo has joined the party quite late, it's better late than never and in terms of the major Android OS update, most of the users always prefer a stable version. If your phone is running on the latest version but has plenty of bugs or stability issues, there will be no point actually. So, it's expected that Vivo will deliver a stable one after completing the beta testing program.
To recall, the Android 10 update for the Vivo X30 halted previously due to the missing Samsung Drivers and Vivo has acknowledged that as well. Now, it seems that everything is back in track again and the beta testing program has finally started officially.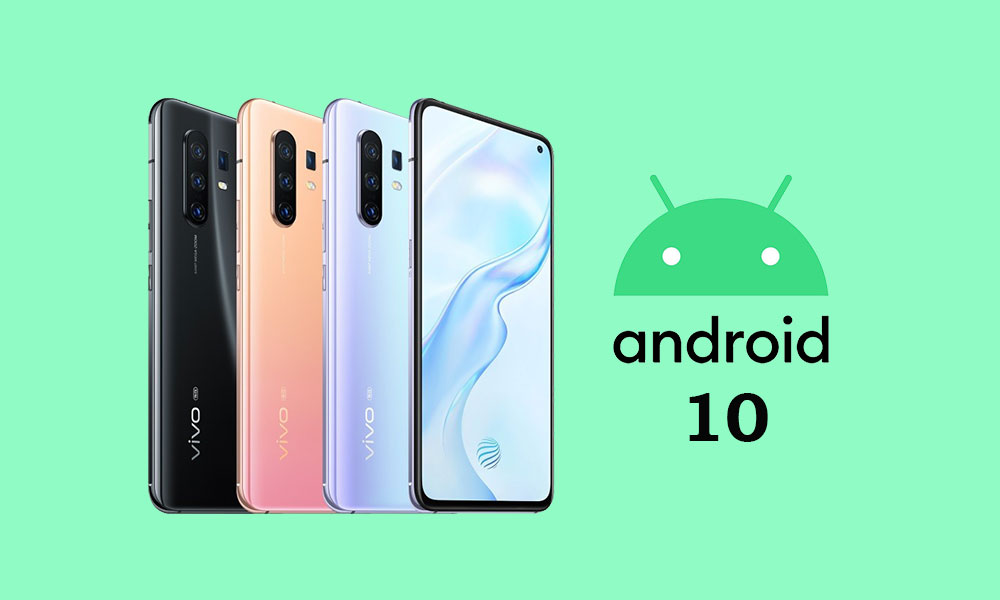 Vivo X30 Pro Android 10 (Funtouch OS 10) Beta
Update on July 28, 2020: It seems that Vivo has officially released the Funtouch OS 10 stable version for the Vivo X30 Pro unit based on Android 10. Although Vivo hasn't made any official announcement yet. As the company has started the early beta program almost a month ago, we're expecting that the latest firmware update is a stable one. It comes with the software version Vivo rev 6.15.0 and brings all the Android 10 goodies along with dedicated Funtouch OS 10 features.
Update on June 16, 2020: The Vivo X30 and X30 Pro users should start rejoicing as the company has released the Android 10 update based on Funtouch OS 10 Open Beta Recruitment program from June 15 and it will live till June 20, 2020. Once the recruitment process has been completed for the 5,000 people (beta recruitments), the company will start pushing the Open Beta update to the Vivo X30 Pro models via OTA in batches from June 22, 2020.
If in case, you're not sure which software version is applicable for the Vivo X30 Pro model, then don't worry. Vivo has mentioned that all the Vivo X30 Pro unit users should be running on the software versions v1.17.4, v1.18.9, v1.18.10 respectively. Meanwhile, more and more beta testers will be selected in the next batch of recruitment.
---
To be more specific, the Android 10 beta update for the Vivo X30 Pro based on Funtouch OS 10 is in beta mode right now and only available for Chinese variant users. According to the shared update notification screenshot, the OTA update comes with a build number PD1938B_A_1.17.15 that weighs around 3.59GB in size which is quite huge. The update is waving its way in a phased manner and may take some time as well.
Therefore, it's highly recommended to check for the OTA update or download the update using the Wi-Fi connection and make sure to charge your handset to 50% or more. Now, all the interested Vivo X30 Pro users can check the update log below as more or less these features will gonna arrive with stable version globally.
Update Changelog:
– The new version, but you have come to a more stable system, looking forward to your upgrade!
[System]
– The system version is upgraded to Funtouch 0OS 10 & Android 10, the bottom level is upgraded Level, to further improve system performance and stability
– Optimize permission management and control capabilities
– Limits, enhance the protection of the use of corpse privacy data
[Music]
– Added "See music app copyright cooperation content, the music library is richer
– Added live streaming function entry to watch live streaming quickly
– New "See the copyright cooperation content of the music app, the music library is richer
– Added live streaming function entry to watch live streaming quickly
– New Hi-Res area, enjoy high quality and good music
– Add discounts for bulk purchases of book submissions, buy more discounts
– Do home search function, add popular search, new song recommendation
– Qiu Hua can recommend algorithms, only to understand you better
[JOVl]
– Added desktop card management function
– Added Jovi voice chat mode
– New game recommendation function
– Homepage layout and information display method
– Optimize the details of the public WLAN function for human experience, and the information presentation is more accurate
– Make it simple, only the main layout of the scene is supported, and support the customization of the bell screen card
[Set up]
– Added screen cover usage time function to help porridge understand mobile phone screen length usage records
– Added screen storm usage time function to help understand the usage history of mobile phone screen
[Calendar]
– New game saves daily
– Zuohua 's current content display method is added to the "Selected Information" module
[i Home]
– Added system cache garbage cleaning function
– Added safety newsletter to provide you with anti-expansion knowledge and enhance safety awareness
The changelog details have been translated from the Chinese language. We will keep updating this article whenever a new update or any other Funtouch OS 10 related info available for Vivo X30 Pro. Till then stay tuned for more info.