The AN-94 is a genuine contender for the title of best warzone Assault Rifle. This gun has a new hyper-burst feature. It means that your second bullet instantaneously follows your first bullet. This concludes that you can give serious damage with less recoil for your first burst.
So it would be best if you keep in mind that your first burst hits your target. This gun is chambered in 5.45x39mm with a reasonably easy to manage recoil. There are some attachments that can make this gun a perfect warzone assault rifle. Here is a guide about the best AN-94 loadouts.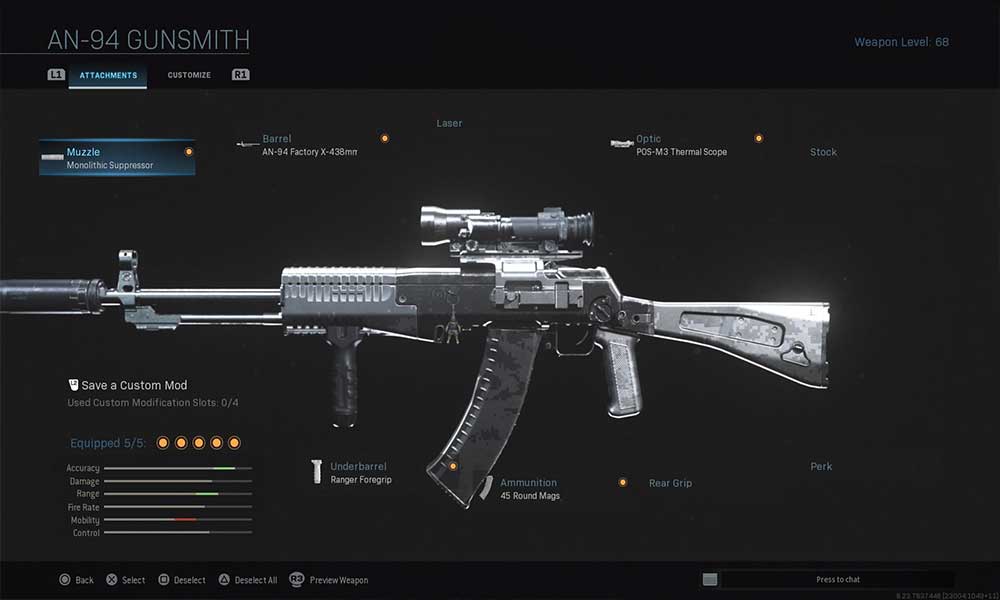 Best AN-94 Loadout for Warzone
Frankly speaking, the AN-94 is one of the most underrated weapons in Warzone. However, the main reason behind this was that far more superior weapons outshone it to become the best.
But still, this weapon holds some of the best stats and can be converted into a lethal one with the use of right loadouts.
Now that being said, below are the best loadouts that will work immensely well in the AN-94.
#1. Monolithic Suppressor
This attachment keeps you off the radar as well as improves your bullet velocity. It also improves the damage range.
#2. 60 Rounds Casket Mags
You can either upgrade to 40 or 60 rounds. But the 60 rounds mag gives you versatility while dealing with multiple enemies at a time.
#3. AN-94 Factory X-438mm
This attachment is very helpful as it improves damage range, increases bullet velocity, and reduces recoil.
#4. FSS Close Quarters Stock
This attachment helps in improving your aim down sight speed with a slight reduction in aim stability.
#5. Cronen LP945 Mini Reflex
The iron sight of AN-94 is not that good. So we suggest you equip any optic for a clearer vision. The Cronen LP945 is good, but holographic or VLX optic will also work well.
This loadout will help you out in a close and long-range fights effectively. We suggest you keep a proper meta with this gun. Now, check out our Windows Guides, Gaming Guides, Social Media Guides, iPhone, and Android Guides to read more. However, if there are any queries or feedback, comment down with your name & email ID. We will try our best to reply soon. Also, subscribe to our YouTube Channel to watch awesome videos on gaming and smartphone tips and tricks. Thank you.