If you have a good aim and in search of a weapon with a one-shot kill in close range then, you will surely prefer FAMAS shotgun. This gun is capable of killing the opponent from around 10-12 meters with a single shot.
You can watch several gameplays of players showing their one-shot kills with this weapon. FAMAS, with proper attachment, makes it a warzone beast. We will guide you with the best FAMAS loadout.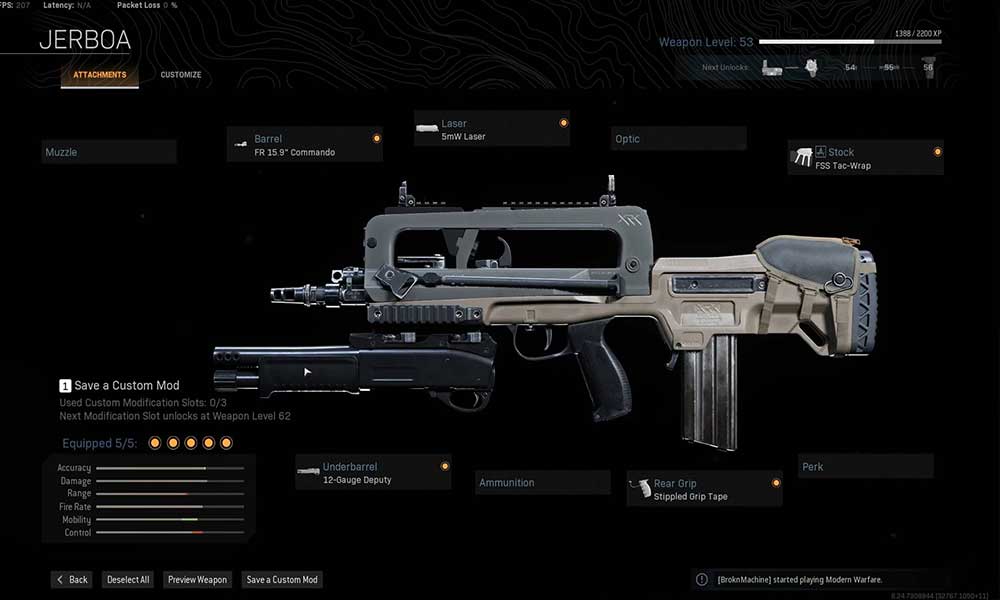 Best FAMAS loadout in Warzone
#1. Muzzle- Monolithic Suppressor
The first and foremost thing this attachment does is to remove you from the radar. Along with it, it increases weapon accuracy and damage range.
#2. Rear Grip- Stippled Grip Tape
It helps in increasing the Aim Down Sight speed along with providing better handling of the gun.
#3. Barrel- FR 24.4″ Sniper
It also increases our damage range and bullet velocity. It slightly reduces the recoil, which is helpful. The combination od suppressor with this attachment will help you to deal with enemies within 25-30 meters.
#4. Ammo- 60 Rounds Mag
We added this attachment to make sure you have enough ammo to break and kill the enemy.
#5. Underbarrel-12 Gauge Deputy
This maintains aim stability while shooting to a distant opponent.
The FAMAS shotgun has made warzone a fun mode. Players are using for the satisfaction of one-shot kill. We don't suggest any changes in the optics, laser, and stock.
The loadout we provided here is the best possible loadout for this gun. You just need good aiming, and rest the gun will do its work.
Now, check out our Windows Guides, Gaming Guides, Social Media Guides, iPhone, and Android Guides to read more. However, if there are any queries or feedback, comment down with your name & email ID. We will try our best to reply soon. Also, subscribe to our YouTube Channel to watch awesome videos on gaming and smartphone tips and tricks. Thank you.