ISO is a solid option as a primary or secondary gun. ISO can be kitted out it a number of ways and proper loadouts can make it a perfect deadly weapon The Warzone 5 has new warzone weapons added to it.
An amazing sub-machine gun has been introduced to the game that is the ISO. Now, the ISO is a fast-firing SMG gun and it behaves similarly to the Fennec as the rate of fire is quite high. However, it is not that easy to handle. However, we can call it a better version of Fennec because of it's better handling stats.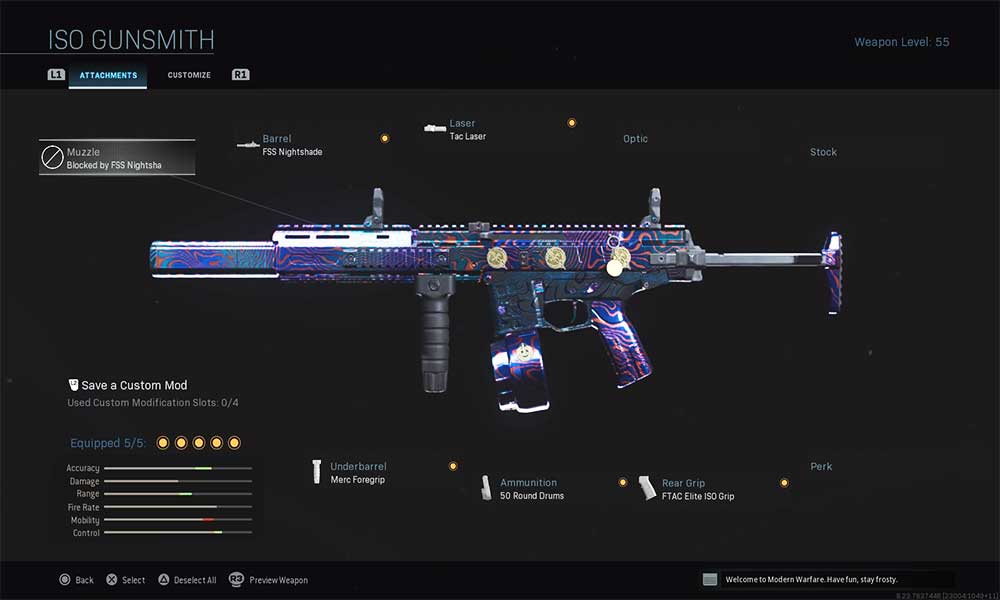 Best ISO loadouts
The base of this weapon is weak if compared to the key characters needed or a warzone weapon. Its magazine size is small. If you miss shots in close range, you will have to reload it, which won't end up good. Also, it has a lot of damage drop off over long range. In the warzone, you can't deal with your enemies without proper attachments. So make sure you have balanced the various requirements of the weapon. You need not worry. We will guide you with appropriate loadouts for ISO.
#1. FSS Nightshade
This attachment suppresses the weapon as well as it helps in recoil control. Apart from this, it extends your range and increases your bullet velocity slightly.
#2. FTAC Vagrant
This attachment basically affects your aiming ability. It increases your aim down sigh speed with slightly reducing aim stability.
#3. 50 rounds drum
As we mentioned earlier, ISO has a small magazine capacity. We suggest you to use the 50 rounds drums to increase magazine capacity. It will help you to chunk down your enemy's armors.
#4. ISO Tac-Form
This attachment will help you in recoil control. It reduces the recoil hence making the gun more stable.
These attachments will surely help you in controlling ISO properly. However, we suggest you MP5 over ISO. ISO is a deadly weapon but still can't compete with this gun. You can keep the meta of ISO and Bruen. This will help you in handling mid to close range.
Now, check out our Windows Guides, Gaming Guides, Social Media Guides, iPhone, and Android Guides to read more. However, if there are any queries or feedback, comment down with your name & email ID. We will try our best to reply soon. Also, subscribe to our YouTube Channel to watch awesome videos on gaming and smartphone tips and tricks. Thank you.