The latest entrant in the world of battleground games is Call of Duty: Warzone. The game was launched recently and has already picked up some huge popularity among gamers in a short span of time. Blame it on the genre of battleground games or the popularity of the COD title, Warzone is a popular game indeed. One interesting thing that has got the players hooked is what is behind the bunker doors? If you have already played some time with the COD: Warzone game, then you might have come across certainly locked bunkers. Now, there are several users that are pretty intrigued to know what things these locked bunkers are hiding?
However, unfortunately, these locked bunkers can only be opened via door codes which again, unfortunately, nobody has access to. For those who are also like one of us and want to know what is behind those locked bunkers should know that these bunkers are scattered across the map of the Warzone game. And whenever you come across a locked bunker door, it opens a keyboard where you are asked to enter a door code to open it. But as already mentioned nobody has access to those door codes. Thanks to the official Call of Duty Reddit Discord server, below is the map that depicts the location of these bunkers scattered across the Warzone map: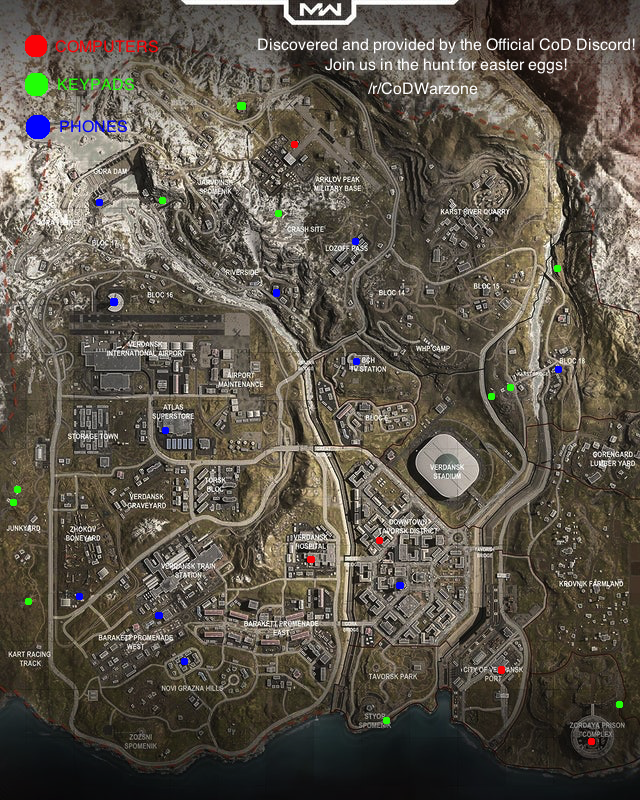 So, all in all, there are a total of 11 bunker doors across the map. In fact, there are certain telephones you can interact with and when you do so, all your head is nothing before you dial a number. This has got the gamers speculating what is behind those locked doors. And Call of Duty Warzone community is working pretty hard in finding what are the door codes. Interestingly, one of the gamers and Twitter user @KINGMAN124YTB uploaded a video where he managed to glitch inside one of the bunker doors with a Recon Drone.
Whats actually behind the BUNKERS on WARZONE Using A Drones View hope you see this #MrDalekJD pic.twitter.com/7AkB8hpUQ6

— Kingman124 (@KINGMAN124YTB) March 13, 2020
Sadly, there is still nothing inside as we can see in the video attached to the tweet. Gamers have started having their own theories related to what's behind those hidden doors. Moreover, as per the official guide on Activision, it shows all the details about all the locations where some of the locations can be seen named [[CLASSIFIED]] which also erks certain assumptions and speculative theory on what is behind the locked bunkers. As per now, we can speculate that these closed bunkers might be storing:
An event
Easter Eggs
A new Classified zone
Bonus Loot
We will keep you informed once there is some information about these locked bunkers or door codes.