As the combat and encounters in XCOM: Chimera Squad are not revamped, players are often puzzled with how the new techniques of the game work. We now have the Breach Mode, a whole new exciting feature that determines your overall success in combat. Well, if you're new, you might find this a bit complicated. But understanding it the right way will make things a whole lot easier.
Unlike wandering around the map until you spot your enemy like in the recent XCOM combat, you now get to come up with an effective strategy before a mission starts. This is the breach mode, the point in the game where success is already determined before even the mission takes off. So in this guide today, we'll help you understand more about the concept of the breach mode, how it works, and what more is to it. Without any further ado, let's dive further into the XCOM: Chimera Squad Breach Mode guide.
XCOM: Chimera Squad Breach Mode guide
1. What is the Breach Mode?
Breach mode is the point where you assign turns for your agents before breaching in to face the enemies. Here, you will assign which agent to kick through first, who goes after him, and so on. Remember, the breach mode is your backbone to the success of each mission, so carefully plan out and execute according to the abilities of each agent that you'll use. Once your agents breach into the battle, each of them will have one turn before they can move.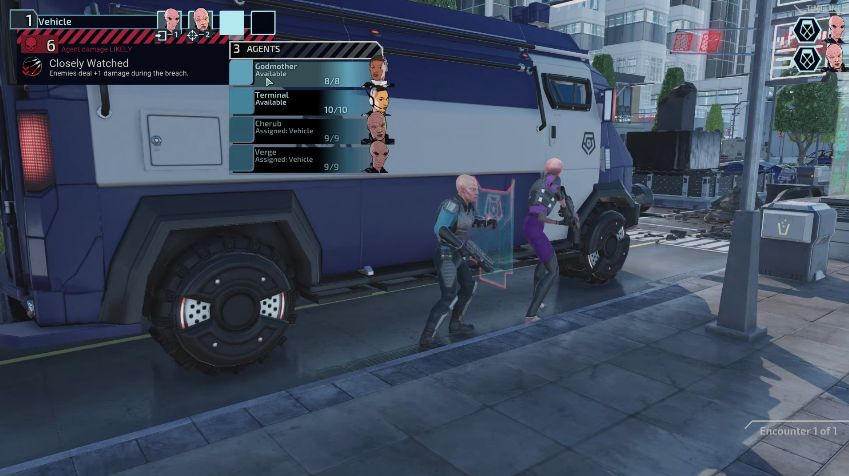 2. Breach Points
In simple words, there are the entry points that you will assign your agents to bust through to face the enemies. In the loadout screen, after you choose a mission, you'll see the breach options on the top left side. These will include walls, doors, and vents. For point breaching point, you'll need a special item that's capable of breaching through. For example, if you choose the wall, you'll need a breach charge to breakthrough. If you choose doors, you'll sometimes need a Gremlin and you'll need your Viper to go through vents. Although if you don't have any of these items, you'll always find a straightforward way to breach in.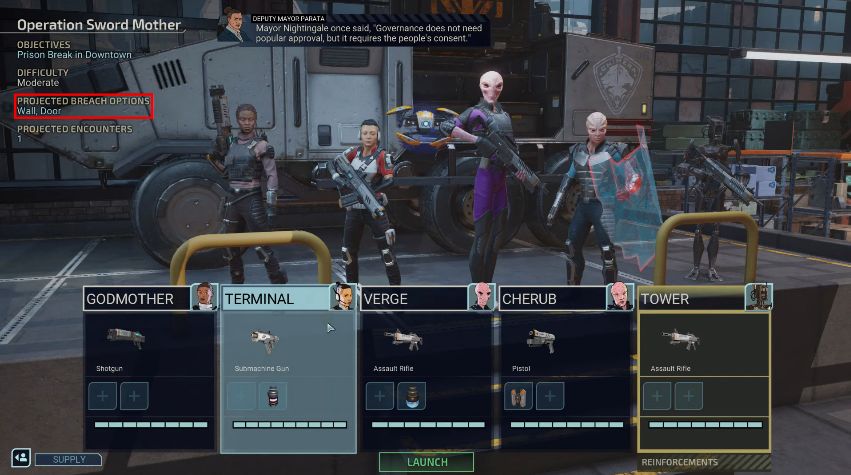 Be aware if you're using multiple breach points. This will affect your turn order and your entire plan will be messed up. For example, let's assume a scenario where we assign 3 agents to one breach point and the 4th agent to a different breach point. You might want the first 3 agents to breach in first but the table might turn around and the first agent to breach in first will be the 4th agent. So familiarise yourself with the turn order and always keep an eye on it.
3. Breach Ability
One other thing to note is the breach ability of your agents. Most agents have only a single breach ability, meaning that they can only use their ability once per mission. You get to choose the breach ability at the time of agent selection. For this, Verge is considered as a decent option to breach in first with his Levitation breach ability. Sending him first and using this will lift enemies from cover, giving the following agent a good shot on target.
Summing up our guide, breach mode is the point in the game where you get to assign turns for your agent before breaching into enemies. This determines who goes in first, seconds, and so on. Furthermore, we have Breach Points, which is where we decide the entry points for our agents to breach through and Breach ability, which the agents can use when they're in battle. That said, we hope reading the guide above has brought some valuable information and help to you. Please let us know by commenting down below if you have any further queries regarding the same.
Also, check out our iPhone Tips and Tricks, PC tips and tricks, and Android Tips and Tricks if you've got queries for it or want help. Thank you!