Currently, there is a great demand for gaming smartphones. In recent times, we have OEMs like  Razer, Nubia, ASUS marking their presence uniquely for the gamers. In a surprise move, Xiaomi also dipped its toes in the world of gaming smartphones. Hence, it came up with its sub-branding Blackshark and a phone with the same name. However, up until now, the Blackshark was limited to sell in China only. Well, it seems with rising competition in the international markets with other gaming machines, Xiaomi Blackshark will go international.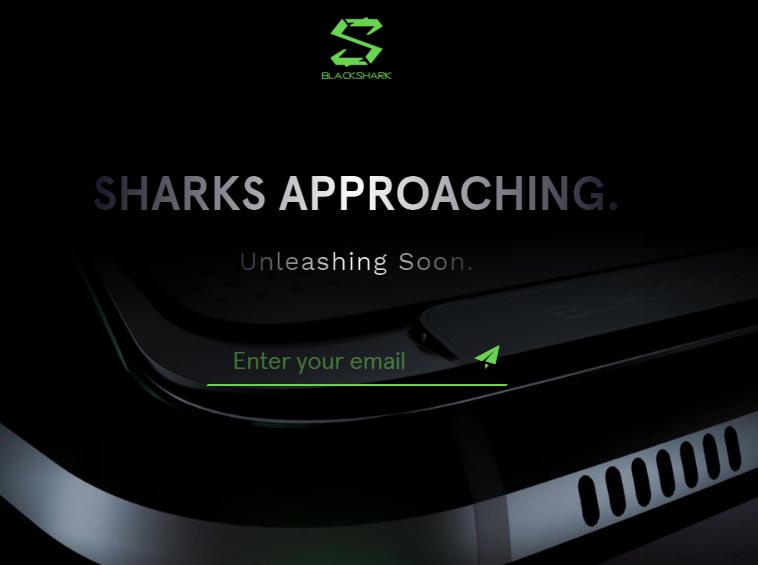 On the official website of Blackshark, there is a subtle hint that the phone will be available outside China. There is also an option for all the gaming enthusiasts around the world to provide their e-mail ID for further info. It also mentions of "Sharks Approaching". Now anyone from around the world can put their email. This means this device will be accessible to people outside China.
It also refers to the fact that a new 2nd generation Blackshark will follow up soon. This new device may be globally available. Recently, on TENAA a new variant of Blackshark was spotted. Some of the specs were similar to its predecessor. As of now, not much info is available on it.
Blackshark is a gaming smartphone that is available from April 2018. This device flaunts a 5.9-inch touchscreen display with a resolution of 1080 X 2160 pixels. It runs Android 8.0 Oreo out-of-the-box. This gaming device runs on an octa-core Qualcomm Snapdragon 845 chipset. Users get the option for 6 and 8 GB of RAM and this phone packs both 64 and 128 GB of non-expandable internal storage. In the camera section, the Blacshark brings a 12 MP + 20 MP camera on the rear and a 20-megapixel selfie shooter on the front face.
If at all Blackshark enters the global gaming smartphone market, there will be a great competition between it and the other biggies like Razer and ASUS. Also, gamers will have more option to choose between various machines. So, it definitely sounds quite interesting. What do you think about this..? If you are a gamer, will you opt for a Blackshark..? Stay tuned with us for more info on this.