Well, the plight of Xiaomi Mi A3 users is not an unknown one and the users have gone through several hiccups before the Android 10 update arrived on the device. Mi A3 received the Android 10 update in June. This 2019 launched phone recently received a July 2020 security update which was tagged with version number 11.0.3.0.QFQMXTC. One would expect a security update to improve the overall security of the device, but this was not the case for Mi A3 users. As per several user reports on different platforms, this latest July 2020 security update instead of fixing bugs and providing security, affects the dual-SIM connectivity of the phone while making the second SIM completely useless.
Not only this but the latest update also forcefully installs two unknown Mexican apps on the device which have raised some serious concerns in the minds of the Xiaomi Mi A3 users. Here are some of the user tweets regarding highlighting this issue:
What have you done? After the update, the second SIM card is no longer available.
Two applications appeared that were completely unnecessary to me …
What kind of update was this ???

(Source)
@cyberabadpolice sir, today I got some weird update in my Mi A3 mobile in the name of security update! Which is off 1.40 GB, after updating it, I'm getting Mi telcel! Never before got such! Any hacking update? @TelanganaDGP @GoI_MeitY @XiaomiIndia pic.twitter.com/moP0QkdEgS

— Shashidhar R (@ShashidharR09) July 13, 2020
Okey @Xiaomi @XiaomiIndia @manukumarjain I don't know what did you do to my MI A3. But I think you guys messed up on today's security Update.#mia3 #androidone #Telcel pic.twitter.com/hairWdV14k

— Saurab Thakur (@saurabthakur4) July 13, 2020
From the above complaints, it is abundantly clear that this 1.40 GB July 2020 security update for Mi A3 has instead of improving the user experience has hampered the device's functionality. Moreover, you will be able to find several user complaints regarding the same issues as we have highlighted here in this post. This also suggests that this is a widespread issue and it required prompt action from the Chinese OEM.
Here's another #update sized at 1.4 GB#MiA3 #mia3 pic.twitter.com/YewQ5YtJmi

— Shyam Bansal (@shyam_bansal_) July 13, 2020
Fortunately, Xiaomi has acknowledged this issue with the latest update and has published a PSA in its official community forum. The company has strictly advised its Mi A3 global users NOT TO UPDATE their phones with the latest update carrying version number V11.0.3.0.QFQMXTC as there is a serious bug present in the update due to reasons unknown. Xiaomi has clarified that they are working on a fix for this issue and soon will be available for the users. Here is what the actual announcement reads:
Hello Mi A3 Users,

Okay, bit of a public service announcement.
V11.0.3.0.QFQMXTC (not QFQMIXM) is rolling out to the Mi A3 global users via OTA, but, PLEASE DO NOT UPDATE!

There was a serious bug in the latest rom (V11.0.3), if you are on this build, you have only one working SIM (it does not recognise the other one whatsoever).

We will try to see if there is a fix, BUT… once again… DO NOT UPDATE (if you have not already)!

Thank you for your support!

(Source)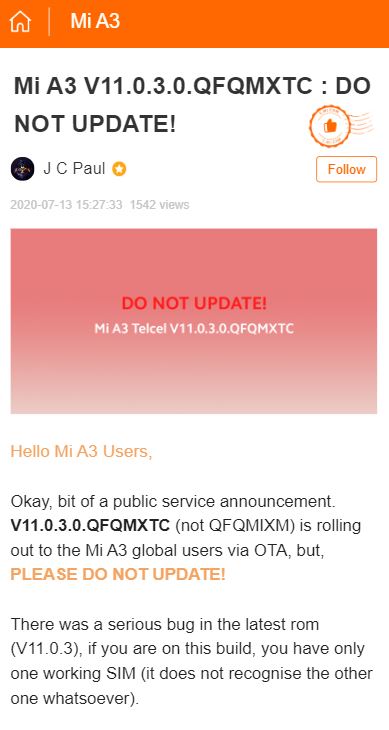 We will keep our eyes on ay further developments in this regard and will keep you posted if there something new comes across our table. You can subscribe to our YouTube Channel for awesome videos related to Android and Gaming.