MIUI 12 is the latest iteration of the custom UI from Xiaomi. It was unveiled back on April 27 and soon after releasing the MIUI 12 roadmap for the Chinese phones, Xiaomi came up with the update roadmap for the global variants as well. And as per the roadmap, the MIUI 12 update was about to be released for the Xiaomi Mi 10 Lite in phase 2 of the rollout. But, that totally depended on how the MIUI 12 phase 1 panned out. Whatever the case may be, Xiaomi Mi 10 Lite users were happy to hear that they will get the MIUI 12 update and its exclusive features on the device.
However, as per the latest information, along with the Xiaomi Mi 9, the Chinese OEM has also revealed that fact the MIUI 12 beta update has been suspended. There is no ETA as to when the update will be resumed and the company has also not clarified what is the reason behind this decision. Note that this piece of information was shared on the MIUI 12 beta update post, which Xiaomi releases on a weekly basis for the Chinese variants of the phone. This used to happen for the global devices as well, but for some reason, Xiaomi discontinued the release of the MIUI beta weekly updates for the global ROMs.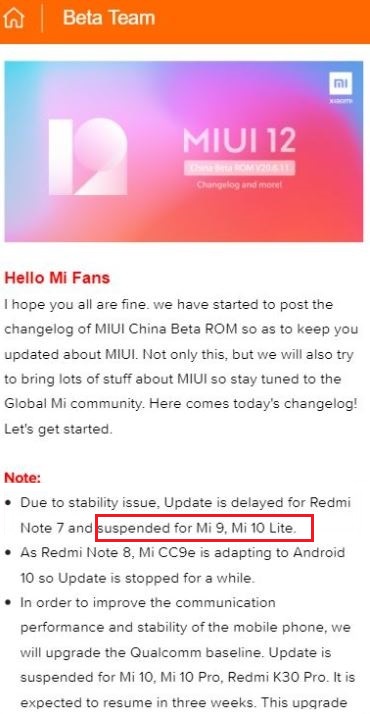 Now we have to see whether this affects the MIUI 12 stable rollout plans for the Xiaomi Mi 10 Lite or not as the beta update has been delayed until further notice. Moreover, without any ETA, it is also not clear when Xiaomi will push the beta update for the Xiaomi Mi 10 Lite. We will keep you posted once there is more information in this regard.