This is a special year for Xiaomi since their 10th anniversary special Mi 10 and Mi 10 Pro will be launching this year. Back in November 2019, the Chinese 3C authority certified two new Xiaomi phones with the model number M2001J2E/C and M2001J1E/C. Reports all over the web confirm that it will be the upcoming Xiaomi Mi 10 series smartphone. To be more precise it will be the upcoming Xiaomi Mi 10 and Mi 10 Pro.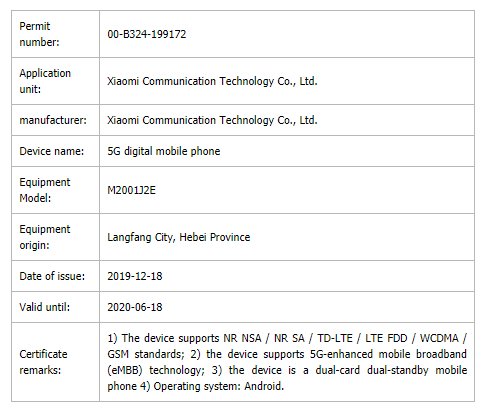 Now a new Xiaomi smartphone appears on the database of China's certification authority i.e. TEENA; the telecom authority. The smartphone has a model number of "M2001J2E". Additionally, the same phone also appears in the database of the Eurasian Economic Commission (EEC) in Russia. This indicates that the upcoming Mi 10 series will also head to Europe.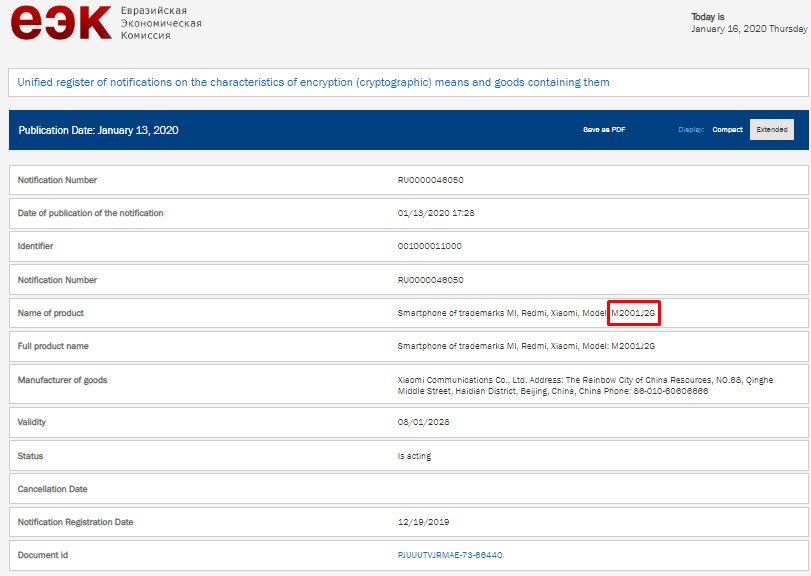 However, the TEENA listing of the Xiaomi M2001J2E doesn't reveal any other specification of the device. It only suggests that the smartphone will hit the market soon. We expect that the Xiaomi Mi 10 Pro's TEENA listing will be updated with all specifications and images. As already said, a European variant of the Xiaomi Mi 10 Pro with the model number "M2001J2G" also gets certification on EEC. However, this listing also doesn't reveal any specifications about the device.
Earlier with the 3C certification, it shows that the upcoming Xiaomi M2001J2E/C will come with a 66W fast charger and  Xiaomi M2001J1E/C to come with a 30W rapid charger. While we're expecting the Xiaomi Mi 10 aKa M2001J1E/C to pass TEENA certification.
Xiaomi Mi 10 Launch Date?

Digital Chat Station; a popular tipster through a Weibo post also informs that the Xiaomi will launch the Mi 10 series in early February in China. Recently, Wang Teng Thomas; Xiaomi Product Manager gave a hint about the pricing and release date of the Xiaomi Mi 10 series. He hinted that the device will be priced between 3500 Yuan and 5000 Yuan. Further, he also adds that Xiaomi will launch the Mi 10 series after the Spring Festival in China (i.e. after Jan 25). Samsung is also gearing up the launch of its upcoming Samsung Galaxy S20 series along with Galaxy Z Flip smartphone in an unpacked event which will kick off on February 11. There are reports that Xiaomi will launch Mi 0 series before the Samsung Galaxy S20 series launch i.e. for not losing World's First Qualcomm Snapdragon 865 powered device.