Xiaomi Mi 6 AOSP 8.1 Oreo based on Project Treble is now available for download.It is brought to you by the courtesy of XDA developer blankaf. The Android security update of the device is set to the latest patch level of March 2018. Most of its features are working which includes Camera, RIL (both SIMs), Camcorder, WiFi, Bluetooth, Telephony (Calls and Data), Audio (Record and Playback), Video Playback, Sensors, GPS, IR, NFC  and HW buttons light. Below you can find the full tutorial and zip file of Xiaomi Mi 6 AOSP 8.1 Oreo Project Treble ROM.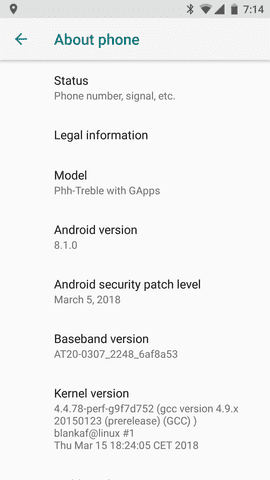 This guide will help you in the installation of this Xiaomi Mi 6 AOSP 8.1 Oreo Project Treble.  Almost every feature is working just fine as it should. Since it's in beta phase you may experience glitches, but nothing of train wreck sort. There are some minor bugs such as an error on boot-up, SELinux is permissive and VoLTE sometimes doesn't work. Developers are on working on these issues and these glitches will be solved in no time.
Xiaomi Mi 6 is a dual SIM smartphone launched in April 2017. The phone comes with a 5.15-inch touchscreen display with a resolution of 1080 pixels by 1920 pixels. It runs on 2.45 GHz quad-core Qualcomm Snapdragon 835 processor and 6 GB of RAM. It comes with Android 6.0 Marshmallow out-of-the-box. This device packs a 64 GB of non-expandable internal storage.  Xiaomi Mi 6 brings a 12-megapixel primary camera on the rear and a 4-megapixel camera on the front.
What is Project Treble?
Project Treble is Google's brainchild. It came into existence to solve the ever pertaining slow system updates. OEM specific OS updates are sometimes even slower. Most of the times you can see users complaining of not getting the update in time.  Google's Project Treble will put the OS framework separate from the vendor's implementations. Manufacturers will be able to provide latest system updates by updating the OS framework.  Treble has now been integrated with Android Oreo 8.0. It's mandatory for all the Android 8.0 based devices to have it.
 Since we are talking about Android Oreo and how it plays an important role in the existence of Project Treble. Let's now see in a nutshell what does Android Oreo comes packed with. Android 8.1 Oreo is the current and 8th released sweet from Google. It is the latest iteration of Android OS after the release of Android 7.0 Nougat. Android Oreo comes with features such as New app notifications, notification dots on app icons, picture-in-picture mode, Android Instant App compatibility, Auto-fill (like on Chrome), Nightlight, Better copy and paste, Faster Android behind the scenes, Better battery life with more advanced Doze mode, and more. to know more about android Oreo