After two months the Chinese Apple launched one of the most anticipated full-screen smartphones in the world. Though the black/regular variant of the Xiaomi Mi MIX 2 appeared on the stores immediately after its official announcement, the white version has made no appearance till yesterday. As you know, yesterday Xiaomi opened the most luxurious Mi store in Shenzhen, where it will sell only flagship models. But we are more interested in the devices shown at the event. Especially this refers to the Mi MIX 2 white all-ceramic variant. As the name suggests, it comes with an all-ceramic unibody. The main difference in comparison to the original model is the frame. It's made of metal (7 series aluminum alloy) on the black variant. But the white version looks like a piece of natural jade because it's completely made of ceramic. Yesterday it went on sale at a price tag of 4699 yuan ($708). As for now, we have got our hands on it, and offer you to take a glance at the most beautiful full-screen phone ever made.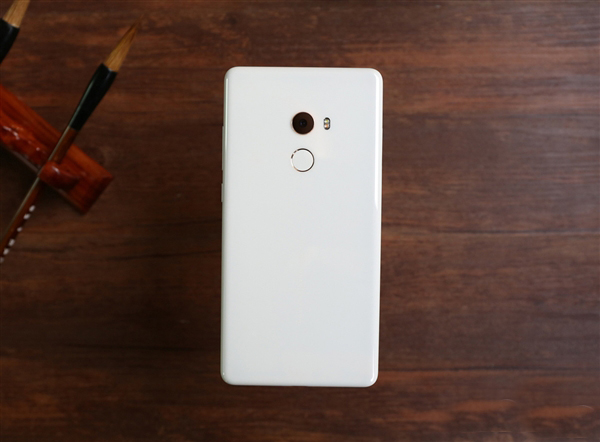 Actually, we are dealing with a price of art. Like all products with this title, the Xiaomi Mi MIX 2 passes through various processes and requires a lot of effort. Say, its ceramic housing should go through 1400 C high temperature during 7 days, 240 tons molding, and repeated carving via a 0.01mm cutter head that is replaced for each phone. So, most likely the company will have production capacity problems. On the other hand, its release has been pushed back for two months that can be related to this problem.
The Xiaomi Mi MIX 2 white all-ceramic version sports a 5.99-inch full screen (2160×1080 pixels resolution, screen ratio of 18:9, pixel density of 403ppi, contrast ratio of 1500:1, and color gamut of DCI-P3). Seems this is the selling point of this amazing smartphone. But it's also the first phone of the company to come with a full-blooded version of the Snapdragon 835 chip clocked at 2.45GHz paired with an 8GB RAM. Apart of this, the phone is packed with a 128GB of ROM, 3400mAh battery, which also supports Quick Charge 3.0 (9V / 2A) fast charge via the USB Type-C interface, 12MP rear camera, 5MP front shooter, and runs on MIUI9.