Apple has started up a new trend among smartphone by launching the iPhone X without a home button. The removal of the home button has made Apple include the new gesture-based controls on to the iPhone X. After this, many manufacturers like Xiaomi are reported to be working on similar full display smartphones to be made available to the market. This has also led to the addition of gesture-based controls on smartphones from Xiaomi too. The manufacturer will be adding this gestures to the new MIUI 9 update. The Xiaomi's MIUI 9 gets iPhone X like gesture-based controls for full display smartphones as beta.
The Xiaomi devices added to the full display smartphones includes Xiaomi Mi Mix, Xiaomi Mi Mix 2, Xiaomi Redmi 5, and Xiaomi Redmi 5 Plus. This is an evidence of the new trend started by Apple with the iPhone X getting more popular. It is expected that more manufacturer to start building devices with no home button soon.
Download MIUI 9 Global Beta ROM 7.12.8 for supported Xiaomi devices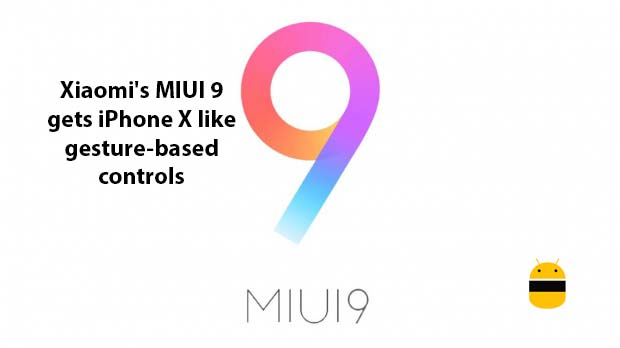 Xiaomi's MIUI 9 gets iPhone X like gesture-based controls
Recently PatricXi an MIUI team member has mentioned the addition of display gestures with the MIUI 9 global beta ROM 7.12.28 on a post in MIUI forum. The gestures added based on reports are:
Swipe from bottom of the screen to go to home screen
Swipe from bottom and hold to bring up recent apps tab
Swipe left or right from middle of the screen to switch between apps
All these gestures clearly mimic the gestures available on the new iPhone X.
In addition to the gesture-based control, the update will also bring in some performance improvements and bug fixes to the devices. The main fixes to be noted which will include in the update are:
Fixed the Top sites tab getting automatically restored in the Mi browser
Closing issues with the app vault force
Fixed error of not being able to add contact members on dual apps for Whatsapp
The MIUI 9 global state ROM already started to roll out for all full display devices from Xiaomi. The images of the update leaked previously confirms the addition of gestures similar to the iPhone X already.
I hope this article was useful in understanding everything about Xiaomi's MIUI 9 gets iPhone X like gesture-based controls. If you have any queries or feedback, please leave a comment below.