Are you facing a problem with Zerodha network? Then you are not alone. Well, there are many complaints that users are facing in India regarding Zerodha while creating new account users have not received login details, Payment transfer issue, and other technical issues. Let's find out whether the Zerodha service is down or not.
As we write this, we found many users reporting about the Zerodha server problem. Yes, the Zerodha trading website is having a technical issue now. The team is currently trying to fix the problem. If you are alone facing this issue, it is always better to contact the support team of Zerodha to look into your problem and resolve this.
Zerodha is, arguably, one of the best stock brokers in India, especially within the discount broking fraternity. Zerodha – India's biggest stock broker offering the lowest, cheapest brokerage rates for futures and options, commodity trading, equity and mutual funds.
Updated on March 20, 2020: Today, users have reported some of the problems regarding the server issue where users were not able to complete the payment transaction, unable to receive login details, and many more.
@zerodha
is your service again down??

— Sanket Bolwade (@Sanket1339) March 20, 2020
@TickertapeIN the analysis you show in Zerodha holding same is not working in case of HDFC holding

— Sandeep (@Sandeep35053993) March 20, 2020
There is no way to connect with any customer care person.They have taken the payment and necessary documents but have not provided any account credentials also. Created many tickets and again no response. Better #refund the amt and #close the account request. #zerodha #ScamAlert

— SUMIT KUMAR DIXIT (@justskdixit) March 20, 2020
Is it Really Zerodha Server down?
If you are probably wondering how to confirm whether it is a Zerodha technical issue or you alone facing this problem, well, the answer is simple. You can check the down detector website to see if the problem persists for everyone in India. To do that, Go to Downdetector website and look for the graph if there is a trouble you will see a graph hike in blue color.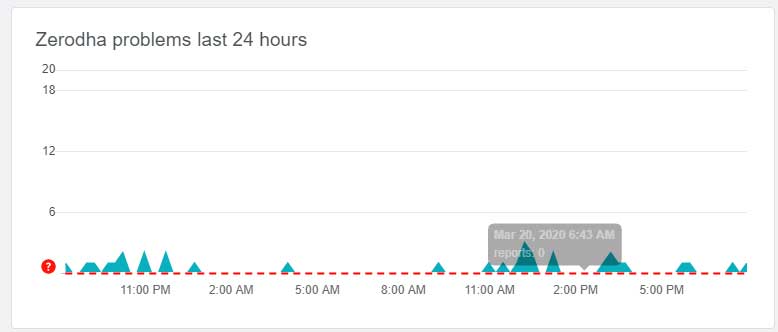 How to Fix Zerodha Network Outage?
If the Zerodha server is down for everyone, then you need to wait patiently for the team to resolve this issue by themself. If you are alone facing any trouble with the internet, then you can contact their support team to resolve your problem.
Here are the support team:
https://twitter.com/zerodhaonline
https://www.facebook.com/zerodha.social/
https://support.zerodha.com/
Once the problem has been restored, make sure you follow our next steps to fix any problem
Order placement issue on BSE
This problem is due to BSE connectivity is down across brokers. Try placing orders on NSE. You can try to place order in BSE when the connection is back.
Issue with funds transfers using UPI
If you are not able to transfer funds via UPI, then please use IMPS/NEFT or payment gateway to add funds in the meantime
Payment using payment gateway
You may face low success rates when transferring money into your trading account using the payment gateway. This is probably due to either bank network or Zerodha server issue, until then please use UPI or IMPS/NEFT to add funds in the meanwhile.