Looks like ZTE is back in action post the US ban lift. Now the OEM is planning to unveil a new device at the upcoming IFA 2018 at Berlin. Though there is no concrete mention of the device name, we believe its the Axon 9 which will release in August IFA event. ZTE has already sent out the invites to the local press. On August 30th, 4 PM Berlin time the event will kick-off. The company will also throw light on its 5G innovations. Now the Axon 9 may release with 5G power, but no official remarks on it.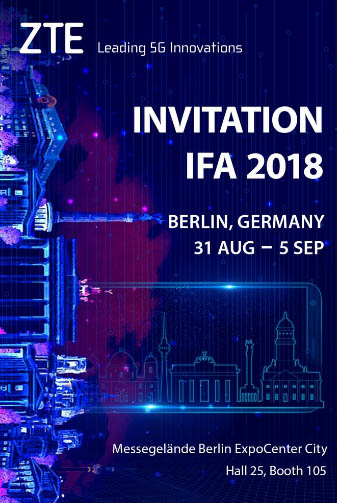 Publicly, the device maker posted the announcement on its official Twitter handle. There is also another poster that simply says 9 and mentions of IFA. This is clearly pointing towards the Axon 9. This phone may not release alone and may team up with a counterpart Axon 9 Pro. Both these devices do exist. A few months ago, both Axon 9 and its Pro variant filed for the trademark with EAEU.

ZTE recently had legal altercations with US govt, where the latter put forward a ban on the business of local companies with the OEM. However, ZTE paid the required penalties and now ban on it has bee lifted. It looks like the Chinese phone maker will bounce back with two flagships under its sleeve. There is no information on its hardware and under-the-hood specs.  If it's an unveiling evet then we may be looking at a flagship. So, we can expect a Snapdragon 845 chipset, dual rear cameras, edge-to-edge display and Android 8.1 Oreo OS etc. There maybe further reveals and leaks about the device duo which we will keep looking out for. We as well look forward to IFA 2018 Berlin, where Axon 9 and 9 Pro may surface themselves.