If you are in the market looking out for some of the best Google Play Store alternatives, then look no further since we have just the perfect guide curated for you! Read on to learn more about some unique, useful, and interesting play store alternatives for your Android device!
Throughout the years in mobile technology and growth, we have always had the clash of various operating systems be it Android, Blackberry OS, Samsung Tizen, or iOS. We have seen everything that an operating system brings to the board and everything that is unique about each one of them as well. Operating Systems, especially for mobile devices in today's world have been majorly dominated by either Google's Android or Apple's iOS. Both these OSes have seen several updates and improvements since their inception and have grown to be the best in class available for the end-user consumers. Going a bit deeper into the entire operating system aspect of smartphones, there are many factors that make them better than the other offerings. Be it customization, features, security, or anything else that's either as tiny as a design tweak or as big as the kernel versions.
One such factor that makes every operating system in existence different from one another is the app store it comes bundled with. You may have already noticed that all Android devices come preloaded with the Google Play Store, as do the iPhones and iPads with the App Store by Apple. There is the Windows Store for Windows Mobile users and so on and so forth. These built-in app stores contain all the apps and services that the users can download on their devices. This includes apps like Facebook, Instagram, or WhatsApp. Every app store in existence is being maintained by the same OEM that made the operating system and it is an all-in-one hub for all app updates and exciting new games or tools to make everyday activities simpler.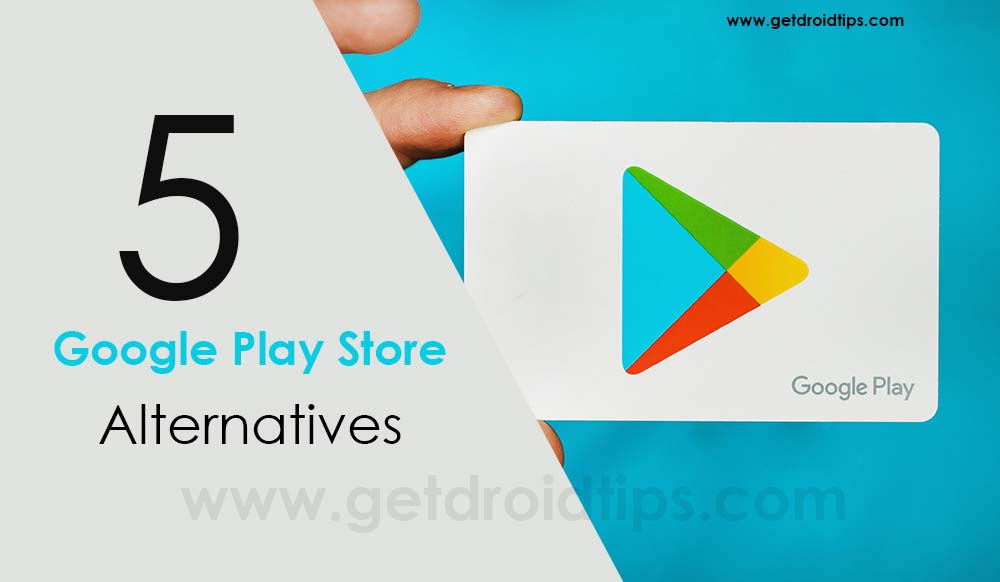 What are third-party app stores?
However, if you do own an Android device there are multiple ways with which you can sideload applications in the form of APK packages that do not require any sort of affiliation from the Google Play Store itself. The better part of this scheme is that you don't even require root in order to do so. It is indeed risky to download malicious applications from the internet especially now in the day and age of privacy concerns, but you can always refrain from downloading apps and games from unverified sources. This is where the entire idea of an external or third-party app store comes into play.
If you are an Android end-user, then you can easily download third-party app stores and enjoy apps or services that are either not available on the Play Store or inaccessible to you due to geographic restrictions. In any case, there are hundreds of app stores that one can download, and only a very few out of them can be trusted. In today's article, we will not only be listing out some of the best Google Play Store alternatives but also be talking about them and their various features in brief. With that being said, sit back, relax and enjoy the read!
8 Best Google Play Store Alternatives
All of the app stores mentioned below have been tried and tested by yours truly, and I recommend only those services that provide a fulfilling user experience. As far as availability goes, most of the apps we've mentioned below cannot be downloaded directly from the Google Play Store for obvious reasons. You will need to download their APK files and manually sideload them on your device in order to use these app stores. With that being said, let's take a look at our top picks!
#1 – XDA Labs
The first one on our list also happens to be one of my favorite listings in this read. This comes directly from the good folks over at XDA Developers, so any privacy or security concerns can easily be forgone thanks to their reputation and verifiable sources. Coming to the actual app store itself, users can not only browse all the forums on their phones but also access a mini app store that contains a few useful tools. Most of these apps and services aren't made for people who are looking for social media or entertainment apps, since XDA Labs is dedicated to those who are on the lookout for the best tools to make their Android experience better by the day. You can download tools like a system-wide ad blocker, an app that forces dark mode on rooted devices, and so much more. You can also download the latest Xposed Modules straight from this application if you are rooted with Xposed Framework enabled on your phone. For developers, this is a great platform to host their apps and services because, unlike Google who takes up 30% of the market revenue generated by the apps, XDA Labs allows its developers to keep 100% of the earned revenue.
Overall, XDA Labs has the best in class UI and design and is constantly being updated with better features and bug fixes with every day that passes. We highly recommend this app store to you if you want to test out the best experimental apps or services to spruce up your Android experience. You can download XDA Labs for your Android device by following the link below :
Download XDA Labs
#2 – UpToDown App Store
Next up is a service that has been around for ages and thus can be trusted completely. Uptodown started off as a website that offered only Windows apps and programs but has soon grown in its database supporting millions of Android apps too. The best part is that users can download its app store on their Android devices and browse from thousands of great choices. While the app selection is very similar to that of the Google Play Store, one would find Uptodown the most useful when it comes to geological restricted apps or services that have been banned from your locality or country. The app store has a good-looking UI with big and vibrant icons and takes up minimal space and processing power from your smartphone too. Users can also discover applications and games from the categories that come built-in with the app store itself. You can also choose to auto-update the applications, even though it isn't as seamless as the way Google Play Store updates its apps and services. Lastly, the best and most unique feature we could find about this app store is the fact that you can roll back to previous versions of apps or games with just a single tap. This is very useful if you don't like a specific update of a said app or if the app simply forces closes on launch.
If you have been on the lookout for a very normal app store but without any geological restrictions or limitations, then we highly recommend you try out Uptodown. You can download it on your Android device by following the link given below :
Download Uptodown
#3 – F-Droid
Next up on our list is also very similar to our first pick in terms of app choices and availability. You won't be able to find the common and most obvious applications on F-Droid such as Facebook or Twitter since the app store is dedicated towards advanced Android users or developers who want the best-in-class tweaks and experimental features installed on their Android devices. What makes F-Droid stand out is that it publishes only open source apps and services which means if you are a developer, you can tweak the service as per your command and use it without any legal issues. Moreover, even for a normal Android user the interface for F-Droid is very welcoming and you will find a lot of cool applications and tweaks thanks to the categorization and easy-to-use UI of the app store. F-Droid also has a lot of hidden features that you would be delighted to find as you start using the service. Users can also update the apps, games, or services that they have installed using F-Droid with the tap of a single button.
Overall, F-Droid is fast, efficient, and easy to use. We highly recommend it if you already like the XDA Labs app and wanted something similar to the aforementioned app store. You can try out F-Droid on your Android device by following the download link below :
Download F-Droid
#4 – Aurora Store
Coming up next is Aurora Store, which is also an open-source free-to-use app store that contains several apps from the Google Play Store. Unlike F-Droid and XDA Labs, Aurora Store actually does have a vast library of apps and games to choose from. The best-case scenario for someone to use this app store is if an app or service is not available in their country or region. Using Aurora Store, users can easily spoof locations, regions, and even language barriers to download any app or service that has been blocked on the Google Play Store for any reason unbeknownst. What stood out the most about Aurora Store to us is the beautiful UI and interface that the app store offers. It contains a great paginated view of apps, games, tools and more that are laid out all very beautiful. For someone who wants to refrain from using Google services altogether, Aurora is a great alternative too since it allows apps and services to still function without any Play Services to be required. As usual, you can update and download several apps or games at the same time and manage them all using an easy-to-use tab. Lastly, users can also blacklist apps or services to prevent random installation for any reason whatsoever.
If you have been looking for the best all-around app store to replace the Google Play Store, then we don't have any better offering than Aurora Store itself thanks to its vast selection of apps and games and also the beautifully designed UI. Users can install the app store on their Android devices by following the download link below :
Download Aurora Store v3
#5 – APKMirror
The fourth service on this list is vastly different from the ones we have mentioned above. APKMirror, unlike all the four offerings we have talked about before is not an app store. It is a website that has been around for a very long time and which is basically a giant repository of all the apps, games, services or tools that are available on the Google Play Store. You won't be able to find premium versions of apps or games here since these are all APK files signed by Google and the developers themselves. However, APKMirror is your best stop shop if you are a big sucker for privacy or security concerns and do not want to rely on third-party app stores to fulfill your temporary goals. The website itself is highly optimized for mobile devices and you can search for apps or games with the tap of a button. You can then select any version of the APK you want and start manually installing it on your phone. While it has the disadvantage of not being able to automatically update your apps, APKMirror is best suited for people who want the latest and the most secure version of the app or game they have been looking for.
Overall, I have personally been using APKMirror for a very long time and the fast servers, as well as quick update times for newer apps that are being posted, is a big win for me. I couldn't recommend APKMirror any more than I already do if you want a quick solution to sideload an app or game that isn't available on the Google Play Store for whatever reason. You can visit APKMirror on your mobile device or on the web by following the link provided below : Visit APKMirror
#6 – GetJar
This one is for all those who like using cracked or modded versions of their favorite apps. While we at GetDroidTips do not encourage this sort of behavior since it is largely deemed illegal, many people still prefer using location spoofed or modded versions of apps and games. If that's the case, GetJar is a great place to find your favorite list of apps. It is an open app store, meaning you can find a bunch of different apps from different developers, which are all free to use and download. However, since it is so open and is viable to Trojans or other forms of security breaches, we recommend you only stick to the apps which have a higher rating and positive user feedback. This app store is also desirable to all those developers who are sick of having to pay to get their apps uploaded to popular app stores like the Play Store or Amazon Store. GetJar allows you to upload your apps and download others, all without charging a single penny. So if you've been in the market with a bit of guilt to download and sideload modded versions of your daily used apps, you can try this one out. You can visit GetJar on your mobile device or on the web by following the link provided below :
Visit GetJar
#7 – Amazon App Store
Next up is probably the most complete alternative to the Google Play Store. In many areas, all of the app stores we've mentioned above feel third party like and also have a bit of a security concern. However, Amazon's App Store is a great way to find and download new apps and games for your Android device. Not only is it compatible with most Android phones and tablets, but you can oftentimes sideload it onto even those devices which might not be compatible at first glance. It has a rich user interface and feels just like a built-in app store for your phone as opposed to something that you might have downloaded from the internet. Another great feature that the Amazon App Store has is the occasional free titles for apps and games that come by every now and then. You will receive notifications whenever your favorite apps or games have gone free so you can download them free of cost! Also, many times the prices on the Amazon App Store are way less when compared to the Play Store, this is due to the fact that fewer people use it, so make sure you take full advantage of the lower costs! Overall, if you have been wanting to try out an alternative to the Google Play Store which is not only rich in design but does a lot in the functionality department, we highly recommend you try this one out for yourself! You can visit Amazon App Store on your mobile device or on the web by following the link provided below :
Visit Amazon App Store
#8 – Aptoid
The next one on our list is Aptoid. If you have been an Android user for a while, you might have already heard of this one. Aptoid is probably the biggest and most popular third-party app store available in the Android ecosystem. It has been around since the inception of the Play Store and has grown into its own world of rich apps and games. What makes Aptoid unique is the way it allows its users to search and manage their apps. Unlike the Google Play Store or any other ones on this list for that matter, Aptoid has several "stores" which further have apps and games within them. This makes categorization much easier and also better for the end-user. Users such as you and me and simply open up a store that seems fitting for our usage, and download all of the apps from within it. Unlike most other app stores for Android too, Aptoid has a very well-designed app to work with. It has a few customization options and also a tab layout to keep things organized and neat. Like a few others on this list, Aptoid also has a bunch of modded versions of popular apps and games that you can try (not that we support piracy, but oh well). Overall, for a complete all-around alternative to the Google Play Store, look no further than this one! You can visit the Aptoid store on your mobile device or on the web by following the link provided below :
Visit Aptoid
#9 – SlideME
SlideME is yet another place you can find some exciting apps and games for your Android device. So what kind of apps can you find on SlideME? The answer is AOSP-based apps that don't rely on Google Play Services to function. This is great for people who want to debloat their phone from any tracking services.
SlideME also has region-specific options for payments and app selection, something that most other app stores look past. Lastly, users can pay for apps and games on SlideME using PayPal, which is very convenient for international payments. Unfortunately, the apps you find on SlideME are usually not updated very frequently and the website is also not the most appealing.
Visit SlideME
#10 – Samsung Galaxy Store
Ending the list, we have a special one for Samsung users. The Galaxy Store comes built-in with all Samsung Galaxy smartphones and is a hub to a good selection of both apps and games. You can find the traditional set of apps such as Facebook, WhatsApp, and Instagram, but also a whole range of Samsung-specific goodies.
This includes special offers for Samsung users, 100GB of free backup by Degoo, support for Adobe Rush, and more. Since the app store is built and managed by a technology giant, it is highly polished and receives regular updates. The Galaxy Store is also the best place to find watch faces for your Galaxy Watch, in case you own one.
Visit SlideME
That's all folks! We hope you enjoyed our roundup of some of the Best Google Play Store alternatives available for Android devices. Which one among the list is your favorite, and how many of these app stores have you already known or have been using? Know other good Android app store services that you feel people might find interesting? Do let us know in the comments section below, we'd be delighted to hear from you guys!