ADP, one of the major payroll companies in the United States, provides Wisely Card. The Wisely Card is a prepaid debit card that enables users to collect their paychecks, government benefits, and tax refunds without much hassle. The card is safer for carrying cash because it may be used everywhere that accepts Visa debit cards.
The Wisely Card must be activated before use. The card can be activated online. If you are a new user of the Wisely Card and can't seem to understand how to activate the card, you are in the right place. This post will discuss activating your Wisely Card online through Activatewisely.com. So, without any further delay, let's begin.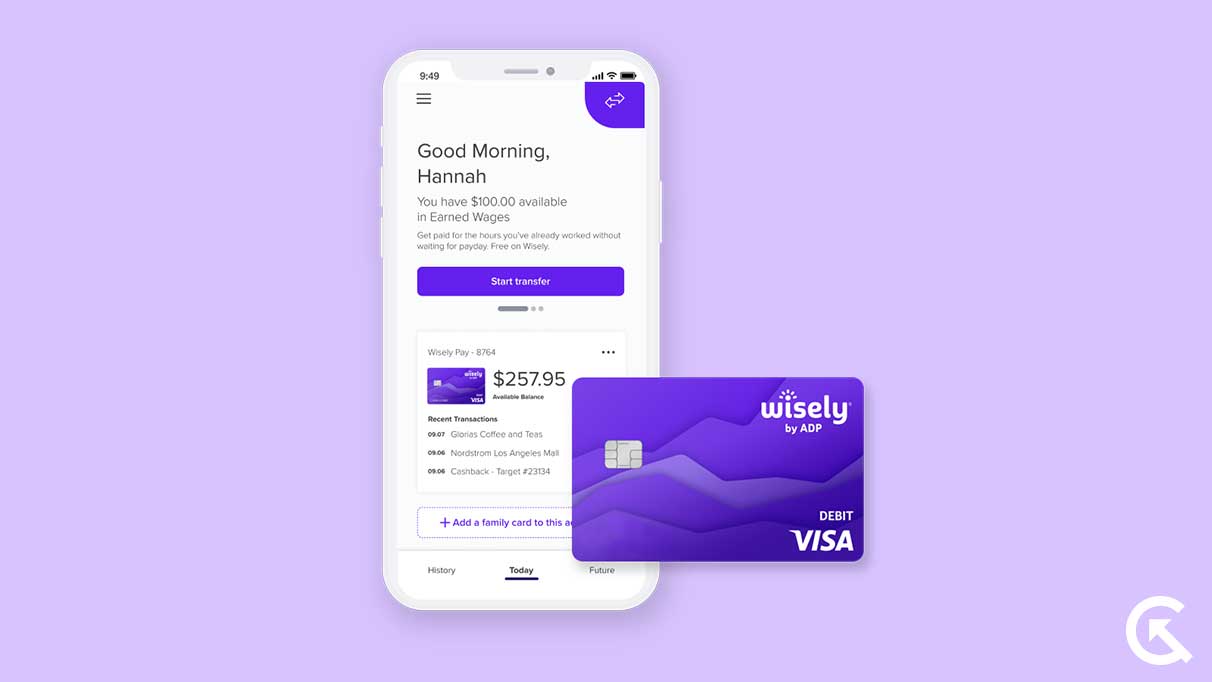 Prerequisites
Before we get to how you can activate your Wisely Card online, you must ensure you have all the requirements ready. If you are unsure, here are all the things you need to activate your Wisely Card:
Your Wisely Card details: To activate your Wisely Card online, you must have it on hand and be prepared to provide the card's 16-digit number and expiration date.
Personal Information: You'll need to provide details like your address, Social Security number, full name, and date of birth. You must provide this information to authenticate your identity and activate your card.
A Valid Email Address and Phone Number: You will need a valid email address to sign up and your phone number to verify your identity. Once your card is activated, you will receive a confirmation in your email.
Internet Connection and a Web Browser: To activate your Wisely Card online, you must have a steady and dependable internet connection. To make sure that your personal information is secure, it is advised that you use a private and secure network. Any web browser will work to activate your Wisely Card online.
Activate Wisely Card Online
As mentioned earlier, activating Wisely Card to use its services is important. Wisely Card can be activated online via the activatewisely.com website. Here are the steps to it:
Open your preferred web browser and go to the official activation website of Wisely Card: activatewisely.com.
Enter your Wisely Card's 16-digit number on the activation page, followed by the expiration date in the fields provided.
Complete the "I'm not a robot" test to confirm that you are a human user.
Enter your personal information, such as your full name, date of birth, Social Security number, and address. Verify that all information entered is correct and accurate. If there are any errors, you can modify the information accordingly.
Create a four-digit PIN to authorize transactions with your Wisely Card. If asked, enter your desired PIN.
Click on the "Continue" button to complete the activation process. Once the activation process is complete, you will receive a confirmation message that your Wisely Card is now activated and ready to use.
Congratulations! You have successfully activated your Wisely Card online. You can now use your Wisely Card to make purchases or withdraw cash at any ATM accepting Visa debit cards.
Advantages of Using a Wise Card
Several advantages of the Wisely card make it a preferred option for users. Using Wisely has several significant benefits, such as:
One-stop solution: Wisely eliminates the need to switch between many service providers to manage your pay expectations. A pay card, direct deposit, off-cycle pay, on-demand payments, pay statements, and many other features are available through the comprehensive platform known as Wisely. You can quickly get a paper cheque from Wisely if you need one without any difficulties.
Seamless Off-cycle and On-demand Payments: Wisely makes it easy to handle the payment of ad-hoc employees with its platform that complies with all fifty states in the United States. You can manage off-cycle and on-demand payments under a single hood, eliminating the need to coordinate with different departments. You can also send funds virtually and check your account balance from the Wisely interface, making the whole process a breeze.
Better Security and Compliance: Wisely complies with all the regulations in all fifty states in the US, ensuring that you stay on the right side of the law. The Wisely card features an EMV chip for enhanced security, geofencing technology, and Mastercard and Visa zero-liability policy for better fraud protection in case your card is lost or stolen.
Easy Tip Management: Wisely enables you to pay tips to your staff securely. Without going through a laborious process, you can handle all the tips from a single interface and distribute them at the end of the shift. You will save a lot of time doing this, making it convenient for everyone. Additionally, the absence of dealing with cash increases the level of security. Additionally, employees gain the ability to manage their money securely and prudently.
Simple Integration: Incorporating the Wisely platform into your company's structure is easy and can be completed within minutes. Your company can move completely paperless for the payment domain, streamlining the process and increasing efficiency.
Common Issues When Activating Wisely Card Online
Sometimes, users may encounter issues when trying to activate the Wisely Card. Here are some common problems and their solutions that can help you troubleshoot issues with your Wisely Card.
1. Invalid Card Details
One of the most common issues with activating or using a Wisely Card is entering incorrect card details. Double-check that you have used the right 16-digit card number and expiration date when activating the card online. If you're unsure, check the details on the actual card, or ask the Wisely Card customer care team for clarification.
2. Incorrect Personal Information
Providing accurate personal information is crucial when activating or using the Wisely Card. If you mistakenly enter an incorrect name, address, date of birth, or some other information, it can lead to card activation or usage issues. This is why it is important to double-check your personal information before proceeding.
3. Technical Issues
While using the Wisely Card, there could occasionally be technical problems. These can include server outages and issues with network connectivity. Try deleting your browser's cache and cookies or using a new browser if you encounter technical issues. Contact the Wisely Card customer service department for help if the issue continues.
4. Locked Account
For security reasons, your account may become locked if you repeatedly enter the wrong information while attempting to activate the Wisely Card. To unlock your account, you need to contact the Wisely Card customer service team and follow their instructions to reset it.
5. Forgotten PIN
If you forget your PIN, you can reset it online by logging into your account on the Wisely Card website or mobile app. Follow the on-screen instructions to change the PIN and create a new one. If you still have trouble changing your PIN, get help from the Wisely Card customer support team.
Frequently Asked Questions
What information does Wisely Card need to activate a prepaid card?
You must provide your data, such as your name, address, date of birth, and social security number, to activate a Wisely Card. Additionally, you must supply your card information, including the 16-digit number and expiration date.
Can I make purchases without activating my Wisely Card?
You won't be able to make purchases or cash withdrawals with your Wisely Card till you activate it. Activating your card as soon as possible is crucial because inactivity costs will also apply to your card.
What benefits do Wisely prepaid cards offer?
The Wisely Card has several benefits, including making purchases, getting cash from ATMs, getting direct deposit payments, and managing your money online. Additionally, the card offers security features like zero-liability fraud protection and EMV chip technology.
Is there any fee to activate the Wisely Card?
No, there is no fee for activating the Wisely Card.
Where can I use my Wisely Card?
You can use your Wisely Card anywhere that Mastercard or Visa debit cards are accepted, which includes most retailers and online merchants. You can also withdraw cash from ATMs that accept Mastercard or Visa debit cards.
Final Words
The Wisely card is a popular option for both businesses and people. It is a practical and dependable option for controlling pay expectations thanks to its all-in-one solution, smooth payments, improved security, simple tip management, and more. In this guide, we showed you how to activate your Wisely Card online without any hassle and enjoy its benefits. Let us know in the comments section below if you have any further queries.