Beats audio products are premium offerings that are owned by Apple now. Apple controls every Beats product now, and even though Apple has its own set of audio products directly, they maintain some beats products for the brand enthusiasts. Yes, the hype around beats had died out significantly compared to what it was back when it was launched. But as a luxury product, many still prefer the beats earphones and headphones as their primary audio accessories.
Among the entire lineup of Beats products, the Powerbeats 2 and Powerbeats 3 are popular products for fitness enthusiasts. It is a true wireless series of audio products from beats, and they come with all sorts of features that you might require from a product priced in that segment. But despite its features, some users face issues with their Beats Powerbeats 2 and 3 models, and here in this article, we will discuss the problem of charging. Some Beats Powerbeats 2/3 users have reported that they cannot charge their buds. And we will look into all the solutions one can try to fix. So without any further ado, let's get into it.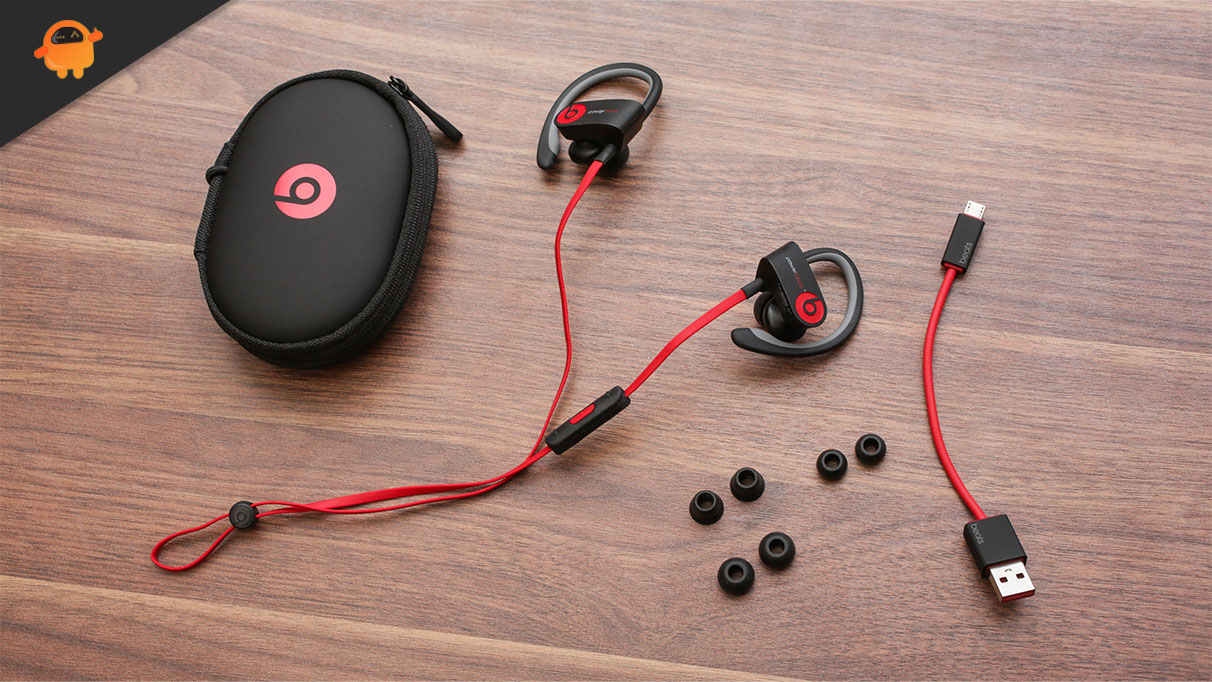 How to Fix Beats Powerbeats 2/3 Not Charging?
We will discuss all the possible solutions that you can try to fix the problem.
Force Restart:
A simple restart is just not enough to fix most issues with Bluetooth audio devices. And even with the Powerbeats 2/3 charging issue, that could be the case. So it would be best if you force restart your earbuds and see whether that solves your problem.
To force restart the earbuds, place them inside the case and connect the case to a power source. While the case is connected to a power source, press and hold power and volume down buttons until you see the lights flashing. There is a possibility that your device may have different buttons assigned for a forced restart. So please check your device's manual in case the volume down and power button do not work.
After the forced restart is complete, try charging your buds again. Go to the next solution if it still does not work.
Switch to a power outlet:
If you are trying to charge your earbuds from a USB source, it won't work. It will work if it's a high power output source like a power bank, but it won't work with other sources like PC USB. So for best results, it is best to use the power adapter plugged into a power source.
If it is still not charging up, try the next solution.
Check the power source:
Ideally, you would use the power adapter and charging cable with the Powerbeats 2/3 for the best charging speeds. But along with the adapter and cable, you also need to check the power source to ensure that you are getting a stable supply. If the output is less than ideal, your earbuds case will not charge properly. So try using different power sources and check whether that solves your problem.
If it is still not charging up, try the next solution.
Update firmware:
Updating the firmware could be the solution if the charging issue is bug-related. You need to download and install the Beats update on your PC and then connect the earbuds to your PC. Now open the application and search for your earbud's model. Once you see it, click on it and then select update. This will update the firmware on your earbuds.
Once the update is complete, try charging your earbuds again. Go to the next solution if it still does not work.
Check the charging cable:
There is a chance that the cable you are using to charge your earbuds could be faulty. It is one of the most common reasons behind a device not charging properly, so with the Powerbeats 2/3, it is a possibility as well. So try swapping out the cable you use to charge your earbuds and check whether that works.
If it is still not charging up, try the next solution.
Charge for a long time:
Sometimes when you do not use a device for a while, it takes a bit to charge up the battery. And with the earbuds, if you do not use them frequently, you need to charge them longer and wait to see if that works. Ideally, sometime around an hour should be enough for you to realize whether the device is charging or not.
If it is still not charging up, try the next solution.
Clean the charging case:
The charging case will have a USB input port for charging. Use a q-tip and clean up that port properly. Sometimes accumulated dust is enough to disrupt an electric flow. So clean up the port and then check whether the case is now charging or not.
If it is still not charging up, try the next solution.
Take it to the service center:
Apple owns Beats, and their service centers also care for beats products and Apple products. So visit the nearest Apple service center in your locality and inform them about your charging issue. They should offer you some solution to your problem. If it is a hardware issue and you are under warranty, they will fix it for you without any hassles.
So these are the solutions to fix Beats Powerbeats 2/3 not charging issue. If you have any questions or queries about this article, comment below, and we will get back to you. Also, check out our other articles on iPhone tips and tricks, Android tips and tricks, PC tips and tricks, and much more for more helpful information.