With the increasing craze among people for Android Devices and Phones, a threat invisibly attached to it comes along every time. With the ever modifying technology, there are constant data and file leaks that may turn out to be harmful for your device and may cause a permanent damage to it. hence to over come such issues of Privacy and protection matters, there comes a solution of antivirus apps that help you keep away from such threats of malware.
That is what the topic of this article is going to be as you all have guessed by now. Since we come across a number of apps on Play Store, Choosing the best is quite tough now-a-days. When there are so many apps for antivirus categories, there are some which provide you complete protection from all kinds of virus and malware. But the thing is we generally consider the privacy and protection apps as different. So here we are, providing for you the best 5 Antivirus Apps for Android that would help you maintain your privacy and protection as well.
Also Check: Install Google One App From The Play Store [APK Download]
Top 5 Antivirus Apps for Android:
1. Norton Security and AntiVirus
Norton Security and Antivirus Software provides your device an impressive android security features and that too free of cost. You also get a premium package available free of cost as well for a trial period of 30 days. Although not mentioned in any particular order, Norton Security and Antivirus proves to be one of the best Antivirus Apps for Android.
The app gives you a 100% detection rate with other jobs as removing malware, spyware or Android Viruses that can otherwise slow down your device and eventually harm it permanently. With over 10 Million downloads and only 26 MB file size, Norton has proved to be one of the most preferred antivirus app option.
In case your device is lost or stolen by someone, you have got no worries to care about if you have this incredible app installed on your device. Norton triggers an alarm to find your missing device, remotely lock your device in order to prevent data theft and also block unwanted calls or messages.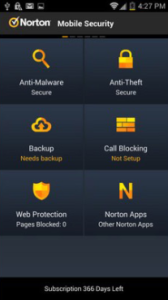 Features:
Scans and Removes apps with Viruses, Spyware and other threats.
Checks app risk ratings directly in the Google Play Store.
Finds out what your apps are doing when you are not looking.
Scans apps from the Google Play Store before installing.
In the latest version of Norton, the app helps you to top prying eyes from spying on your online activity with a feature named Wi-Fi Protection.
Helps protect multiple Android Devices with just one subscription.
Discovers Wi-Fi router vulnerability before your Personal information is exposed.
Download Norton Security and Antivirus
Also Check: Samsung Galaxy J3 Star launched for $175 Under T-Mobile: Specifications and Price
2. Avast Mobile Security
With over 100 Million Downloads and a file size of 16 MB, Avast Mobile security tends to be one of the most popular antivirus apps. This app provides you a number of features under the name of protection. From being a Antivirus engine, Call Blocker, Anti-theft Software, Privacy Guard, App Locker, Power Saver, WiFi Scanner to Web Shielder, RAM Booster, Junk Cleaner, WiFi Speed test.
This app is trending #7 in the top Grossing Tools. Now by this you might have got an idea of what kind of features it holds. With one single tap, the antivirus app scans for any sort of danger that can infect the phone or other apps. Though this app contains a few in-app purchases, all of them are at a reasonable price and even without them the app works pretty well.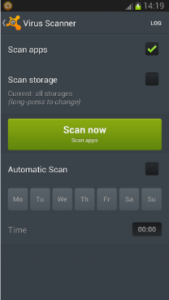 You get features in the premium or in-app purchase as removing ads and access the app locking facility with some other advanced features like SIM security, camera trap and much more. The free version also gives you a lot than you would certainly expect.
Features:
The app cleans up unnecessary data, system caches, gallery thumbnails, installation files and residual files.
It helps you keep your privacy safe. You can add numbers to block list and block all the callers you want to.
The app scans and blocks malware infected links as well as trojans, adware and spyware for privacy and safe web browsing and also fixes wrongly typed URLs.
Checks the security of each network and email and browse and make payments where ever you are.
The Photo vault allows you to protect access to your photos with a pin code. After moving photos to the vault, they are encrypted and hidden.
The Power Save feature reduces the battery consumption of your device by adjusting a set of settings like Wi-Fi, Bluetooth, Synchronization, Screen settings, etc.
Download Avast Mobile Security
Also Check: Best Trading Apps for Android
3. McAfee Mobile Security and Lock
McAfee Mobile Security and Lock is another best app that has over 10 Million downloads and a file size of 14 MB. A very peculiar feature of this app is that all the McAfee LiveSafe and McAfee All Access users will automatically receive the premium version of our free antivirus app.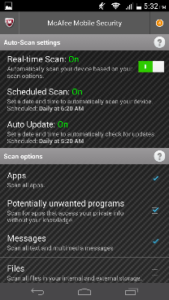 McAfee Mobile Security is a free virus cleaner that protects and enhances your Android phone or tablet's performance with an award-winning Anti-theft, Anti-Spyware, Anti-malware, Virus Removal, Performance optimization, Contacts Backup, SMS Backup, Security Features, etc. The latest version is 4.9.5.2184 and for the last time was updated on 12 April 2018. It is offered by McAfee LLC. This app contains in-app purchases from INR 50 – INR 5,400 per item.
This app has won many notable awards ever since its release on 30 May 2011. According to AV-Test, McAfee provides 99.5% malware detection rate, and you can also schedule the scanner to run every day at a particular time, weekly, or even enable it to run in the background. One of the flaws in the app is that it carries a complicated setup once you opt for the pro version. However, it holds only a few additional features and is expensive as compared to most of the other antivirus apps. Nevertheless, the app is a trustworthy antivirus apps for Android.
Features:
This app Guards your phone against viruses and other malware.
You can, with the help of this app, protect yourself from risky apps and prying eyes.
It helps you in staying safe from Unsecured WiFi and malicious websites.
The app boosts your device by extending battery life, clean memory and storage, tracks data usage as well.
You can find your device, if lost, with a remote alarm and secure privacy with lock and wipe all through McAfeemobilesecurity.com
You can get an email with a photo and location when your device is in the wrong hands.
Download McAfee Mobile Security and Lock

Also Read: How to Clear Cache and App Data in your Android Device
4. 360 Security
In all 100 Million Downloads and a file size of 19 MB, 360 Security is another one on our list of best five antivirus apps. As you can see by the number of downloads, it is highly trusted by many users. This app gives you many reasons for why it should be a must-have app on your phone. Major features consist of antivirus protection, junk cleaner, speed booster, lock screen which has multiple functions, CPU cooler, anti-theft protection, etc.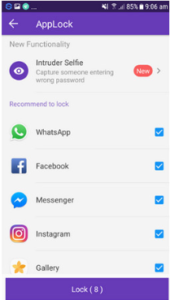 In addition to real-time protection, it integrates an Intruder Selfie feature that instantly snaps a photo of anyone who tries to break into your device, and also has a fingerprint lock system. The app is free with in-app purchases and displays ads.
Features:
This app boosts your phone to accelerate it and save the battery as well.
It cleans trash and residual files too.
The Antivirus software keeps your device away from malware and vulnerability.
The multi functional lock screen from360 Security checks and protects your device and provides a variety of hand tools.
In case your phone is lost, you can locate it and remotely wipe the data it carries.
With the App manager, you can manage apk files, apps and move files to SD Card.
The app helps maintain your privacy by protecting the calls and messages you receive. You also get to protect your Apps and Contacts.
You are given the privilege of blocking unwanted calls and messages.
Also Check: Latest Telegram X April Update Brings Multi Accounts and Live Location
5. Security Master
With over 500 Million downloads and 22 MB File size and a pretty good ratings list on Play Store as well. Security master tends to be one of the best and most popular apps in antivirus apps.This app makes sure to keep your phone away from all sorts of Malware and checks that no virus gets any door opened on your phone. Security Master is an excellent security app that can be listed among best free android antivirus apps.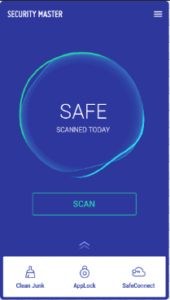 The free version has got to give you all the necessary features as in Scanner, App locker, Phone Booster, CPU Cooler, Call Blocker, battery Saver and so on. With these all protecting guards, it also allows you to browse through your favorite social platforms like Facebook, YouTube, Twitter, etc
Features:
This app has got intelligent diagnosis with suitable functions like Antivirus, Phone boost, Clean, etc.
You can connect safely to the world through a SafeConnect VPN.
With just one tap, you can clean all threats in safe again.
You can protect private messages and lock apps you need.
You can also catch people who secretly try to unlock your phone.
To ensure safe internet surfing, you can hide the browsing history.
You can maintain your privacy and hide and organize your private messages.
Also Read: How to fix "Pandora that keeps crashing" on my phone?
Final Words:
This was all about the best 5 Antivirus Apps for Android to safe from Malware or Vulnerabilities. Although I have mentioned 5 apps in this least, there is no any particular order for the 'best of them' app. All these apps work great even in their free versions and hence have been mentioned in our Top 5 list. You can choose any one of them according to your convenience or else try out all of them.
Hope you guys found the article useful. I assume by now you might have chosen the app from the list above, the one that works best for you. For more such updates, tricks and tips, make sure you have subscribed to our Newsletter.
Also Read: How Fix Vernee Battery Draining Problems – Troubleshooting and Fixes