Android smartphones are now becoming the number one target for hackers and spammers. This is the right time to install these best 5 antivirus apps for your Android smartphones, protecting your devices from malware and security vulnerabilities.
Viruses and malware are now very common on Android devices. Being the most widely used OS for smartphones, Android is the most targeted platform for malicious intentions. This is why the demand for Antivirus applications has ballooned in the market. However, it is not necessarily a requirement if you know how to play safe. But since this does not apply in most cases, having reliable Antivirus software installed on your smartphone is probably the safest thing to do.
Again, when it comes to antivirus protection for Android, the options for you are far from limited. But finding the best ones might take some effort. Most of the antivirus applications are either unreliable, lacks potential, or are simply bloated. However, we have looked over all the edges to cut it down to only the best antivirus apps for Android to protect you from malware and severe vulnerabilities. This article contains a list of the 5 best antivirus applications that are worth a try.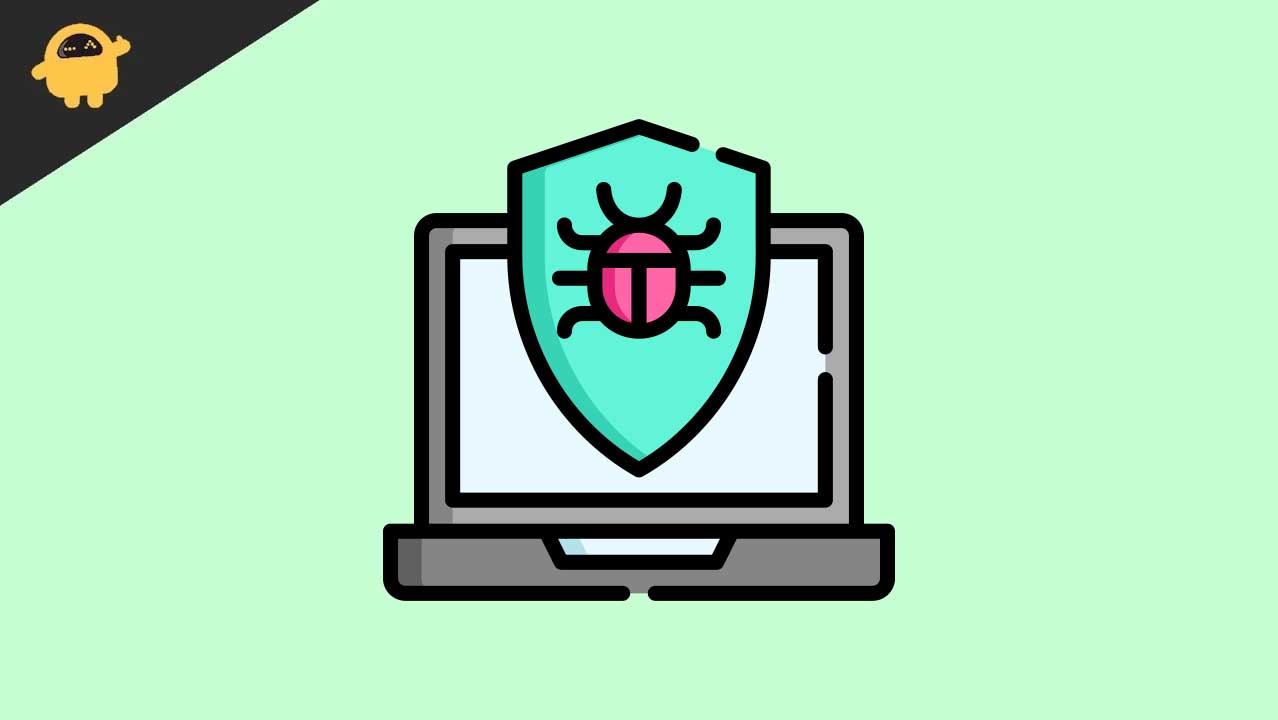 Best 5 Antivirus Apps for Android to safe from Malware/ Vulnerabilities
When we talk about the best antivirus apps, we expect top-notch protection from all kinds of viruses and malware. A reliable antivirus promises absolute data privacy and safeguards against all sorts of vulnerabilities. So, here are the 5 best antivirus apps for Android you need to install on your device right now.
1. Norton Mobile Security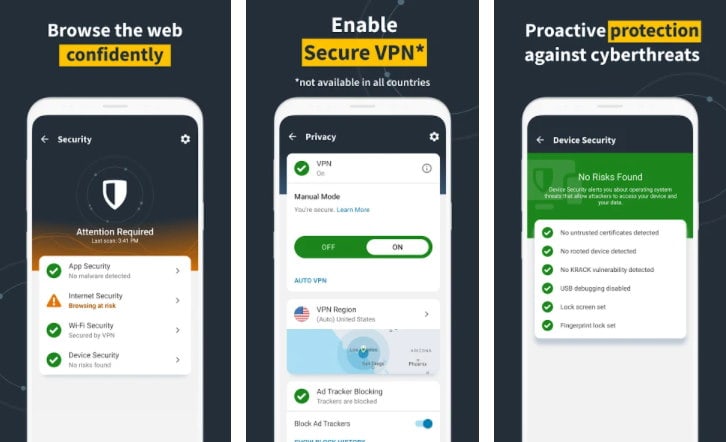 Norton antivirus solution is among the top-rated antivirus software for Android. And most of its credit goes to the Norton Mobile Security App Advisor. This is a unique feature available in the Norton antivirus app that checks for all the installed apps on your device and notifies you of the ones with any unusual behavior or abnormal data usage. It even checks the apps available on Google Play Store to ensure your privacy and security even before installing them on your Android phone.
Apart from this, Norton's intuitive interface and intact malware detection justify its position in the market. Unfortunately, in late 2019, Norton had removed some of its features, including the anti-theft functionality, malicious link blocker, and a couple more. And more sadly, they also removed their only free tier plan, which was one of the best things about Norton Mobile Security. But even so, the antivirus is still worth the value you pay.
Download Norton Mobile Security
2. Avira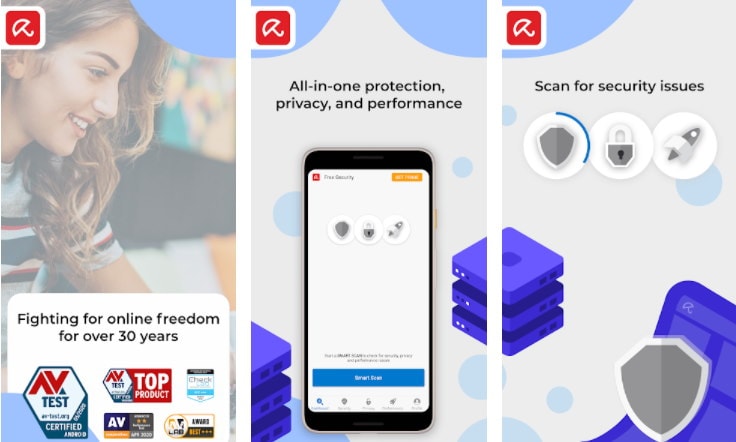 Avira is comparatively a new name on this list that has earned a good popularity in almost no time. It is a complete antivirus app that comes with all the essential features and even more. To speak about the Avira antivirus, it comes with a full device scan, SD card scan, privacy scan, real-time protection, and a lot more. The anti-theft feature plays a significant role since it is one of the smoothest features in this application.
It also comes with VPN protection to ensure one extra level of security and protection of your data from any unauthorized sources. Besides, it also comes with other features such as blacklisting, password generation, and so. Avira offers a free tier plan and is among the lightest antivirus applications you can have on Android.
3. BitDefender Mobile Security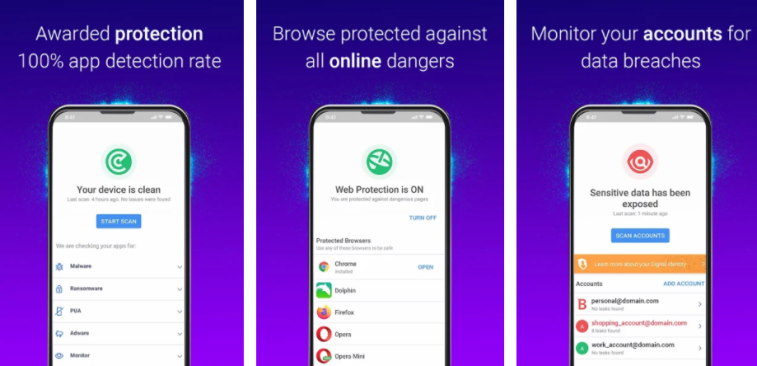 BitDefender is almost a perfectionist if it comes to the best Android antivirus solutions. To start with, it is a lightweight application that comes with powerful security and privacy tools. An intuitive graphical interface, a separate VPN client, app locker, Wi-Fi scanner, and malicious website blocker are the most expected features in this antivirus app. Moreover, BitDefender even comes with Android watch integration. The anti-theft and data-breach notification features come in handy most of the time.
BitDefender has no freemium plan, although it includes a 14-day trial version. It costs around $15 per year, which is worth all the features it offers. Besides, it also has a separate free application that checks for malware only and doesn't include the rest of the options.
Download BitDefender Mobile Security
4. Avast Antivirus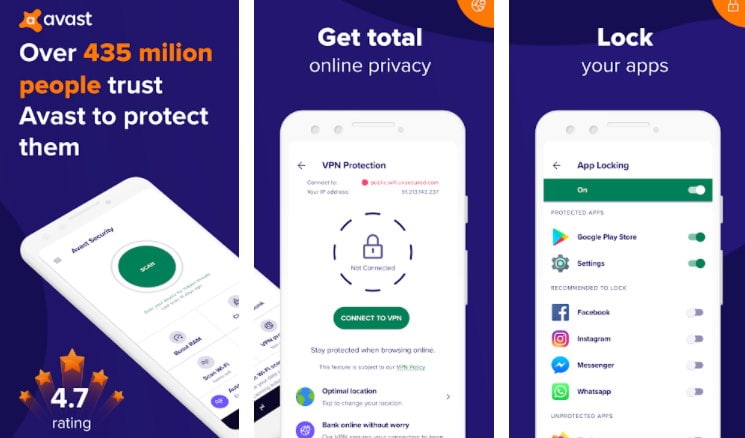 Avast is another feature-rich antivirus app for Android. The app contains all the necessary features to ensure utter security and privacy of the users. It includes a dedicated privacy adviser and a system optimizer to ensure the liquid performance of your device. The app offers bundles of other features to guarantee your protection in every step.
Even though the free tier of Avast includes a lot of features, some of them are either dysfunctional or don't work. For instance, the anti-theft feature in Avast antivirus does not work with the freemium version. And the ads can be another downside to this application. However, you can solve most of these issues by subscribing to one of their premium plans. And the best part about Avast is they offer the cheapest premium plans in the market as well.
5. Mcafee Mobile Security
Our last pick for this list is Mcafee Mobile Security. Mcafee is also pretty much like Avast and offers tons of features under a single roof. It offers various unique features which make it count among the best antivirus applications. Mcafee comes with essentials like anti-theft feature, full device scan, app data tracker, Wi-Fi scanner, etc.
The free version of the application provides most of the premium features. However, the continuous ads will end up buzzing around and creating interruptions. A way to avoid these distractions is by subscribing to one of their premium tier plans. Similar to Avira, Mcafee Antivirus also offers affordable premium plans. Plus, they include a few extra features over the free plan.
Download Mcafee Mobile Security
Conclusion
The best Antivirus for Android will probably offer you a handful of options to ensure the complete security of your data. These 5 antivirus apps do the same thing for you. And by upgrading to their premium plans, you can get the best possible experience with no ads and interruptions. However, if you are willing to spend a good amount of money on your privacy, definitely BitDefender and Norton are the top choices you can go with. Let us know which antivirus you use on your Android device and how it is better than the ones mentioned above.