Miitopia is one of the role-playing video games for Nintendo Switch that has been developed and published by Nintendo itself back in 2016. Players can cast their friends and family members in Miitopia for adventurous gameplay. Miitopia offers players to add some of their favorite characters from video games, movies, animes, and character codes. Here we've shared the List of Best Miitopia Mii Codes that players may find useful.
Once you go through all the best Miis that are available to download, you can easily find out the access keys below as well. Although these access keys and Miis can also be purchased over from the demo, you can follow the full directions and enter the character code to download in order to add these into the gameplay.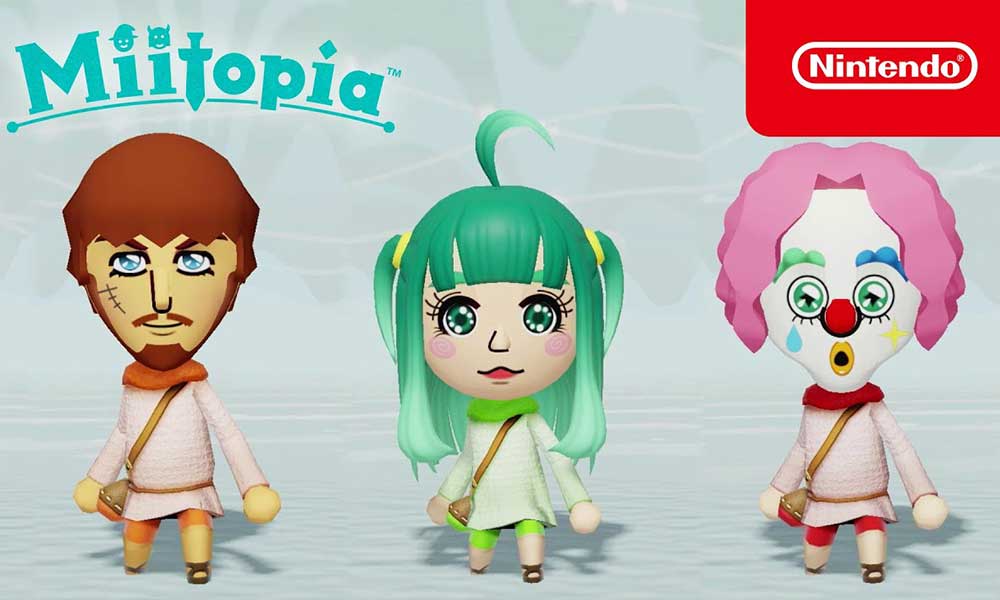 List of Best Miitopia Mii Codes
Now, without wasting any more time, let's jump into it.
Please Note: Players will require a Nintendo Switch Online Subscription to use this option.
1. Video Game Character Codes
Players can download these Miis character codes.
Mario Series:
Bowser: 7W0XJ2H
Luigi: 7W0XJ2H
Mario: 7W0XJ2H
Pauline: M3WC0M
Rosalina: 15PCK1L
Toad: 1NBTC4W
Waluigi: 7W0XJ2H
Wario: 7W0XJ2H
Misc:
2B: 1GKWF4F
Among Us: 4KC574X
Banjo and Kazooie: 6084P63
Bayonetta: 5FLN46J
Crash Bandicoot: 1GH1GV9
Final Fantasy 7: 3B5MWNK
Geno: 232YVJV
Geralt: 33FDTPN
Hatsune Miku: T12LD7
Jak and Daxter: 349X62C
King of the Cosmos: 8GFCJ2K
Kirby: 7DB3FWC
Mega Man X: 72G7733
Mother 3: 7W0XJ2H
Ness: 7W0XJ2H
Palico: 232YVJV
PaRappa the Rapper: 6RMXDFK
Piranha Plant: 232YVJV
Sans: 7C7XVVJ
Solid Snake: 232YVJV
Steve: VYNR97
Tron Bonne: BB8LNY
Ulala: 4P5DMXC
UmJammer Lammy: 6RMXDFK
Persona Series:
Makoto Nijima: 15PCK1L
Rise Kujikawa: 15PCK1L
Ryuji Sakamoto: 33BHP31
Sadayo Kawakami: 15PCK1L
Yosuke Hanamura: 33BHP31
Yukiko Amagi: 15PCK1L
Pokemon Series:
Brock: 5PHXFR0
Diglett: 3RVHRGR
Gastly: 3RVHRGR
Incineroar: 6DXWBVX
Koffing: 30DN42F
James: 1NBTC4W
Jesse: 1NBTC4W
Jynx: 3RVHRGR
Marnie: 6B10GN8
Pikachu: P2FJX6
Sonic Series:
Dr. Robotnik: 3B5MWNK
Shadow: 7W0XJ2H
Sonic: 3B5MWNK
Splatoon Series:
Callie: 4P5DMXC
Inkling: 4K89CRH
Marie: 4P5DMXC
Marina: 4P5DMXC
Pearl: 4P5DMXC
Zelda Series:
Ganondorf: 232YVJV
Link: 4P5DMXC
Majora: 4GH3KT
Midna: 3L02FXR
Tingle: 251LHXC
Tingle 2: 7W0XJ2H
Zelda: 4P5DMXC
2. Anime Character Codes
Miitopia players can add some of their favorite anime characters to the adventure with the access keys below.
Demon Slayer:
Nezuko: 6B10GN8
Rengoku: 3XPNM03
Tanjiro: 3XPNM03
Dragon Ball Series:
Goku: 6B10GN8
Krillin: 6B10GN8
Piccolo: 6B10GN8
Kill La Kill:
Ryuko: 5LH4GTF
Satsuki: 5LH4GTF
Misc:
Zombieland Saga:
Ai Mizuno: 6HVT0YM
Junko Konno: 6HVT0YM
Saki Nikaido: 6HVT0YM
Sakura Minamoto: 6HVT0YM
3. Misc. Character Codes
There are some of the misc. characters from movies, cartoons, and TV shows.
Boba Fett: 4GH3KT
Bobby Hill: 2GRKKC1
Cacodemon: 8HDMV76
Gir: 1FLKXXT
Gooby: 6081Y5W
Harvey Birdman: 8PC7K8V
Homer Simpson: 5835LY
Lois Griffin: 6081Y5W
Minion: P2HR71
Peter Griffin: 7W0XJ2H
Ramona Flowers: 7W0XJ2H
Robocop: T12LD7
Scott Pilgrim: 7W0XJ2H
Snoopy: 33BHP31
Zoidberg: 5TVM5P6
Steps to Use an Access Key in Miitopia
Select 'Mii characters' on the main screen.
Select 'Add Mii characters' > Choose to 'Receive'.
Once the game prompts 'Receive from whom', make sure to select 'Access key'.
Now, enter the character code > Choose the Mii to download.
Select 'Receive'.
Enjoy!
That's it, guys. We hope this article was helpful. For further queries, you can comment below.