WorkinTool VidClipper, a Windows-based video editor, targets consumers who want to acquire tons of tools in lightweight software and amateurs who want to make video editing easy to handle. This easy-to-use tool pans out in practice for both groups once you dig into it. WorkinTool VidClipper packs lots of video editing capability into a simple interface and labels every feature clearly. This post lists its pros and cons, interface, capabilities, price, and performance. After reading, you will know why does it worth a shot as the beginners' favourite video maker.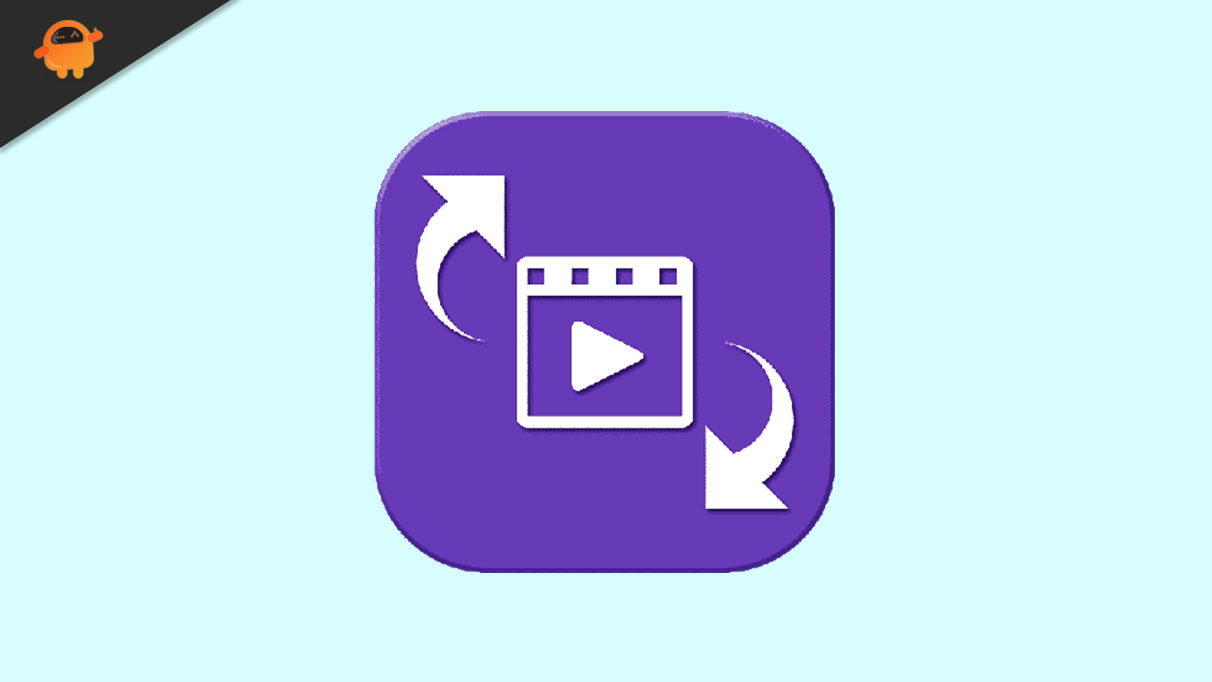 Pros and Cons
Reasons to try

√ Completely free without limitations

√ Unintimidating interface

√ No watermark

√ Multiple features like screen recording, etc.

√ Stable performance

√ Fast rendering time

√ Numerous import and export options

√ Rich online tutorials

Reasons to avoid

-Only attainable on Windows

-Lacks advanced motion tracking feature
How Much Does WorkinTool VidClipper Cost

?
You can get the WorkinTool video editor without spending a penny. It is feasible to download this video editor to Windows PC from their website for free with no subscription. Consequently, there are no in-app purchases or upgrading pricing as well. All features, including the advanced ones like screen recording and text-to-speech converting, are contained in the plan.
WorkinTool VidClipper Interface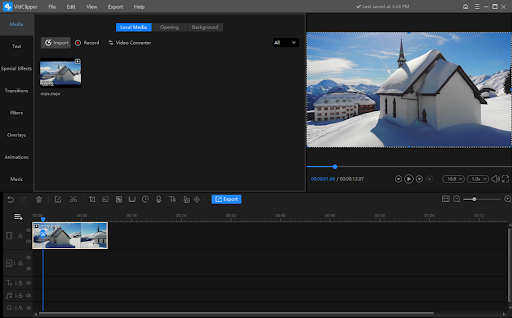 The interface shows dark grey, enabling you to edit a video project without visual fatigue. Without a complicated layout, WorknTool labels every feature clearly. There are mainly three sections. A series of tools listed on the top left side provides sources like Text, Special Effects, Transitions, Filters, Overlays, Animations, and Music. A preview player at the top right shows the change in your video in real-time. The last section along the bottom includes the timeline tracks and features like Edit, Split, Crop, Zoom, Mosaic, Freeze Frame, Audio Recording, Text to Audio, Audio to Text, Keyframing, and more. Drag the edges of the section, and you can resize it without pressure.
Edit a Video using WorkinTool VidClipper Features
Look through a part of WorkinTool VidClipper's features along the editing journey.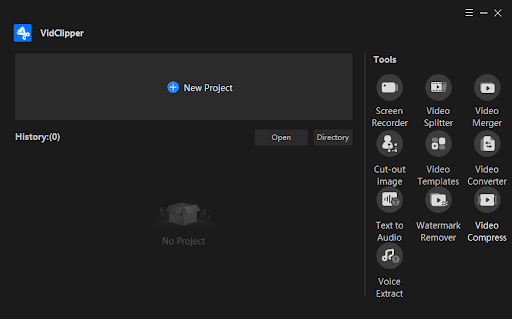 Open this program and start your video project by clicking on the New Project button. After entering the editing panel, upload your source first. You can click Import to import files and folders from your PC or drag and drop files to the media section. To add materials to the timeline, you can hover your mouse over the material and press the popping-up blue + button. Alternatively, you can drag it to the timeline, place it as desired, and start editing.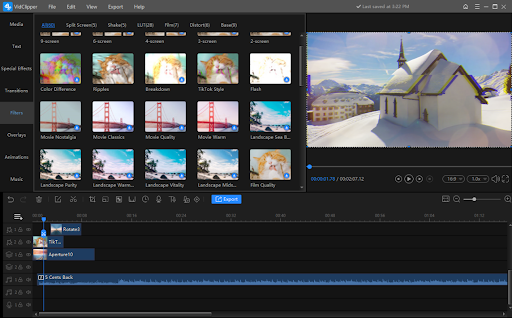 YouTubers and vloggers will appreciate this vast content stock for modifying videos and creating stable presets for their content consistency. WorkinTool VidClipper offers tons of tools to customers for free. The vast content library includes 100+ text, 170+ special effects, 40+ intros, 350+ transitions, 60+ filters, 70+ overlays and animations, and 300+ music and sound effects.
The Text menu offers subtitle templates, dialog boxes, text trailers, and popular text stickers. Most of them are animated. The Special Effects contain screen splitting, dynamic, vintage, freeze-frame, fantasy, nature, transition, frame, and more basic effects. You can create a PIP effect in the Overlays menu by adding frame, interference, halo, old film, light leaking, blur, and viewfinder overlays without hassle.
The Text, Special Effects, and Overlays menus create endless possibilities for your videos, not to mention the transitions, filters, animations, and music. The timeline tracks are unlimited, which means you can add whatever you want to the project without pressure. Download WorkinTool VidClipper to explore more features.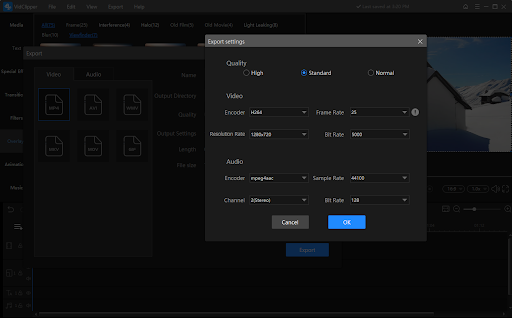 WorkinTool will save your work automatically. So you don't need to worry about accidentally missing or something. When you finish working, hit the Export button above the timeline or on the top toolbar to render the video. The rendering time won't last long. You can save your video project in MP4 format, which meets the requirement of most social media platforms. Or you can convert it to AVI, WMV, MKV, MOV, and GIF format if desired.
In addition, the Export settings also allow you to adjust video quality, including the encoder, frame rate, resolution rate, and bit rate. Audio quality like encoder, sample rate, channel, and bit rate are also changeable. Whether to create a high-quality video or make it suitable for mobile watching, you can quickly achieve it without breaking a sweat.
WorkinTool VidClipper Performance
As a Windows-based video editor with many features, WorkinTool VidClipper only takes up 164MB on your computer. That is much smaller than apps from big companies like Adobe Premiere Pro. You can download and put it into use in seconds. Many people are concerned with its performance. Will it crash when I use it? It will pause when your project is too large, but it will remain responsive. And the work process will be saved automatically. The rendering speed is not a problem. So you can leave it alone and don't need to worry about software crashes.
Conclusion
As a free video editor, WorkinTool VidClipper tries to integrate as many features as possible into a simple interface. But it is not overloaded. This software offers various features, a clean interface, and reasonable performance without charging a single penny. Is WorkinTool VidClipper worth it? I believe the answer is an absolute YES.