iPhones are great for continuity of services and apps when it comes to Mac OS and other Apple devices. But when it comes to the Windows x iPhone combination, there aren't many tools that give you options for using your iPhone from a PC. With the latest Wondershare MirrorGo, you can control your iPhone from PC and perform other features such as Screen mirroring, handle mobile notifications, record phone screen on your PC, and many more. The combination of iPhone and your PC plays a great significance on your overall productivity. Since you can directly take care of calls, messages and check notifications directly from your PC screen, it becomes easy to manage your time and make the best out of it.
If you're an individual who often finds himself/herself in a situation where you have to go to extensive headache to transfer images, data from your iPhone to PC. Or troubles with handling mobile notifications while you are working on your desktop. These situations are common in today's world, and something needs to be done. Because having your iPhone by your side will definitely hamper your productivity, but it's important to check up on your phone from time to time.
With Wondershare MirrorGo, you can cast or mirror iPhone screen to laptop or PC, which is ideal for watching movies, Youtube or preventing your ideas to your favourite manager or leader. Not only that, it can improve your home entertainment possibility and adds an extra layer of collaborative office work. Having the ability to share your iPhone screen with your PC has many advantages, so here is a comprehensive guide on casting and controlling your iPhone screen from a PC or Laptop.
Cast And Control Your iPhone Screen From PC or Laptop
Looking to watch a movie on Netflix but bored of a small screen? Want to take care of smartphone notifications from the comfort of your desktop PC. Need to cast your iPhone screen to your laptop for business needs? Take screenshots and record your iPhone screen right from your laptop or PC. These are some of the features that are crucial in today's environment, but sadly such features are not available by default. With Wondershare MirrorGo, you can get all of these features to facilitate your personal and business needs of sharing and casting iPhone screen.
Wondershare has a plethora of software services that are quite loveable in the market. From Filmora to data recovery, they make phenomenal software products specially tailored for the needs of customers. Wondershare MirrorGo is one such product that is specially designed for people who need to use or access their iPhone while working on a PC. These include services like checking iPhone notifications on your laptop, casting the iPhone screen on the laptop, checking messages, attending calls on the laptop and much more.
Control iOS on PC:

No matter if your phone is away from you, either in charging or left at home, you can still use and operate your device with MirroGO. Open and use mobile apps, check location, status or notifications. Power of iPhone apps and ease of desktop, amazing!

Mirror iOS to PC:

Want to share an iPhone screen to your PC, this software got you covered. No cables needed, no WLNA, DLNA protocols necessary, easily cast your iPhone screen to laptop or desktop PC easily.

Games & Entertainment:

Wondershare MirrorGo comes with inbuilt key mapping to facilitate playing your iPhone games on the bigger picture. With Games such as Pubg, COD and Limbo, fantastic gameplay can be enjoyed on your laptop or desktop PC.

Sharing files & documents:

Now it's easier to transfer files between PC and iPhone with MirrorGo, simply drag and drop to save files into your iPhone.

Record iPhone screen on your PC:

Record iPhone screen on the go with one click. Never miss a moment; view and save the recording directly on your PC.

Handle Mobile notifications:

Worried about missing out on your important Snapchat or Instagram notifications? With Wondershare MirrorGO, you can easily manage, view, read and reply to notifications without touching your iPhone!

Make or receive calls on PC:

Phone at charging while you're away working on your important project? Don't worry; MirroGO on-screen control features allow users to make or receive calls directly from the PC. You can even send messages, emails or voice messages.

Take screenshots on PC:

Take screenshots from your iPhone and save them directly to your desktop. Easy and time-saving feature.
How to Mirror iPhone Screen to PC with MirrorGo
There are multiple instances where you might need the feature to cast or mirror your iPhone screen to a nearby laptop or PC. It might be for showcasing a presentation or your family holiday photos. Here is how you can do it!
Download and install Wondershare MirrorGO from here.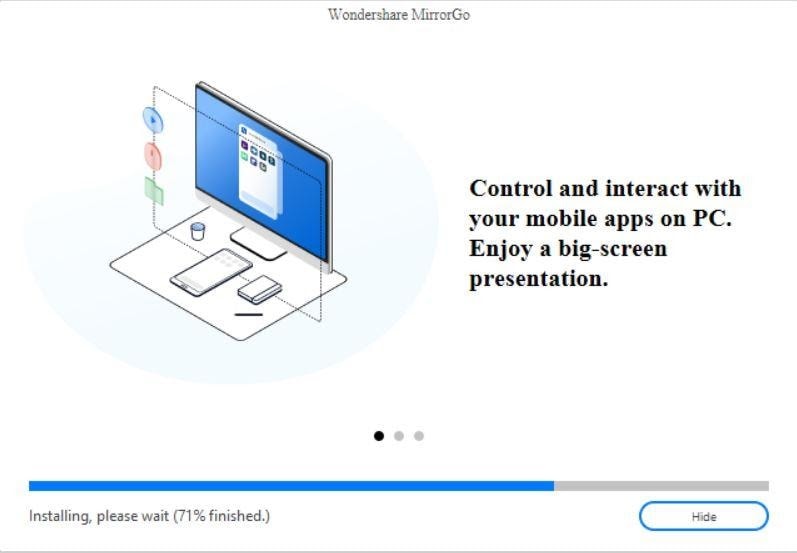 Note: The installation may take 3-10 minutes, depending on your internet connection.
Launch MirrorGO and go to iOS tab.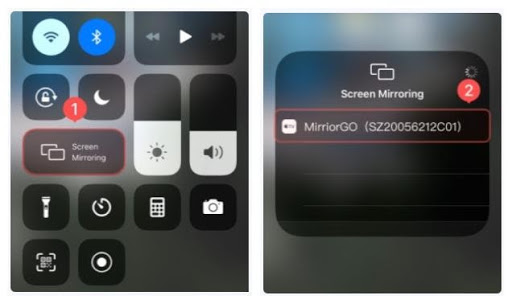 Open your iPhone and go to the screen mirroring feature from the quick panel.
Note: Make sure to connect your iPhone and PC to the same network. In case the option to connect is not available, make sure to disable "low power mode" on your iPhone for complete functionality.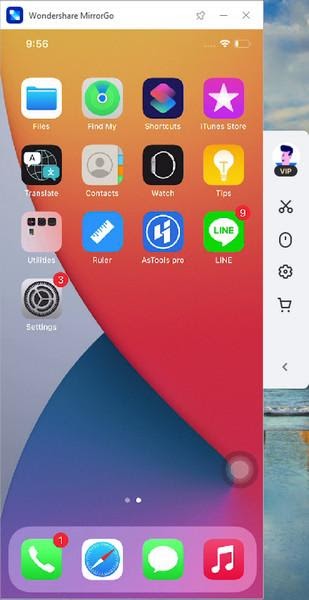 After a successful connection, you can see your iPhone screen on your desktop PC. Use the mouse icon to control and interact with this screen.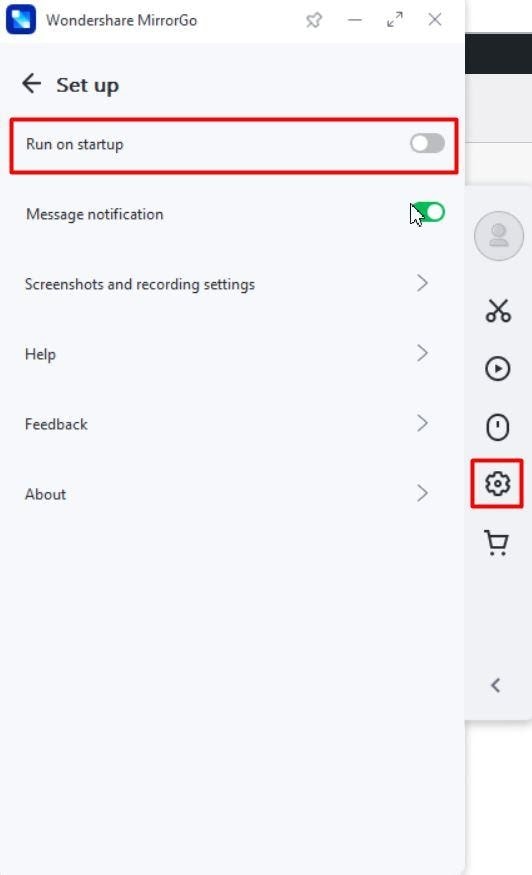 I recommend users to go to the settings tab and enable "run on startup" option. This way, your phone will automatically connect when you start your PC and is a real timesaver option.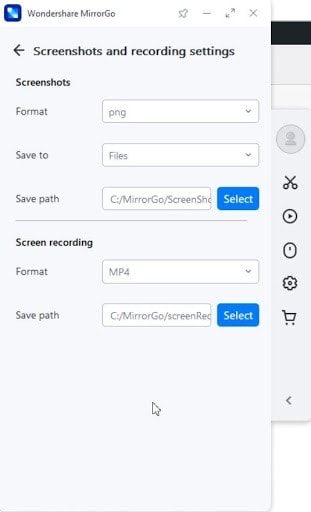 For taking screenshots, first, go to the settings option and configure the save path of files. You can even choose the file format of images and screen recording.
Apart from mirroring, you can even control your iPhone screen from your PC. Simply select the mice icon at the right pane. However, this feature is only available in the VIP subscription, which comes at $3.33/month billed annually.
Conclusion
With modern technology, we can erase the fine line between smartphones and PC. With software solutions like MirroGO, users who need to operate both their iPhone and PC at the same time are at ease. Not only professionals, but this software can also help countless people who wish to enjoy the comfort of using their smartphone device from their laptop or PC. Be it showing presentations to your manager, checking notifications while you are at work or showing your holidays picture to your friend without any worries. Wondershare MirrorGO is a fantastic software catered toward the possibility that, yes, you can use and control iPhone from your PC and laptop easily.