Ever since the work-from-home situation has been started, people have been using their browsers to attend virtual meetings. Apps and services such as Google meet, MS teams, and Zoom is helping people to connect via using their device camera and microphone. With the new Windows 11 update, many users are complaining regarding issues regarding Camera options. These issues are very common with the Google Chrome browser, where the camera is not working on Windows 11 PC.
When it comes to the camera, users have to enable the camera permission when they enter the virtual meeting. Sometimes we forget to enable such settings, and as a result, we see black footage in place of the video feed. But not being able to use your camera in virtual meetings can be a devastating experience. As in work-from-home situations, these virtual meets are a way to connect with your colleagues and loved ones.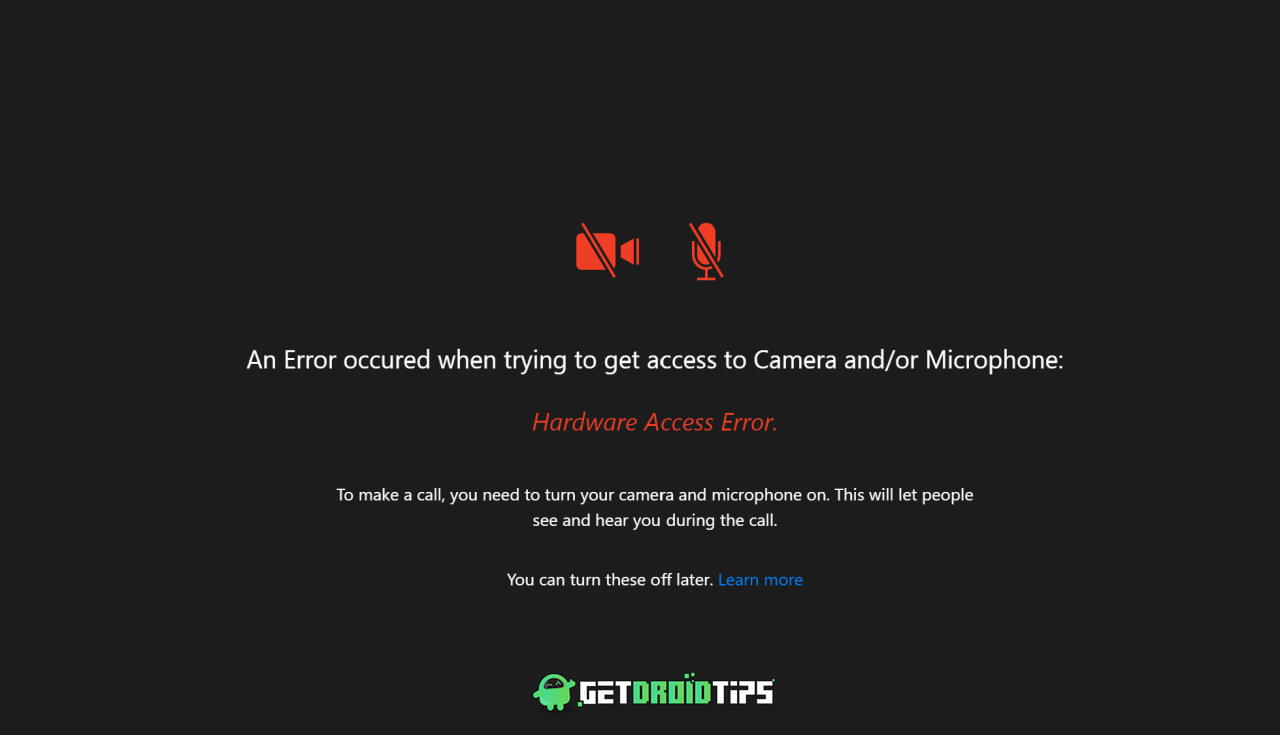 Fix: Google Chrome Camera Not working in Windows 11
When it comes to troubleshooting camera issues, make sure the camera is not physically broken. It's possible that you have pasted a black tape for privacy reasons. In some cases, dirt and debris on your laptop camera lens can also be a problem, so keep it clean.
Method 1: Close other camera applications
Windows 11 works on permission scope, so if you are already using the camera hardware in any app, then Chrome will not be able to use the camera. We recommend you check if you have installed any app which uses the camera app. These apps can be of any type, video recording apps, camera filter apps, etc.
If you're trying to use the camera in google chrome while you are connected to another virtual meet using MS Teams or Zoom, in this case, the camera will not work at all. Since the camera is being used by other virtual meet apps, Google Chrome will not be able to access camera permissions. So first, close other apps and then run Google Chrome camera.
Method 2: Give camera access permissions
Windows 11 has been built with a keen interest in privacy for users. So if there is any app or browser, you need to explicitly grant camera or microphone permissions. Here is how you can do that:
Open Windows settings and navigate to Privacy & security tab on your left. Now scroll down to the App permissions section and go to Camera.
Enable access to the Camera option.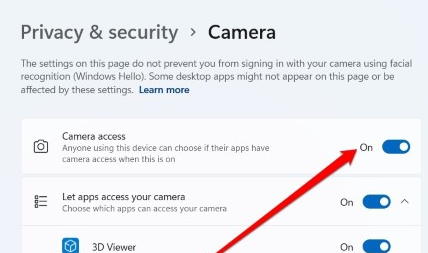 Verify that the desktop apps, including Google Chrome, are allowed to access the Camera.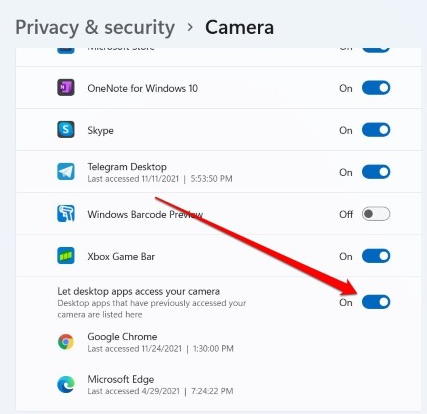 After this, restart your Chrome browser and see if the problem is resolved.
Method 3: Check Site Permissions
Apart from the Windows permissions, you also need to provide site-level permissions as well. It is possible that the website you are trying to use the camera on does not have camera permissions. Here is how you can fix that:
Open the website where you wish to use the camera.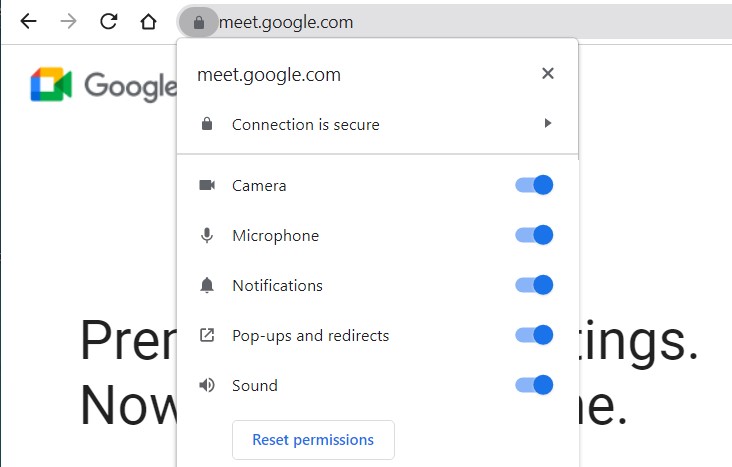 Click on the top left icon for permissions and check whether the Camera is enabled or not.
Now refresh the webpage in Google Chrome and see if the issue is fixed.
Method 4: Install Camera drivers
Whether you are using the laptop inbuilt camera or any other third-party camera device, you need to make sure the drivers are installed for the same. Now Windows 11 comes with generic camera drivers which work for the majority of camera devices. But it's nice to check the driver compatibility and update to the latest driver.
Open device manager on your Windows PC.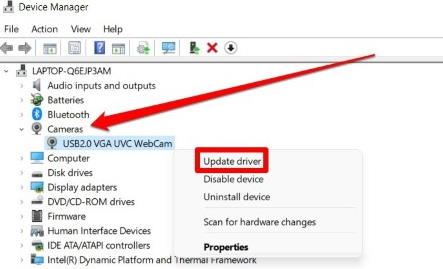 Find the camera driver and update it.
Windows will automatically look for the latest version and install the correct drivers.
Method 5: Disable Unnecessary Extensions
Chrome allows users to take advantage of extensions so that users can extend the usability of the browser. Although these extensions are great additional support, but having too many extensions can create issues. So make sure you disable all the unnecessary Chrome extensions.
Method 6: Clear Data and Cookies
Method 7: Re-install Chrome
If none of the above methods are working, then it's possible that the internal files responsible to load the camera UI are missing from Google Chrome. It would be wise to re-install the Google Chrome browser in such a case.
If none of the above methods works for you, we recommend you use other browsers such as Firefox or Microsoft Edge.
Conclusion
This guide is for laptop users who have a built-in camera. If you are using an external camera, either wired or Bluetooth, then we recommend you install valid drivers to use the external camera. I hope the above troubleshooting methods will help you fix the problem of the Google Chrome camera not working in Windows 11. For more troubleshooting tips like this, bookmark our website and visit regularly.