Once upon a time, when 60% of the overall mobile phones present across the globe had a tag of Nokia on them. With respect to the rise in the popularity of Apple and Samsung, Nokia share in the world smartphones dropped to just 10% and that's too in 24 months. Well, one of the most common sayings is its necessary to fall atleast once before you survive and Nokia has proved the same. It is true that that popularity of Nokia is once again increasing and the fact couldn't be denied that Finland's manufacturer has largely impacted the sales of other smartphones. One of the perfect examples is Nokia 7. In this post, I will introduce you to the common Nokia 7 problems and fixes- Wi-Fi, Bluetooth, Camera, SIM, and more.
Nokia 7 officially made available in the Chinese market recently. The News is spreading that the Nokia has plans to make it available in all parts of the world very shortly. If you have already purchased this device and are experiencing some issues related to the same, you can proceed with the information about common Nokia 7 problems and fixes in this post.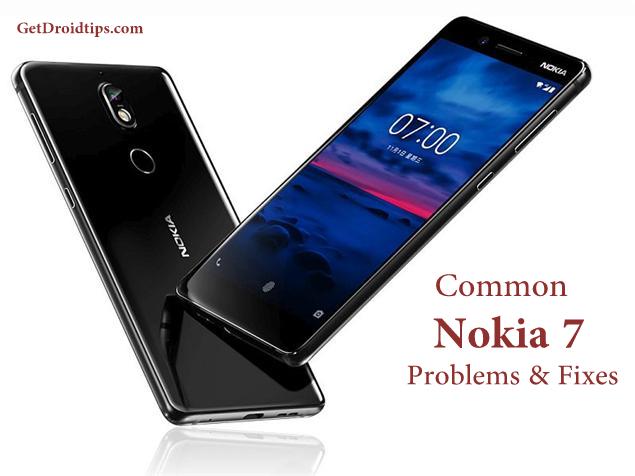 Nokia devices are now powered by Android and although Nokia 7 is based on Android Nougat 7.1.1, this doesn't help them to eliminate the minor errors that are common to almost every Android-based device. It comes with a 5.2-inch touch screen which is capable to offer 1080 x 1920 pixels resolution. Nokia has powered this gadget with 1.8GHz Octa-core processor to provide the reliable and best performance. The 4GB RAM also assures that users can make sure of performance while performing any important task.
It is capable to store 64GB of data but users can extend it to 128GB with the help of a micro SD card. For those who love quality pictures, Nokia 7 assures the same through its powerful cameras. It packs a 16MP primary camera and 5MP selfie shooter. As far as the matter of battery is concerned, it comes with a 3000mAh battery and the same is non-removable like most of the modern Android devices in the present time. Nokia 7 is a dual SIM phone and supports 4G connectivity. Thus, you have several good reasons to buy it if you are planning to change your device.
However, despite being a good device, a few users are reporting to have common and minor glitches in it. If you are one among them, check out the common Nokia 7 problems and fixes in the below paragraphs.
Common Nokia 7 problems and fixes
Before you proceed further with anything about common Nokia 7 problems and fixes, keep this thing in mind that there is actually no need for you to worry about anything while dealing considering the common Nokia 7 problems and fixes. Only a very few users so far have reported about the same and the fact is these are minor issues related to OS.
It should be noticed once again that the overall number of people who have experienced these issues are very few. It is true that you may never encounter with these issues while using the device.
Automatic clearance of notification
Among the common Nokia 7 problems and fixes, this is the issue that can create a very daunting situation for you. Automatic clearance of notifications probably misses some important updates and doesn't let you know about something which is more important for you. Actually, this is not an issue but related to battery management. Try the following to fix it.
Go to Settings-battery and then disable Hibernation/Aggressive Dose
If you want to select which apps send you notifications, you can do it here. . Go to Settings – Battery – Battery Optimization (tap the three vertical dots at the top right corner). Here you can select which apps you want to receive notifications from.
Windows 10 doesn't recognize the device
If your Nokia 7 doesn't get recognized as a storage device upon connection with PC/laptop, there is no need for you to worry about transferring the data between the device and the computer. To fix this issue, follow the steps below.
Open Settings – About Phone and keep tapping on Build Number several times till a pop-up
The pop up will say "You are now a developer."
In the Setting menu, a new option will appear called Developer Options. Open it.
Tap on USB debugging to enable it.
You may have to reboot the phone once.
Plug in the phone and change USB configuration to MTP.
Probably the problem will be gone after this.
Brightness issue in Nokia 7
A few users are not posting good reviews about the brightness in this device. IT actually seems to be a brightness issue and will probably be fixed in the next update. By the time, you can try the "Lux Auto Brightness" app which is available on the Play Store. The good thing is it is available free of cost and is one of the best apps that can actually assist you in this matter.
Data connectivity issues (Apps not working)
If you find that certain apps are not working on your device when you connect them to the mobile data, you can try the following.
Go to Settings-more networks-mobile network-access point names.
Tap on APN for your network.
Change the APN Protocol to IPv4 or IPv4/IPv6.
Of course, this will eliminate the issues. This is actually one of the common problems that also appeared in earlier versions of Nokia.
Performance Issues
If you think your device is not offering the desired performance, you need not to worry about anything. The fact is there are certain minor factors that can degrade the same. You can eliminate them by considering the following
Make sure that your device ROM is not fully filled. If you fill it completely, of course it will put some burden on the processor and on the RAM which could lead to this problem
See if there is any virus in your device which is affecting its performance
Remove all the third-party apps you installed. For this, take your device into the safe mode.
Perform factory rest if you cannot fix the same. Probably you will find significant improvements after performing the same. However, as mentioned earlier, don't forget to save the device data.
Download the Greenify app from the Play Store. It lists down the applications which are active on waking the phone. Then you can change the settings for these apps. This should reduce the slowdown.
There may be a rogue app which could be the cause of the poor performance. Boot the device into Safe Mode. If the problem persists, delete the last few apps you may have installed before the problem started. The last resort is to perform the factory reset. But do the factory reset only if it is necessary as you will lose all your data?
Connectivity issues
Connectivity issues are quite common and mostly users experience them after buying a new device. If you are too experiencing them on your brand new Nokia 7, probably you have no reasons to worry. This is because it is not always necessary that these are the hardware related problems. Check out the below guide for this.
To fix Wi-Fi issues
Turn off the router for a few minutes,
In the WI-FI settings of the device, tap on forget the preferred network. Then add the details from scratch.
In the WI-FI Analyzer application, check the level of activity. If required, switch to the different
Disable Power Saving Mode in Settings.
Ensure that the MAC address for the phone is recognized by the router.
To fix Bluetooth Issues
No power saving mode should be enabled.
Turn the Bluetooth of your device on and off.
If the problem persists, go to Bluetooth Settings and clear the cache.
Restart the phone.
If there are multiple profiles, then maybe you have exceeded the limit of profiles you can save. Delete old and profiles no longer in use. Then try setting the connection from the beginning.
Overheating issues with Nokia 7
If your device is overheating even if it is not used, this can be due to various reasons. You can try the following solutions
Do not use the smartphone while it is put on charge.
If you are streaming high-resolution videos on a channel like YouTube, you can lower the resolution which could resolve the problem of overheating.
Nokia Smartphones comes with an installed app of Nokia which user can uninstall if it is not being used by them.
You can go to settings> battery and battery setting usage to see which app is using how much battery and uninstall that particular app.
You can put a limit to the number of games you have installed or play on Nokia 7.
After uninstalling unnecessary apps from Nokia 7 user can perform a Factory reset.
Earpiece sounds robotic
A few users reported that the speakers on their device sounds robotic while listening music or while making hands-free calls. To fix this problem, here are the steps that you can follow.
Go for another good quality earpieces for doing a phone call.
Try to do another way. During a phone call press the volume up button to make the sound louder.
This will help to make the other person more audible and will not remove the robotic tone of hands-free.
Poor Camera quality on Nokia 7
First I would like to remind you that a few users face camera related problems on their brand new device just because they forget to tear the transparent back cover from the screen and from the back. Thus, remove the same first. If the problem still exists, try the following
Make sure there is no dust in the camera lens
Make sure you tear the transparent cover from the screen and front the back which is installed on the new devices
Make sure you selected the appropriate shooting mode depending on the lightning conditions
Check if the default camera app is running properly. You can check this with many apps available on the Play Store.
Nokia 7 not detecting the SD card
SD card is very essential and several users use it in smartphones to enhance the overall memory. If your Nokia 7 is not detecting the SD card, there are several reasons for this. You can pay attention to the following to fix this issue
First make sure that your SD card is not physically damaged
Nokia 7 supports upto 128GB SD card. Make sure it is under this limit.
Insert the SD card again after restarting your Nokia 7.
Try to insert your SD card into another smartphone or use a card reader to insert it into your PC and Make sure Your SD card is working properly.
Try to format the SD card on the computer first and then insert it in Nokia 7.
If this doesn't work, try using another microSD card.
If the problem still arises, take your smartphone to the service center as there might be something wrong with the microSD card slot.
When it comes to common Nokia 7 problems and fixes, users have reported to face the issues related to SIM connectivity. If the device shows o network when you insert your SIM in it, check if the SIM is not toured or damaged. If you find it ok, pay attention to the following
Make sure your SIM is having all the services active on it
If it is too old, get it replaced before you use it in your brand new Nokia 7
Make sure there are no compatibility issues related to the frequency
If problem still exists, get your phone checked thoroughly from an authorized service center
If you are not able to eject the SIM tray out of the phone, make sure you are using the tray remover provided with the device. In case you are still not able to keep up the pace, take your phone to a nearby repair shop authorized by Nokia.
Unresponsive Touchscreen
If your device is not responding when you give it instructions through the screen, of course it is a daunting situation. However, this can easily be eliminated. Most users thing it is a hardware issue but actually it's not. You can try the following set of solutions to avoid this problem.
First check if it is gone with a simple restart
Make sure you are not wearing mittens or gloves while using your device
Clean the screen and make sure there are no oil or dust particles present on it
There could be a software problem in some cases and the touch screen is unable to perform its tasks
Always keep at least 3 GB free space on device as it can also be the reason of this issue.
Last option is to perform a factory restore if other methods doesn't work
Fast battery drainage
Fast battery drainage problem in the Nokia 7 can be due to reason users generally cannot think about. To eliminate this issue, try the following
Installation of third-party applications could be one of the major factors responsible for this. Thus you need to disable it by taking your phone into the safe mode.
Make sure all the apps are closed and not running in the background.
See if all the installed apps are up to date or not. If not, update them immediately
Make sure your device too has all latest updates installed on it.
Don't keep too much apps on your device
Fingerprint scanner not working
Fingerprint scanner is placed at the button on Nokia 7. It is actually one of the best features in modern devices for security and privacy. If you find it not working properly on your device, there is nothing to worry. Most of the facts associated with Common Nokia 7 problems and fixes related to fingerprint scanner doesn't invite other problems. Try the following to avoid this
Make sure there is no dust or grease on your finger
Remove the fingerprint and check after adding it again
Always add more than one fingers for emergency
If it still not work, bring your device to nearby repair shop
So this is all about the common Nokia 7 problems and fixes. You can eliminate most of the issues through the solutions mentioned in this post. In case you are not able to eliminate them, you need to get your device checked thoroughly by a certified or an authorized professional. If you need more information on common Nokia 7 problems and fixes, do let us know.