If you are a working professional and usually have to conquer a lot of data that especially includes spreadsheets and words, then you are in the right place. With day to day lives turning out to be online, people usually suffer when they need to convert TXT files into CSV or vice versa. And this hits hard if you are in a hurry, so you begin to search online for converters but end up on spamming sites that steal your data.
So why not try out something that is effective as well as secure for your confidential data? Well, if you are looking out for something that way, we are here to help you out with converting your TXT files into CSV. Now let's begin.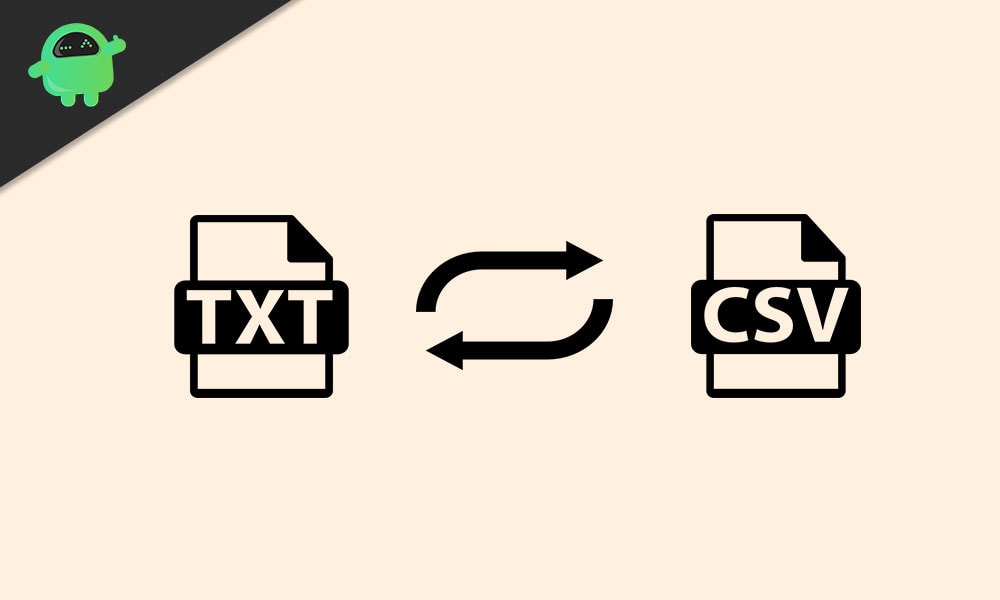 What is a TXT file?
A TXT file is a normal text archive containing unformatted text. Any text editing or word processing technology is known and can also be processed by most other software programs. TXT files are also created and accessed with Microsoft Notepad and Apple TextEdit.
TXT files are useful for storing plain text information without special styling outside simple fonts and font types. The file is widely used for documenting notes, instructions, and other related records that do not need to appear in a particular manner.
How to Open a .TXT FILE?
In order to Open a.txt file, you will require a text editor like Notepad or Notepad++. And open them your PC by double-clicking it. If the file associations are established right, the program that is supposed to open your .txt file will open.
However, You may need to update or buy the right program. You might already have the right program on your PC, but .txt files are not yet connected with it.
In this case, when you want to open a.txt file, you will say Windows, which program is the right one for that file. Opening a .txt file would open the right program from then on.
What is a .CSV file?
A Comma Separated Values (CSV) file is a plain text file containing a list of data. These files are also used to exchange data between various programs. For e.g., CSV files are also provided by databases and contact managers.
These files can also be called Divided Values Character or Delimited Comma Files. They often use a comma character to distinguish (or delimit) details, but sometimes use other characters, such as semicolons. The theory is that you can export complex data from one application to a CSV file and then import data from that CSV file to another application.
How to open a. CSV file?
In order to open a .csv file on your computer, you will need a spreadsheet software that comes bundled with Microsoft or Libre. Like you can use Libre Office or WPS Office, and even Google Sheets would work. You can open them just by double-clicking.
If the file associations are established right, the program that is supposed to open your.csv file will open it. You may need to update or buy the right program. In this case, when you try to open a .csv file, you can say Windows which application is the right one for that file. From then on, opening the .csv file would open the right program.
How to Convert TXT to CSV?
After knowing so much regarding a .txt and .csv files, here comes the main intuition of this guide. How can you convert? Well, converting them isn't rocket science or so. However, the first time it may be difficult for you. But like you all know, we are here. You don't need to worry.
You will find below instructions on how to convert a TXT file to a CSV file in order to allow you to import your files quicker or so that you can change the files before you submit them for import.
Open the Excel file and create a new spreadsheet.
Choose the Data column.
Click From Text/CSV" option on the far left.
Now open the TXT file on your computer and press the "Import" button.
In the second stage, on the "Delimiter Tab," select 'Tab' if you are dealing with the All Items Report or "Comma" if you are using other kinds of files. The easiest way to say is to look at the contents of the file and see if they are separated. If there's only a lot of space between one field and another, then Tab is the correct option.
Below the field, you can click on 'Transform Data' if you are not satisfied with the output format.
Now click on Load. After that, you will see what is depicted in the below image.
In the third stage, you need to save the document as CSV.
Click on Save, and you are done.
Congrats! You have successfully converted your TXT file into CSV after following our guide. We hope this guide definitely proved helpful to you.
Now, check out our Windows Guides, Gaming Guides, Social Media Guides, iPhone, and Android Guides to know more. If you have any queries, comment down with your name & email ID. Moreover, subscribe to our very own YouTube Channel in order to watch awesome videos on gaming and smartphone tips and tricks.