The monday.com platform is a Work Operating System (Work OS) empowered service that allows users to easily create and manage team projects and workflows without any extra hassle. It's quite a simple, intuitive platform for personal or team projects to build and grow the workflow. You can adjust shifting, join all of your project members together for better transparency, collaborations & communication, etc. There is no need for additional long email threads, urgent meetings, and more. Now, if you want to Create a Form on Monday.com then check this 2021 guide completely.
Once you've created your project board on monday.com with all of your requirements or specifications for your teammates or clients, it'll be easy for your team or business to create a form & include it on your website or share the form link directly to your clients. Now, the forms can be created and shared for multiple reasons such as client feedback, any kind of inquiry, work order, item order, and more. Keep in mind that changing or editing anything on the monday.com form view won't gonna reflect on the board level because it's a by-product of the board.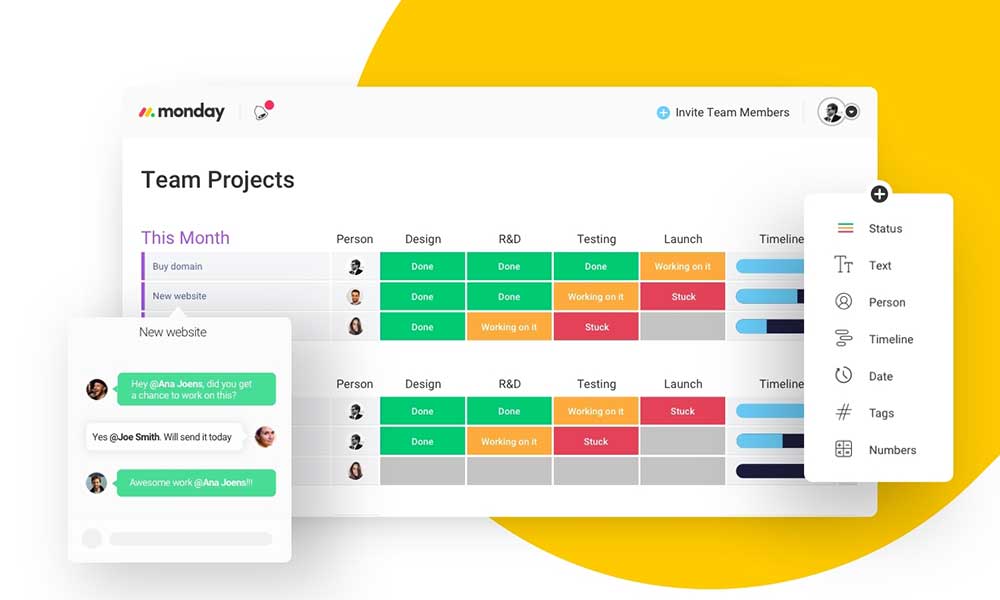 How to Create a Form on Monday.com | 2021 Guide
It's also worth mentioning that anyone and everyone can easily fill out the form and submit it if they have the access to the form using the shareable link or embedded form. The form also supports different types of columns such as long texts, short texts, numbers, status, date, rating, file, phone, email, dropdown, checkbox, location, country, timeline, etc. Here dropdown indicates multiple selections of the items/works in the form. Now, without wasting any more time, let's jump into the guide below.
Step 01 – Create a Project Board
After Logging in or Signing up for your monday.com account, you'll need to create a project name and build a board for the project according to your work type. Once you're done, you'll have to create the form inside the board which will be based on the columns you insert. Keep in mind that the form submissions will create new items automatically.
Step 02 – Enable Forms View on Board
From your Board interface, you'll have to click on the +Add View option.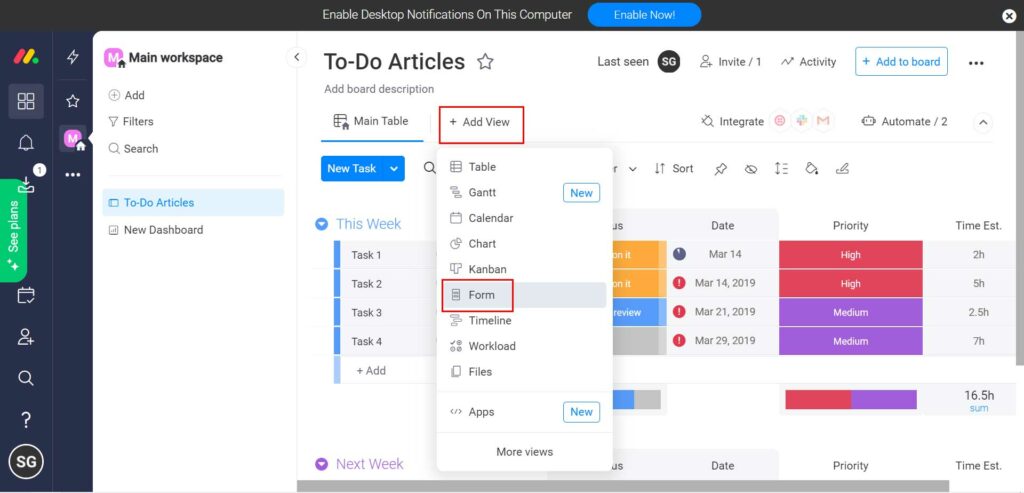 Now, select Form from the list > Click on the Go to Form button.
Step 03 – Customize your Form
Now, you'll have to customize your own form depending on what you want to include in it. Such as logo, description field, name, status, date, priority, time estimation, a brief description area for the feedback or query, etc. Make sure that this form format will be visible to your target audience or clients to whom you will send the form link or embed it on your website.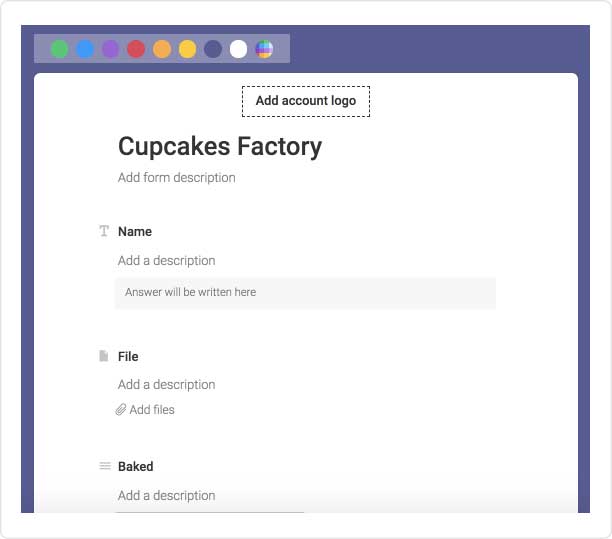 If you have a Pro account, you can even hide the monday.com logo at the bottom of the form.
Click on the cogwheel at the top-right corner to open form settings > Under "Form branding", click on "Hide monday.com logos" like this: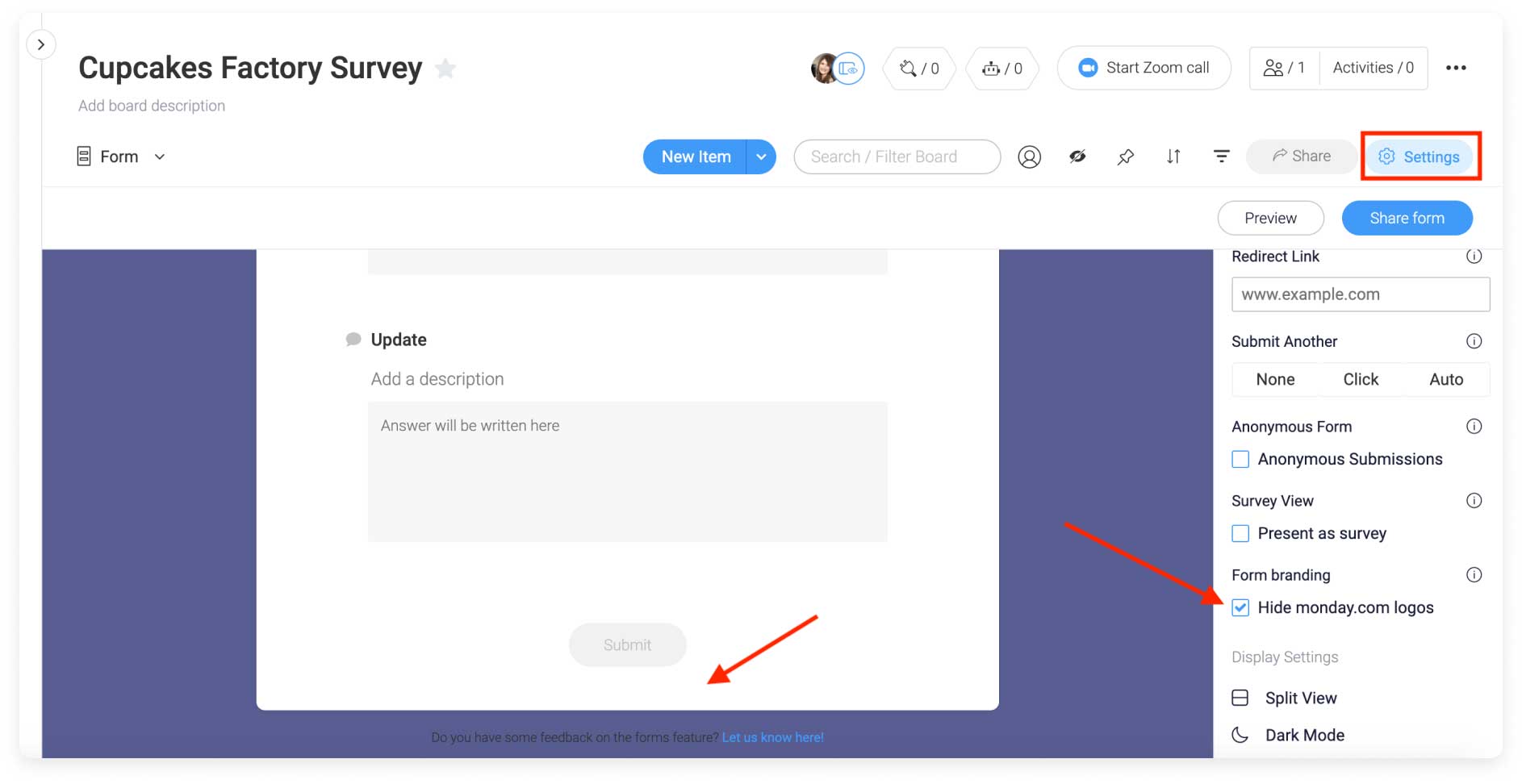 Now, you will be able to see that the monday.com logo has disappeared.
You can customize the form's content according to your need and you can also mark which fields are important to fill up for the audience or clients.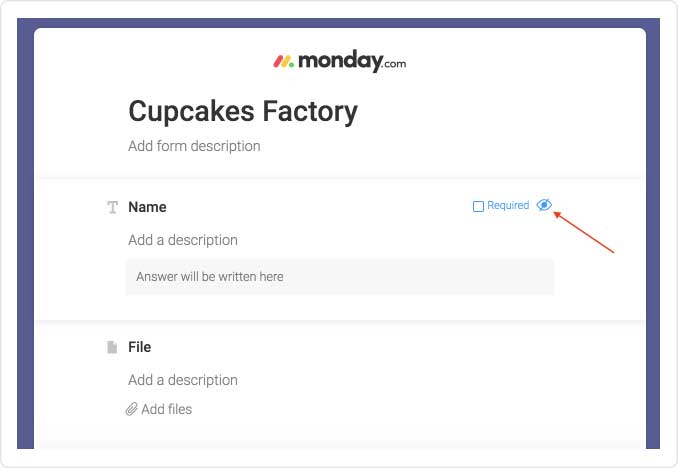 Please Note: Each column on the form has an icon that won't gonna change if you change the type of column on the board.
You also have the option to represent your form as a survey. Just select the 'Present as survey' option from the Settings menu.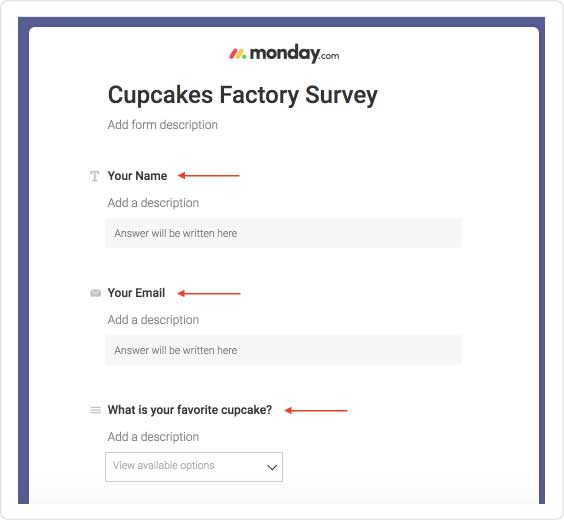 The best part is that you can always click on "Preview" to see the final/published version at a glance.
Once everything is set, share it, and copy the shareable link or embed code.
Steps to Create Anonymous Forms
You'll find the Anonymous Form Submissions option directly from the Form Customization Settings menu. The client or audience will see the message that this form is anonymous.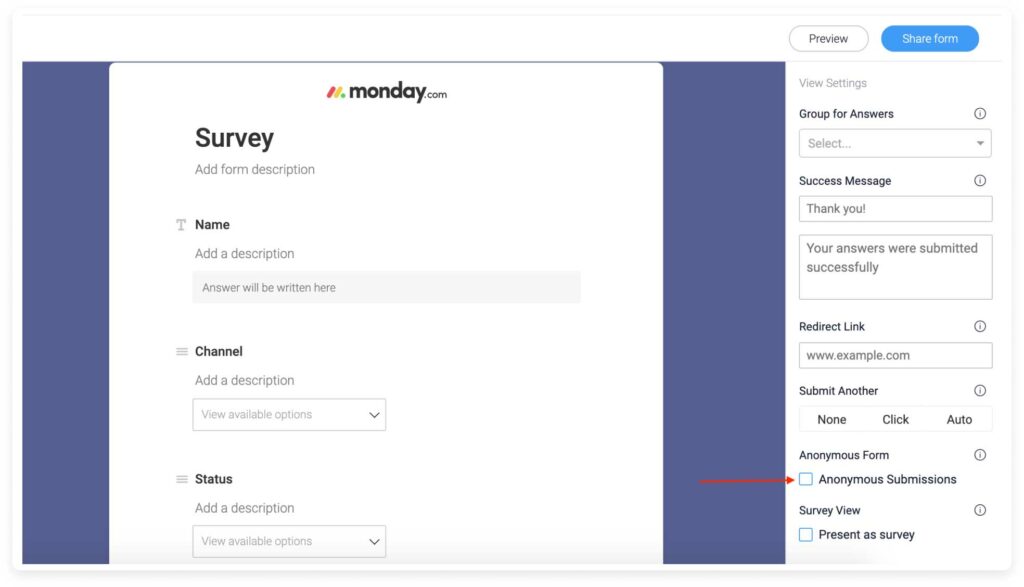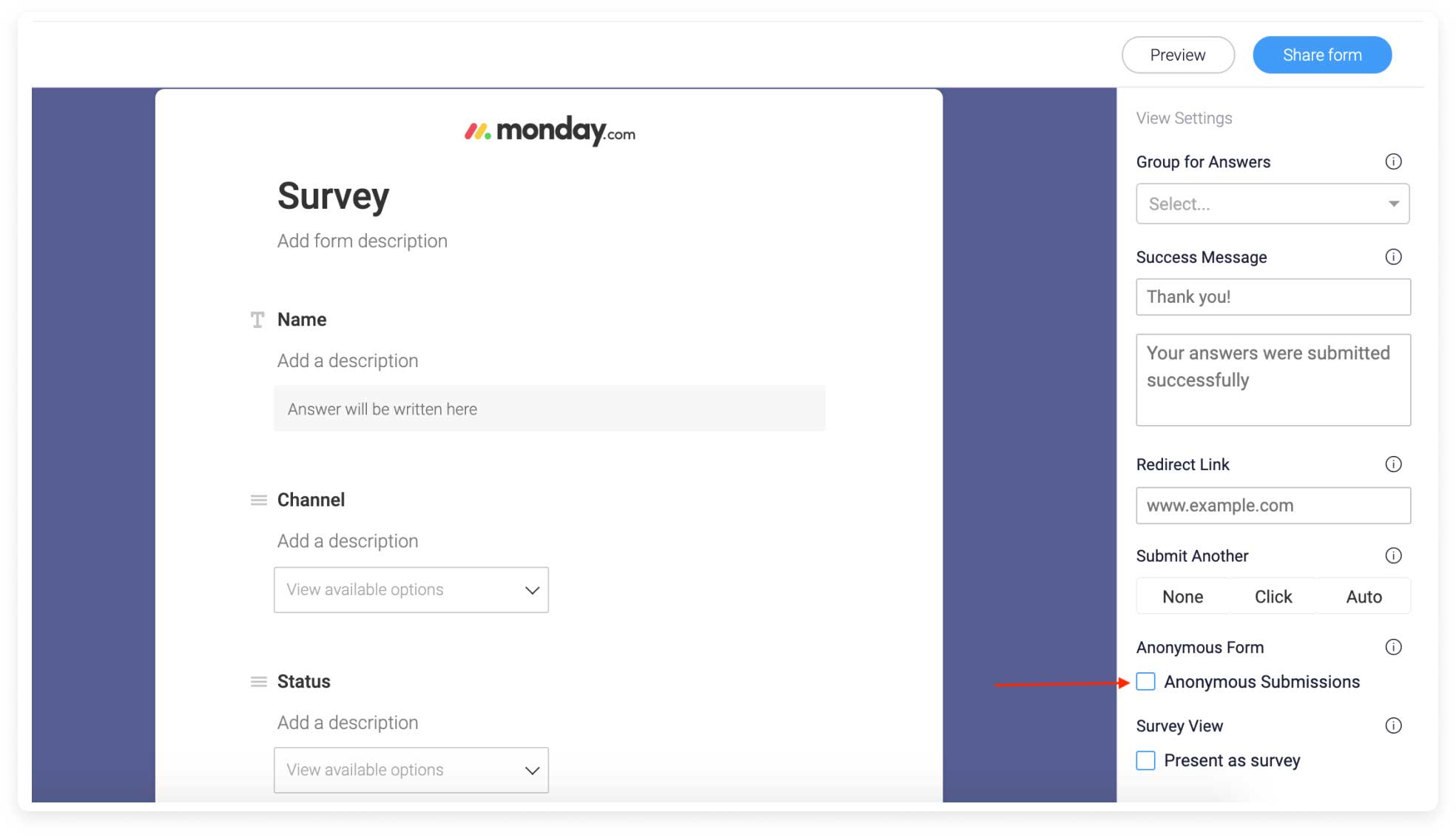 If the user has multiple monday.com accounts, the form will recognize the user id of the last account the user signed into.
That's it, guys. We assume you've found this guide useful. For additional queries, you can comment below.