Samsung is previously so much criticized for TouchWiz UI and Experience UI. That was quite poor in multi-tasking and RAM management. The whole UI was slow and buggy as well due to some of the bloatware. After this, the Experience UI was also not that user-friendly in terms of work management. Recently, Samsung has released brand new and polished One UI custom skin. The Samsung One UI is just amazing in terms of UI design, icons, and system enhances. The One UI is purely made for bigger display devices where the user can operate the major tasks single-handedly. Here in this article, we will share with you the link to download Samsung One Hand Operation APK.
We will also share the guide on how to use it on your Samsung smartphone running on Android Nougat or higher. Fortunately, Samsung has released the One Hand Operation + tool for the Samsung devices who can use it via downloading from the Google Play Store. You can also download and install the APK file as well on your device via the link given below.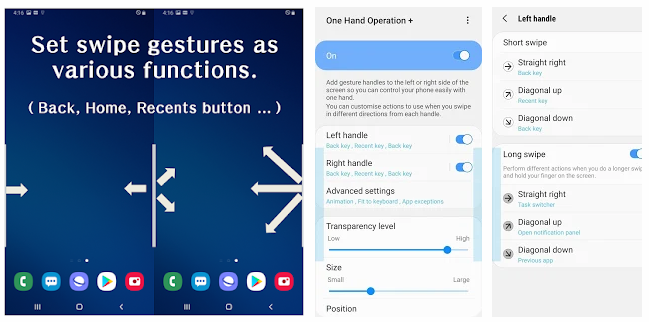 Samsung One Hand Operation APK 1.4.03.0 Changelog:
Added diagonal gesture recognition.
Added user action setting for gestures.
Adjust the handler position when IME appears.
Display touchable area when adjusting the touch area width.
Added swipe distance setting.
Improved handler visibility by changing the color when touching the handler.
Removed the Screen Move Up function.
Improved gesture recognition performance.
Android Requirement: Android 7.0 Nougat minimum
Download Links
You can also download and install the One Hand operation + application from the Google Play Store as well.
[googleplay url="https://play.google.com/store/apps/details?id=com.samsung.android.sidegesturepad&hl=en"]
The One Hand Operation app will let Samsung users some of the useful and unique features. Such as enabling diagonal gesture, adjust the handler position when IME appears, swipe distance adjustments, etc. It also features an adjustable touch area, improved gesture recognition performance, and more.
Steps to Use: Overview
Once installed the app from the Google Play Store or downloading and installing the APK file, One-Hand Operation + will give a bunch of options. You can assign different actions and sizes to both sides for various actions. By default, three actions are provided like a horizontal swipe to the center, a diagonal swipe up, and a diagonal swipe down. You can also toggle swipe and hold-type of gesture action.
This One-Handed gesture option is based on a navigation system where the user assigns every gesture. As we all know that some of the Samsung devices are quite bigger and wider as well. In this case, users find it quite difficult to reach out on every sides and corner. If your Samsung device is running on Android 7.0 Nougat version or above and you find difficult to use your device often one-handedly, this app is for you.