Samsung's new Galaxy S23 FE launched in India as their latest Fan Edition model to the Galaxy S23 series, released in February. The phone has an in-house Exynos 2200 SoC with 8GB of RAM and 128GB of inbuilt storage. It packs a 4,500mAh battery with 25W charging support. In this guide, you can now download the original, high-resolution Galaxy S23 FE wallpapers here and give your device a fresh look!
As with previous Samsung devices, the Samsung Galaxy S23 FE comes bundled with vibrant stock wallpapers. This guide will assist you in utilizing the Samsung Galaxy S23 FE Stock Wallpapers, which can be downloaded from the provided link.
The available collection currently offers 8 stock wallpapers, conveniently packed in a compressed zip file accessible through the provided link. Each wallpaper boasts a 1080 x 2400 pixels resolution, ensuring a perfect fit for devices with an aspect ratio of 18:9 or higher. For users with AMOLED display devices, these wallpapers will particularly shine, enhancing the visual experience on your device.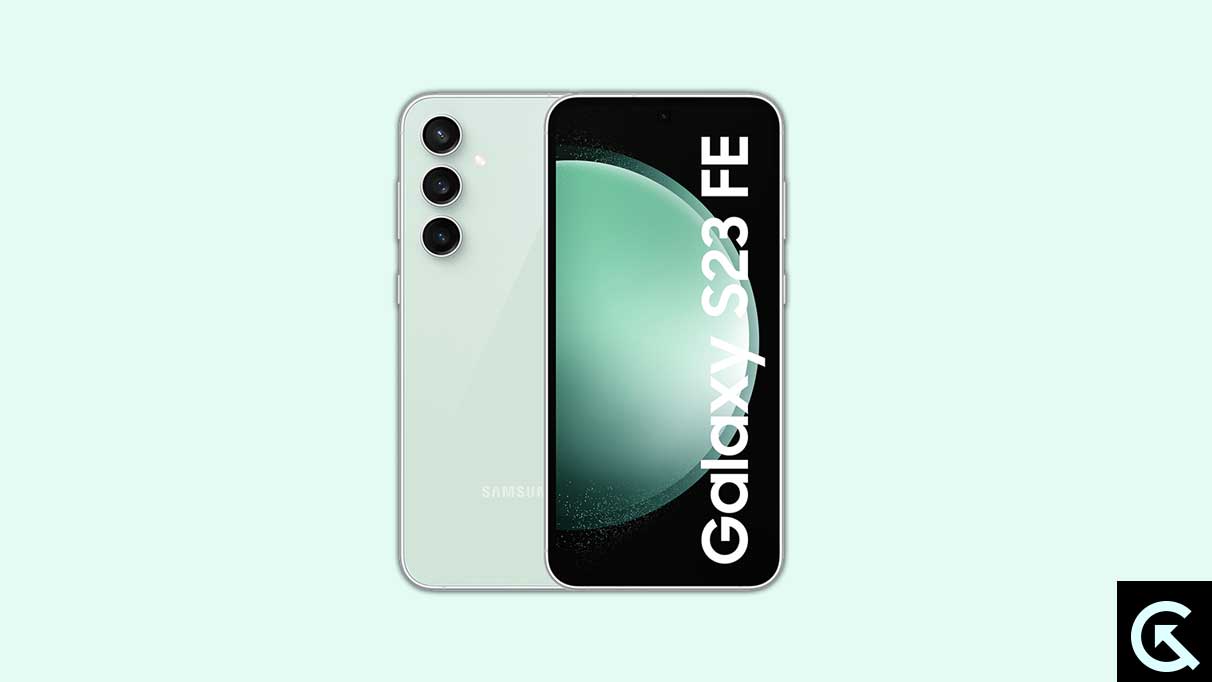 Samsung Galaxy S23 FE Device Overview:
The Samsung Galaxy S23 Fan Edition is a feature-packed smartphone boasting a 6.4-inch Dynamic full-HD+ AMOLED 2X display. This vibrant screen offers a refresh rate of up to 120Hz, ensuring smooth visuals whether you're browsing, gaming, or watching videos. Under the hood, the device is powered by Samsung's own Exynos 2200 SoC, a chipset designed to deliver efficient and powerful performance.
For photography enthusiasts, the Galaxy S23 FE is equipped with a versatile triple rear camera setup. This includes a 50-megapixel primary sensor with Optical Image Stabilization (OIS), a 12-megapixel ultrawide lens for broader shots, and an 8-megapixel telephoto shooter for detailed zoomed-in images. The front of the phone features a 10-megapixel sensor, perfect for high-quality selfies and video calls.
In terms of battery life and charging, the Galaxy S23 FE comes with a robust 4,500mAh battery, supported by 25W wired fast charging, which ensures that the phone can be quickly powered up and ready to go. Connectivity options are comprehensive, including Wi-Fi, GPS, NFC, USB Type-C, and the latest Bluetooth 5.3, offering versatile and fast connections to various devices and networks. The handset is also designed to be durable, with an IP68 rating ensuring dust and splash resistance, making it a reliable companion for everyday use. In terms of physical dimensions, the Galaxy S23 FE measures 158mm x 76.5mm x 8.2mm and weighs 209 grams, making it a device that balances screen size with portability.
Download Stock Wallpapers
The provided Samsung Galaxy S23 FE stock wallpapers are also vivid and relatively minimal. If you're looking for some of the new stock wallpapers that can easily attract someone's eyes with their colorful, minimal design, you should try them for once. As mentioned, all the wallpapers are packed in a zip file you've downloaded and extracted on your device.
You only need to download the wallpaper zip file from the link above and extract it on your device. Once done, go to the File Manager or the Gallery app and search for the wallpapers. Please choose your preferred wallpaper and set it as a lock or home screen.
Alternatively, you can go to the 'Wallpapers' section on your handset (home screen) and set the wallpaper accordingly. That's it, guys.
Then, search for the images via the Gallery or File Manager app or Wallpapers section and easily set your preferred images as the home screen or lock screen.