The Xiaomi Mi Mix 2 smartphone is a very powerful Android device, but as with all great devices, they sometimes come up with certain glitches. These glitches sometimes are not caused by a dearth of phone processing power, but by third-party applications and the Android platform itself seeing that the firmware is an open source platform should not appear strange when these glitches occur. Here in this guide, we will help you to boot into Safe Mode on Xiaomi Mi Mix 2. Knowing troubleshooting solutions and how to make use of them is a plus.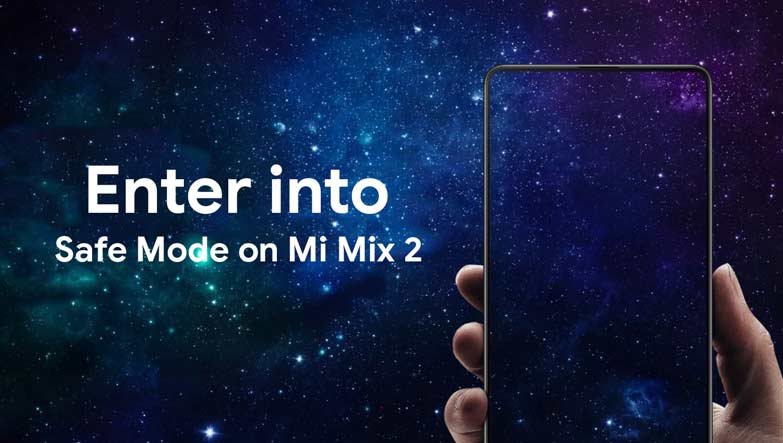 The Safe Mode on Xiaomi Mi Mix 2 is an enclosed environment that can be accessed on your smartphone. Through this environment problems can be analyzed, issues can be detected and solutions found. This is one of the easiest ways of troubleshooting a device.
However, through the Safe Mode option you can only troubleshoot certain software related problems such as uninstalling apps, stopping unresponsive processes and programs, removing malware and any other inappropriate software; boot loops, lags, force close errors, battery drain, heating situations, screen freeze, or even total blackouts. Issues that cannot be resolved through the safe mode can be resolved mostly through performing a hard reset, clearing app data cache (through the recovery mode menu), or downgrade back to stock Android Operating System which involves making use of the fastboot environment.
RECOMMENDED READ: Download and Install Android 8.1 Oreo on Xiaomi Mi Mix 2
The Android Safe Mode on Xiaomi Mi Mix 2 offers a similar platform as the Windows Safe Mode: both environments are designed to offer a dedicated environment where users can easily troubleshoot problems and diagnose issues before applying more complex solutions such as a full wipe or reinstalling the Operating System. The reboot process is however different for Android devices.
More often than Nought issues on Android devices are caused by rooting your device, flashing custom recovery images, updating with custom ROMs, removing bloatware, installing custom kernels, over-clocking CPU frequencies, downloading apps from other sources than Google Play and so on.
The safe mode option doesn't require you to delete files on your device. But, since you are troubleshooting; the best practice is to make a backup of your data on your device or through cloud services. The backup can be carried out through backup and restore apps from Google Play, through cloud storage platforms, and through microSD cards.
Entering the safe mode environment and using its functions are official operations and can be accessed without additional software downloads.
Entering Android Safe Mode on Xiaomi Mi Mix 2
Before rebooting your Android device to Safe Mode, ensure your battery life is at a minimum of 50% if it is lower than 50% charge it so as to prevent it from going off during the troubleshooting process. As already highlighted earlier, the Android Safe Mode is a default feature on all Android-powered smartphones.
Your device must be powered on.
Press the power button.
When the (power off, restart, airplane mode, Wi-Fi mode, etc.) menu is displayed, release the power button.
Now, long press the power off option on the screen.
Keep pressing this option until the Android Safe Mode message is displayed on your device.
Select to reboot into Android Safe Mode option.
When done, a dedicated logo will be displayed on your smartphone letting you know in which environment you are currently on.
There you have it, the safe mode option is engaged and you can go ahead to perform other troubleshooting measures on your device. I hope this guide was helpful to boot into Safe Mode on Xiaomi Mi Mix 2. If you have any queries please leave a comment below.