Removable drives or external drives are convenient sources of data transfer. Be it flash drives, micro SD card, external hard drive, or even a compact disk can be coined as an External drive. These drives have become the most critical part of our lives by offering the convenience of portability combined with high storage capacity. This makes external drives the best companion. External drives even allow high read and write speeds. After reading all this, you must be thinking, they are the best, but that's not the case.
What happens if your external drive gets corrupt? What if your external drive gets infected? These things can lead to high damage ranging from no value school projects to million-dollar deals. So you need to take proper care of these drives because as they have merits of usability, they also have a lot of vulnerability. Today we are going to discuss such vulnerability of external drives. That is, the PC cannot recognize them.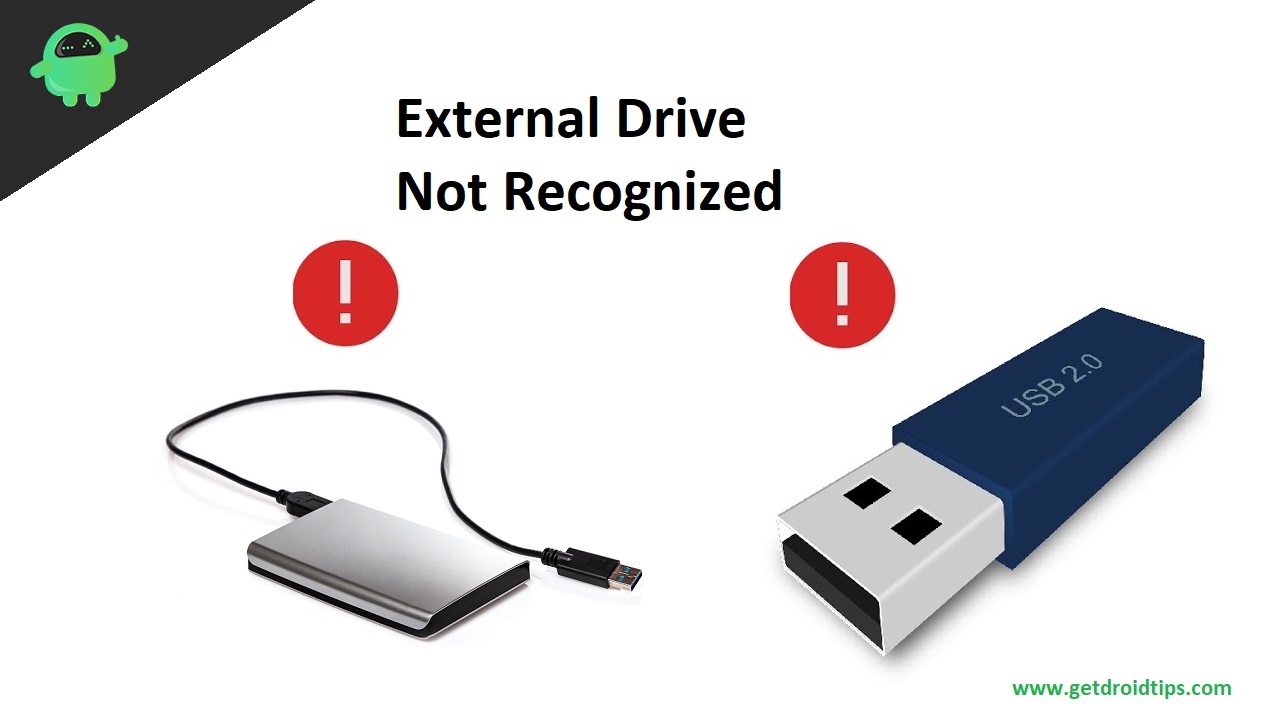 PC Does Not Recognise External Drives
When you insert a flash drive, aka pen drive or an external hard drive, your computer fails to recognize. Thus gives no notification, whether it is connected or not. Even you are unable to see the storage device in your drives list. This is a crucial moment for you as you are unable to decide what to do. You cannot even format the drive since it is not visible on your PC. This is a stringent situation. So here is the place where we come to help with this guide.
We will now discuss the reasons and the fixes for which your external storage device is undetected by your PC. So let's get started.
Reasons for Not Recognising of External Drives by PC
There primarily three reasons for not recognizing external drives by PC. We are listing them below.
The external drive is corrupt
The drive has been infected by Malware or virus
The external drive is broken
Now you know the primary three reasons behind not recognizing external drive by PC. So let's get started with the fixes.
How to fix If External Drive Not Recognized or Showing Up?
Below we will discuss the solutions that will help you fix an external drive that is not showing up in your PC. However, before starting with our fixes, we recommend you check that your external drive is getting powered-up or not. In simple terms, your drive is getting power supply from your PC or not. After checking, let's move onto the fixes.
Fix 1: Check the Drive in Disk Management
Checking that the drive is visible in Disk Management or not is the first step to check. So to do this, follow the steps below.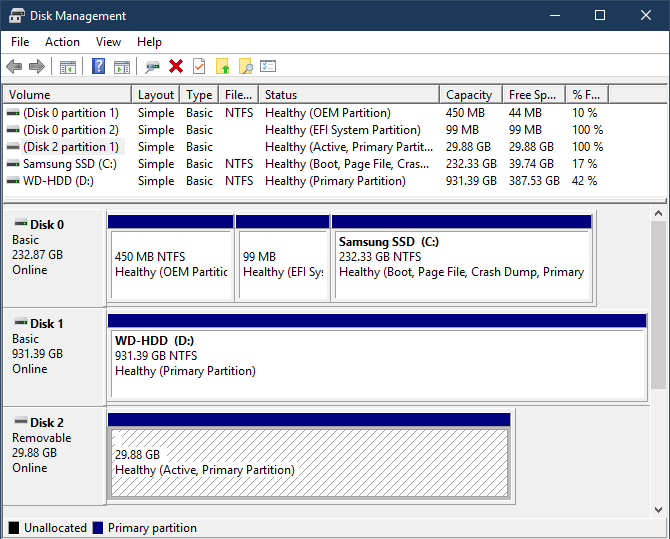 Right-click on the taskbar and click on disk management
Then in the disk management window look at the bottom of the window, you will be able to see your drive
Then right-click on your drive and click on New Volume
And at last format it
Now you will be able to see your external drive. If you did not find your external drive here, probably your drive is broken, dead or corrupt. If your drive is corrupt, jump to the last solution because you cannot retrieve any data from that drive again.
Fix 2: Try Another USB Port
This may sometime sound silly, but believe us trying another USB port helped to solve the problem for most of the individuals. They later noticed that their USB port was damaged. So try to remove the external drive from the current USB port and insert it in the other one and check. You should not use USB hubs. In this case, if you use one, please connect the drive to the computer directly. If the light on your external drive is not blinking, your drive is dead. If it blinks and is undeniable, head on to the next solution if this one did not fix.
Fix 3: Troubleshoot Device Drivers
Troubleshooting driver issues is different from other troubleshooting techniques as here we will look into device management. So to troubleshoot in device manager, follow the steps below.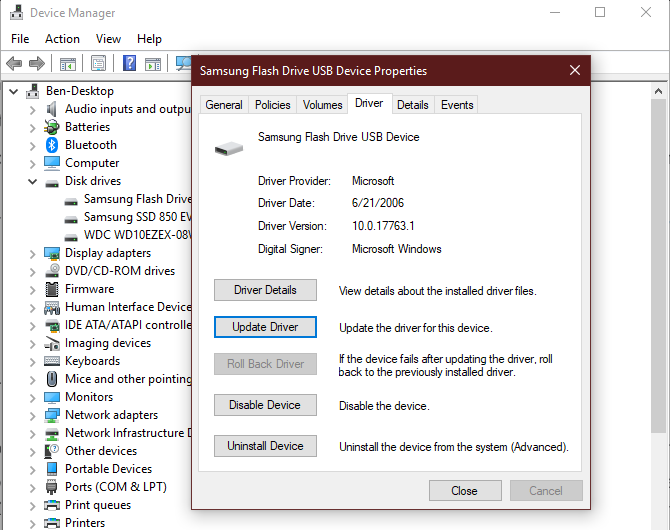 Right-click on the taskbar and click on "Device Management."
Then in the Device Management expand "Disk Drives" section
Now check for any drive that has a yellow exclamation mark and right-click on that
Then click on properties, then in the new dialogue box, click on "Update Driver."
Now windows will search for updated device drivers
When the update is finished, restart your computer. This will probably solve your issues. If now move to the next solution
Fix 4: Create a New Drive Volume
If your device is showing in the disk manager and it is not active, this method will start showing your external drives in your PC again. Now to do this, follow the steps below.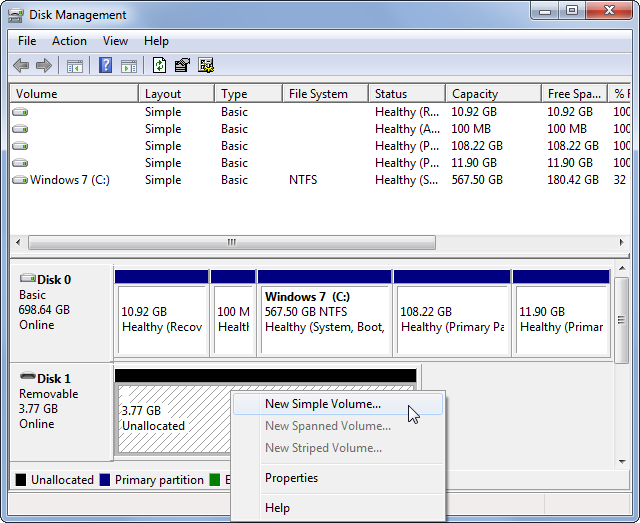 Right-click on the taskbar, and select "Disk Manager."
Then in the Disk Manager, look at the bottom you will see your external drive which is currently unallocated
Now right-click on that, and select "New Simple Volume."
Then go through the process as it tells and rename the drive with a new drive letter, like E or G
Then click on OK
After the process is complete, you will be able to see your external drive just as earlier. If this fix was unable to solve your issue. Our last and by far, the best solution will surely fix it.
Fix 5: Use DiskPart
DiskPart stands for Disk Partition, and it is a special program in Command Prompt to use with disk errors. But before this, remember all the data in the external drive will be deleted. Also, if you have tried everything and nothing worked. This method is the best one.
Warning!
This method must be followed with great care, as choosing the wrong Disk might even delete your Windows Installation from C: Drive. GetDroidTips will not be responsible for anything wrong that may happen to your PC
Open the Command Prompt with Administrator Rights
In the Command Prompt window, type "diskpart."
Then diskpart will open after a couple of seconds delay
Then type the following commands:
list disk
select disk 1 (whatever the number is of your external drive just don't select disk 0 as that is your C: Drive)
clean
After each command, press the enter key. After the completion of the above process, repeat Fix 4 to allocate the drive, and you are good to go.
Wrap-Up
This guide was to help the users whose external drives were not recognized by their PC. By following the guide carefully, you will be able to solve the issue of the external driver not showing easily. We hope this guide was helpful to you. If you have any queries or feedback, feel free to comment down below with your Name and E-mail ID. Likewise, check out our iPhone Tips and Tricks, PC tips and tricks, and Android Tips and Tricks for more such tips and tricks. Thank You.