Are you an iPhone 11 user and facing issues with unstable Wi-Fi signal or the connection dropping out? Then you can follow this full article, as here we've shared the steps to fix iPhone 11 with unstable WiFi signal which looses frequently. Mostly, if your iPhone 11 is running on iOS 13 or higher, you may experience this issue than others. There are a couple of issues that may appear like can't connect to Wi-Fi network, Wi-Fi drops out, Wi-Fi not working, Wi-Fi speed is slow, etc.
Though the iOS 13 is the latest firmware version from Apple and offers plenty of new features & improvements. But it brings a bunch of bugs and stability issues as well. While so many iOS 13.3 users are reporting that they're facing the Wi-Fi connection related problems quite frequently. Meanwhile, some of the users are also facing issues like the Wi-Fi password isn't correct or Wi-Fi Settings grayed out. Therefore, check out the useful tips and tricks below.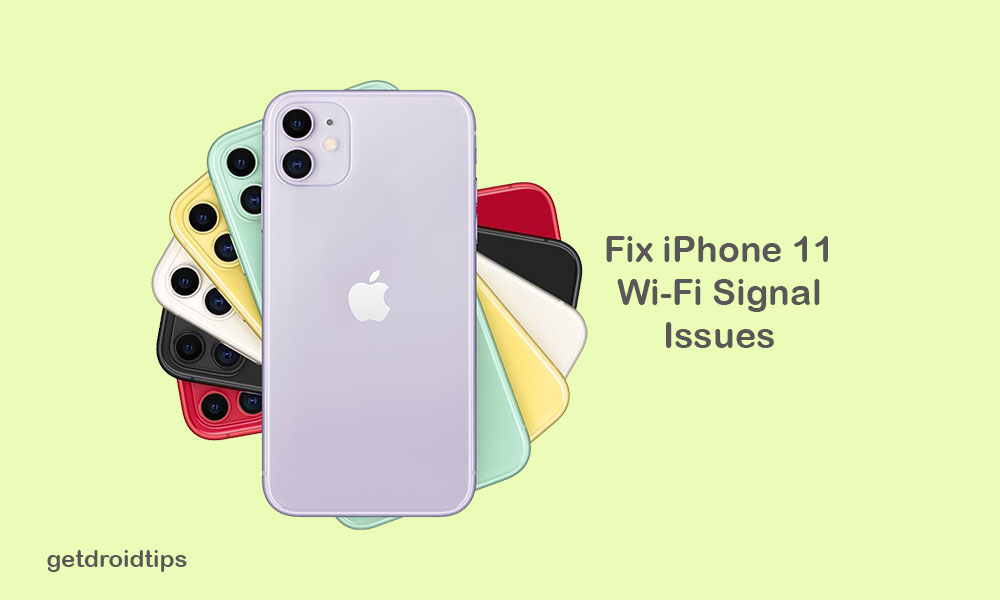 How to fix iPhone 11 with unstable WiFi signal
There are a couple of steps or methods available that you can try for your iPhone 11 like Wi-Fi router or modem reboot, update router firmware, forget password and connect again, force reboot, etc.
1. Reboot the Wi-Fi Router
Make sure to restart the Wi-Fi router or modem if you want to fix the unstable WiFi signal issue. You should wait for 15-20 seconds after turning off the router. Then turn it on and try to connect your iPhone 11 again to see whether it's fixed or not.
Some times, the router firmware causes some issues that can be fixed easily by restarting it.
2. Upgrade Wi-Fi Router Firmware
If your Wi-Fi router is getting older like 1-2 years old, then you should check for the Wi-Fi router software update from the official router login page. If any system update is available, you should upgrade to the latest firmware version. This will bring more stability and the internet connection speed of your Wi-Fi.
3. Enable Auto Join Wi-Fi
When you have got a connected Wi-Fi network, it will automatically connect in the next time whenever your iPhone detects the saved Wi-Fi network in its range.
Head over to the Settings on your iPhone 11 > tap on Wi-Fi > tap on the current Wi-Fi network that you're using > check whether the Auto-Join option is available or not. If not, just enable it.
4. Force Reboot your iPhone 11 to fix iPhone 11 with unstable WiFi signal
Press and release the Volume Up button quickly and then the Volume Down button also.
Next, long-press the Side/Power button until the Apple logo shows on the screen.
Release the button and wait for the device to boot completely.
Now, you should check again whether the Wi-Fi signal gets stable or not.
5. Forget Wi-Fi Network/Password
If any of the above-mentioned steps won't work for your handset, you should forget the Wi-Fi network that you're facing issue with. Then re-login the Wi-Fi network and try to check the performance.
6. Disable VPN Service
If in case, you're using any of the VPN services for your iPhone via a VPN app, just turn it off or disable it completely. Some times, the virtual private network connectivity can also cause problems to the Wi-Fi stability.
7. Reset Network Settings on your iPhone
Tap on the Settings menu > select General > Scroll down and tap on Reset.
Next, select Reset Network Settingsn.
If prompted, enter the passcode and confirm the action.
Then your iPhone will restart automatically and check the Wi-Fi stability again.
8. Factory Reset iPhone 11
Head over to the Settings from the home screen > General > Scroll down to the bottom and tap on Reset.
Tap on the Erase All Content and Settings option.
Enter your passcode and confirm the process.
Wait for the complete process and reboot your iPhone 11.
Now, you may get better stability over the Wi-Fi connection on your iPhone 11.
That's it, guys. We hope you've found this article useful. Feel free to ask in the comments below for any queries.