To share or reference later what you are seeing on your screen, you can take screenshots and record your screen. You can make a lot of use of things by taking, saving, and sharing them. With Gemoo Snap, you can take, beautify, and store your screenshots securely in the cloud, and manage them easily in a visualized way.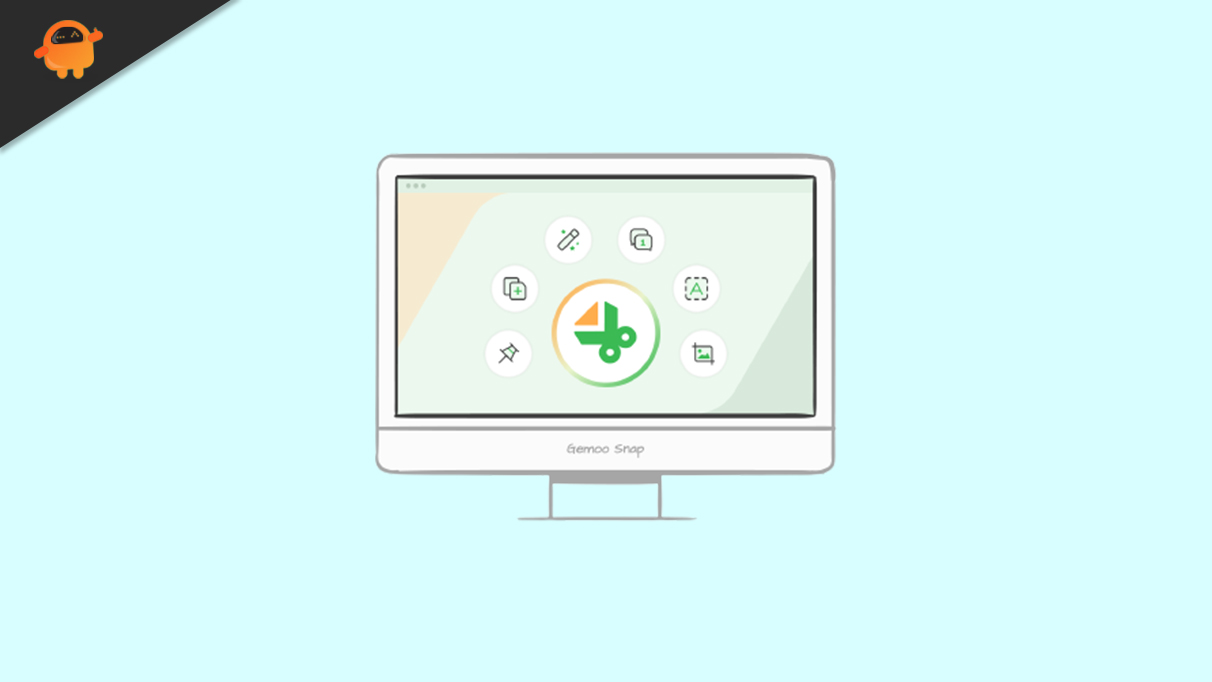 You can use Gemoo Snap to accomplish almost any screenshot usage scenarios and get your tasks done more efficiently and effectively. If you are interested in it, check out this article to learn more about this amazing application.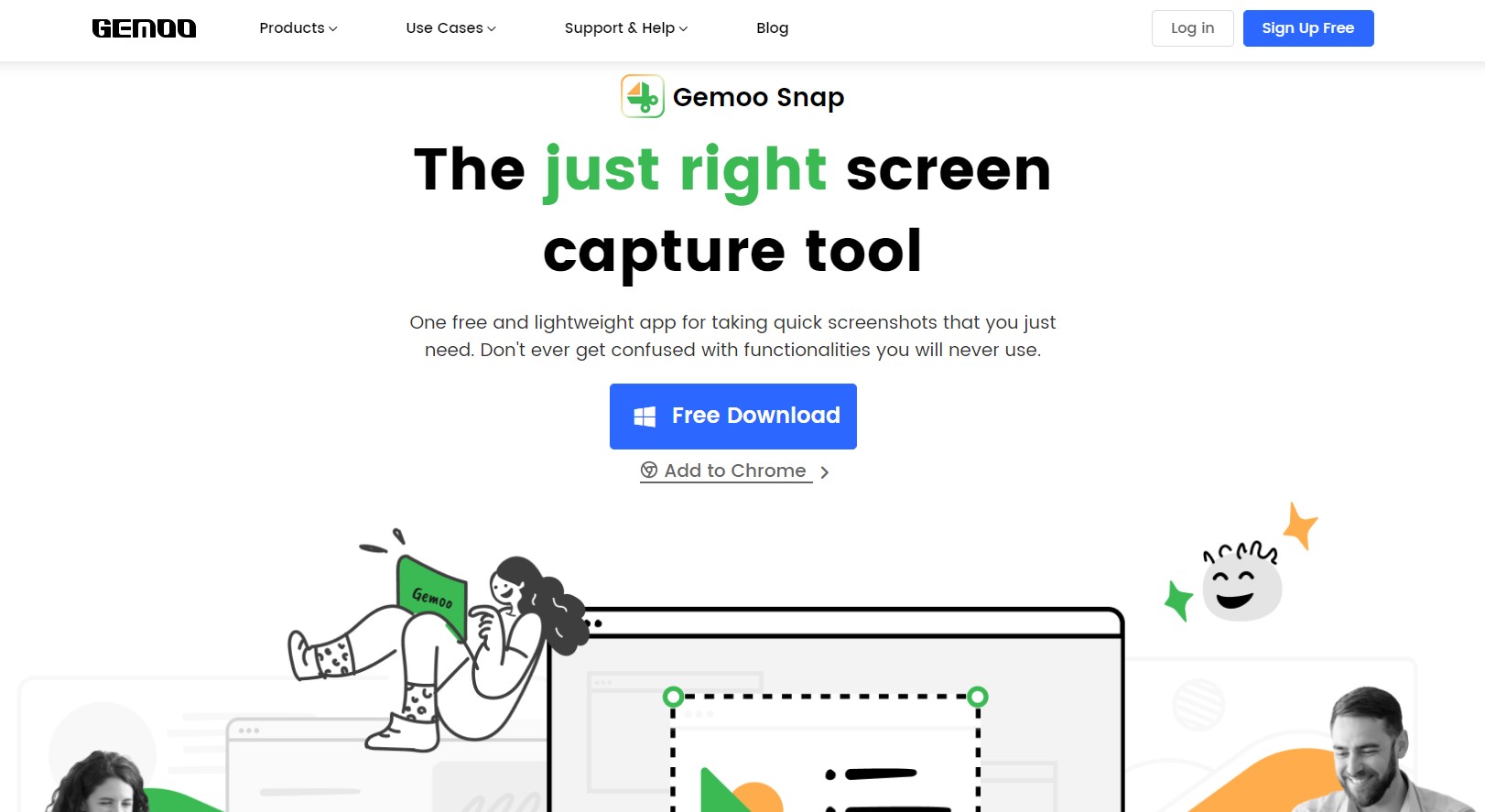 What is Gemoo Snap?
The Gemoo Snap app takes and beautifies screenshots with a cloud database and management features. It is a FREE and lightweight app fits for almost any screenshot usage, and get your tasks completed more quickly and effectively.
What Are The Features of Gemoo?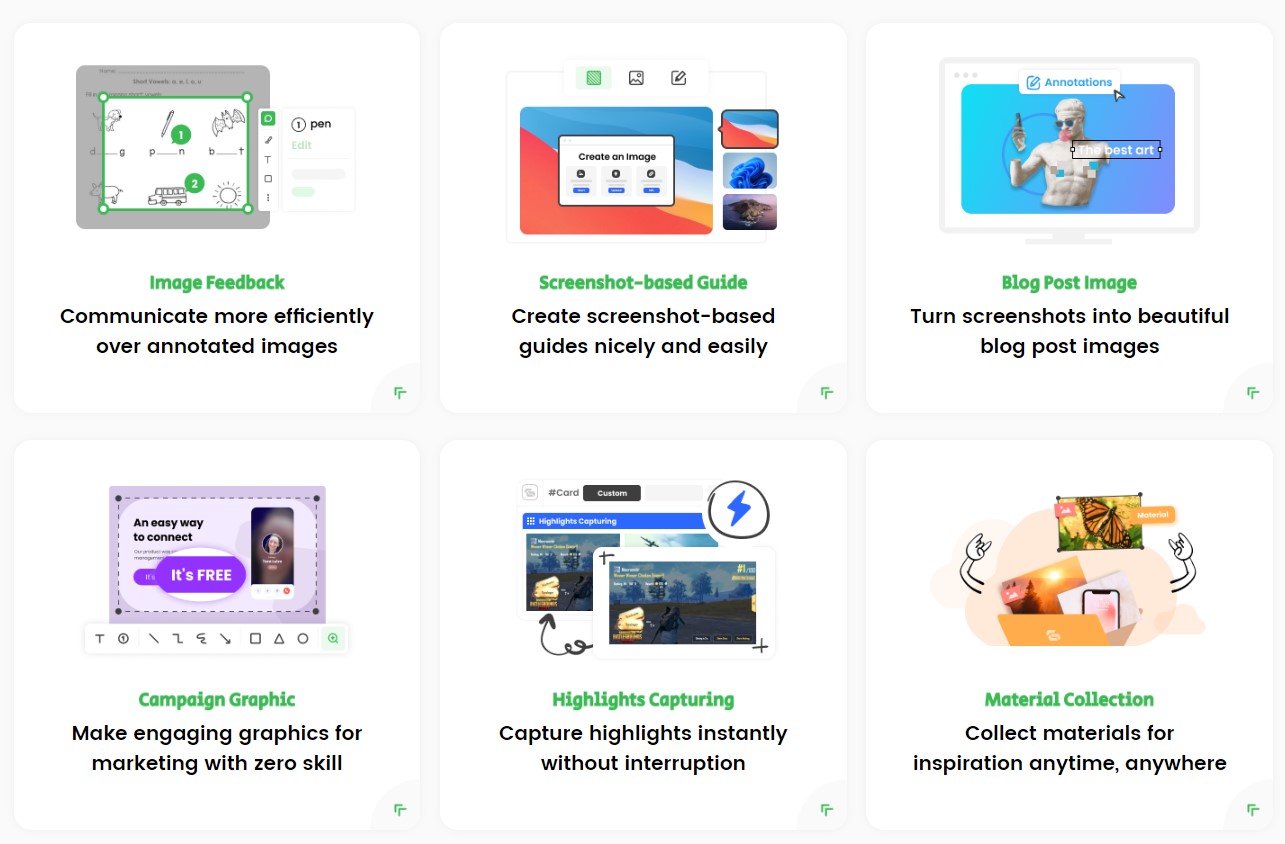 There are lots of screenshot apps in the market, some are too simple to meet users' requirements, and some are too complicated with redundant features. Gemoo Snap is the just right screenshot tool that fits almost all use cases with all essential features.
#1. Screenshot Feedback
Use Mosaic to blur sensitive information, add context with texts, lines, or shapes, and add context with images.
#2. Screenshot & Beautify
It allows you to add backgrounds and round corners, or draw shapes to your images easily.
#3. Quick Screenshot
Take a screenshot instantly and upload to the cloud with shareable links.
#4. Clipboard Screenshot
Paste and go: capture and annotate what you want to share, it will be automatically copied to clipboard.
#5. Recognize Text (OCR)
Grab text from the image you need, then copy or edit it directly, saving you from retyping it manually.
#6. Pin Screenshot
For easy reference and comparison, pin images on your screen as floating windows that are always at the top.
#7. Auto-upload to Cloud
Automatically upload and save your captures to Gemoo Cloud. Save your time to find, open, and edit captures conveniently as you switch between devices.
#8. Scrolling Capture
Available for both full-screen and specific-area scrolling screenshots.
#9. Webpage Screenshot
Take a screenshot of an entire webpage with just a single click. It is possible to capture the visible part of a webpage, a selected area, or any other element you want.
#10. Organize Screenshots
With the Gemoo Snap, you can organize all your screenshots in one place. Group them into Cards, and display in the mindmap or calendar view.
What Can You Do With Gemoo Snap?
#1. Communicate More Efficiently Over Annotated Images
The choice is yours whether to give feedback on an assignment, report a bug, or any other kind of feedback. Take a screenshot, annotate your ideas, then paste or share the image as you want. With the feedback feature, you can pinpoint problems as detailed as you wish without worrying about texts overlapping screenshots.
#2. Create Screenshot-Based Guides
With Gemoo Snap, you can easily create nice-looking guides. Make sure every step is captured. You can highlight key details by using the magnifier. Moreover, you can add context by drawing shapes and texts.
You can make your guide look more professional by placing a unified background for each screenshot. In addition to organizing screenshots in a mind map, you can also explain how to accomplish a specific task in a step-by-step instruction.
#3. Turn Screenshots Into Beautiful Blog Post Images
Capture images quickly to add spice to your blog posts, and store them on the cloud to make accessing them simple. Furthermore, a few more clicks would make things easier for you: Add annotations to provide more context, use mosaics to hide sensitive information. You're also allowed to apply a nice background to your image in seconds to make your screenshots professional and beautiful.
#4. Make Engaging Graphics For Marketing With Zero Skill
Using annotations, highlight the value of your product on a screenshot. You can easily add backgrounds, round corners, etc., without learning Photoshop. It can be used for advertising campaigns, email marketing, social media, or anywhere your customers might be.
#5. Capture Highlights Instantly Without Interruption
Snap awesome pictures or game highlights from a video without interrupting your workflow. Your cloud library will be updated automatically and instantly as soon as you take a screenshot. If you would like to share it with friends later, you can do so. You can also create a highlight collection using relevant captures and share it via a link.
#6. Collect Materials For Inspiration Anytime, Anywhere
Come across a great design? Find a nice survey? Capture it immediately, all your collections will be saved in the cloud. Always feel free to access and manage those collections from any device through Gemoo web.
#7. Pin Images on The Screen For Convenient Reference
Gemoo Snap allows you to capture anything and pin it as a floating window. No matter what you're working on, whether it be a paper, drawing, coding, or anything else, you can pin as many references as you need. Now you can switch between windows without switching back and forth. You can also create a collage by pinning multiple images together.
#8. Copy Texts You Need From Any Images in Seconds
Have you ever tried copying text from a PDF file or a web page but been unable to do so? Would you like to extract text from an image? Doesn't anyone else have access to screenshots shared by other engineers so they can copy the code directly? Gemoo Snap enable you to grab text from the image you need, then copy or edit it directly, saving you from retyping it manually.
How Gemoo Snap Works?
Go to the

Gemoo Snap website

. Click on

Free Download

to download and install the application.

Open Gemoo Snap. You can choose to sign with Google or Apple account, or just create your own account, which is very flexible.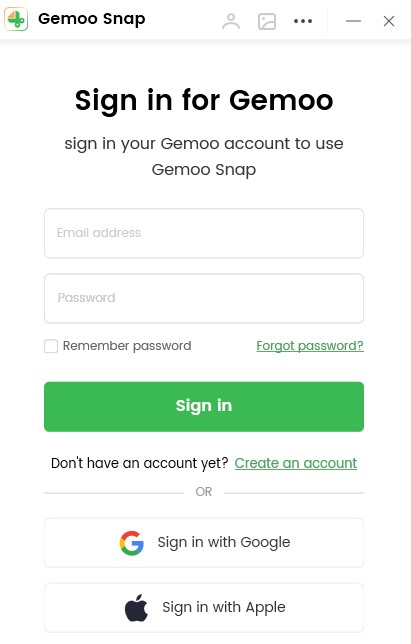 3. After sign in, you will see the user interface with circular icons appear around the logo. Moreover, the icons can be hide, and will show up by hovering over the Gemoo Snap logo, this is what I never seen in other snipping tools. Hovering your mouse over each icon, you can also see the default shortcut key associated with each feature.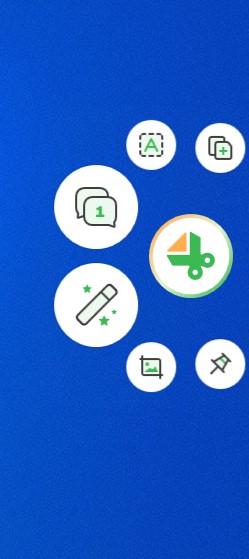 4. Screenshot & Feedback. Apart from annotate, add shapes or text, blur parts using the Mosaic tool, etc, this is where you and anyone with permission can leave feedback for any specific elements of your shared image. Don't worry about text overlapping, it innovatively shows only number marks in the image, and displays full feedback next to it.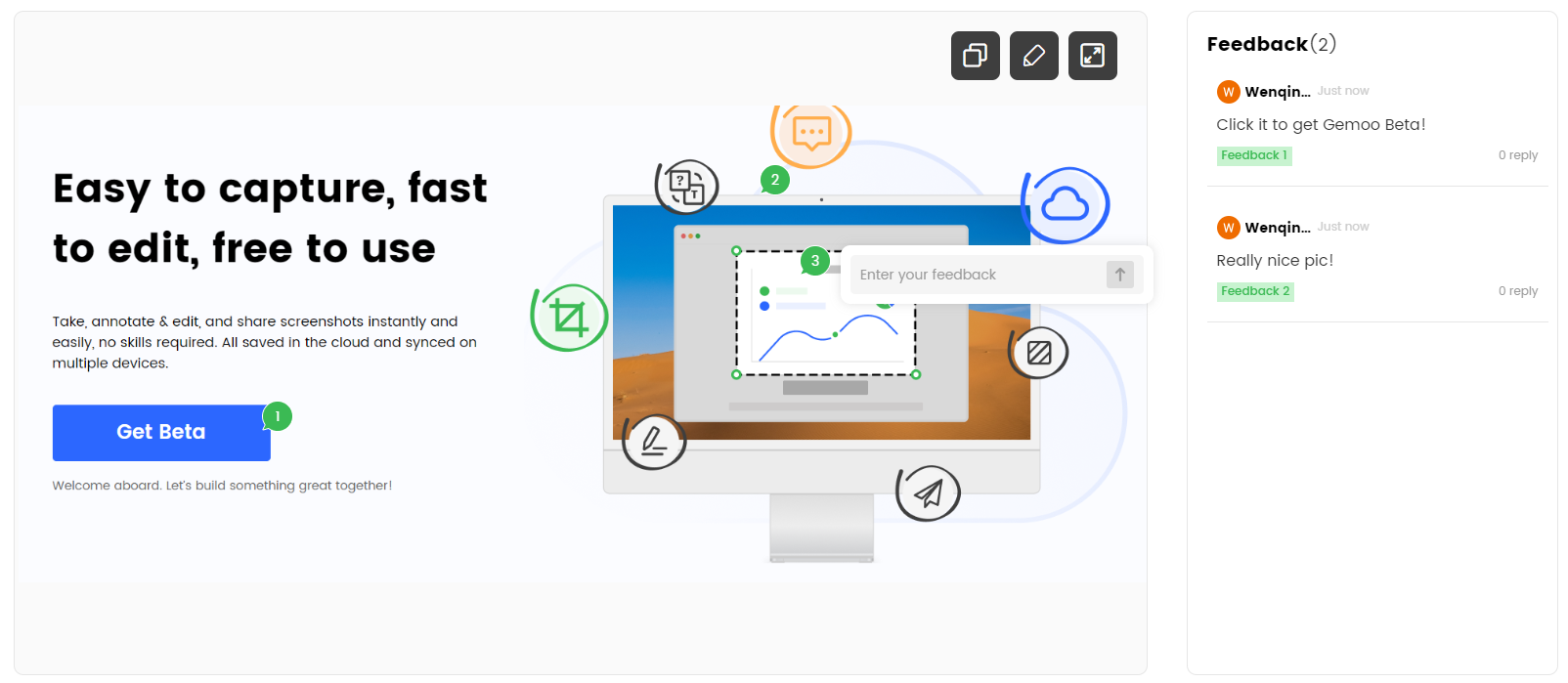 5. Choose "Clipboard Screenshot" , you will see a vertical toolbar next to your capture. Before you save the screenshot to the clipboard, you can edit and annotate it using the tools from the toolbar, such as Brush Text, Shape, and Number. It also allows you to select the color of any of these tools when you click on them. You can then copy the screen capture with all the editing and annotations to the clipboard by clicking on the last icon in the toolbar.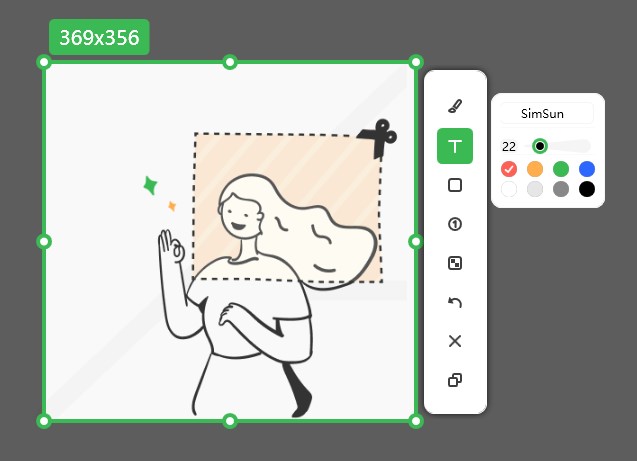 6. If you wanna grab text from the image, just click the 'A' icon in the application interface or use Ctrl + Shift + W. The OCR process will automatically pop up and display the results on the right. You can modify the text by clicking the 'Edit' button and then copy it to the clipboard by clicking the 'Copy' button. Your capture (used for OCR) will be automatically saved to the clipboard when you close the OCR page.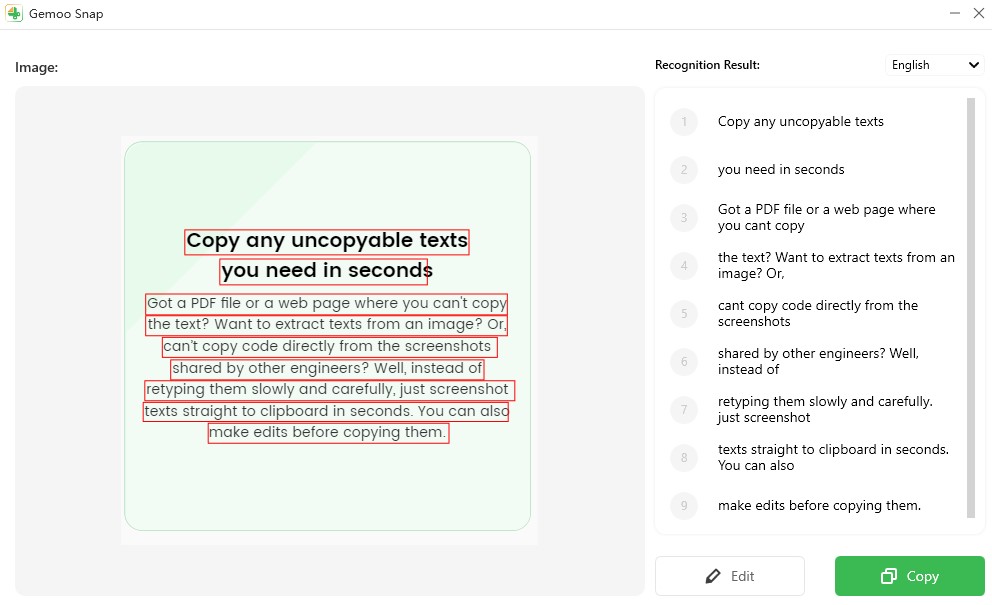 7. With shortcut of Ctrl + Shift + G, you can capture a screenshot and beautify it. It allows you to change the background image or color. Furthermore, you can also rotate and crop your capture, or use magnifier to display the specific area you want in a more precisely way. Screenshot & Beautify is perfectly fit for blog and social media image creation, which is quick and easy.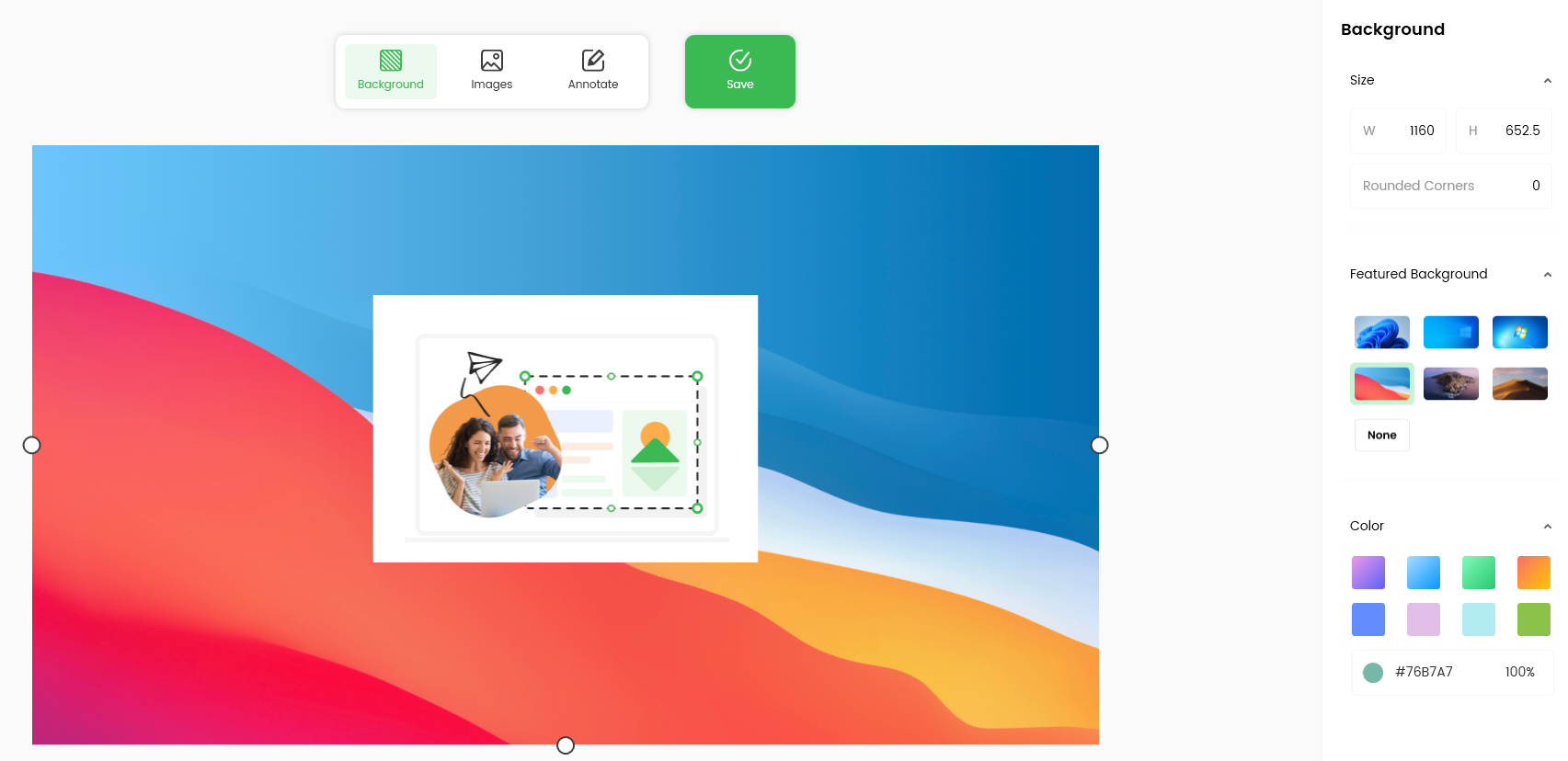 8. Click "Webpage Screenshots", it will bring you to the Gemoo web to create full-page screenshots. Pasting the URL of the webpage you'd like to capture, it will generate a full-page screenshot automatically.

9. Go to the gemoo.com link to see the screenshots you've taken in each of the above steps. Under "My Apps", click "Images" to see all the screenshots you have saved to your Gemoo cloud. Your images can be shared privately or publicly, and you can even password-protect them.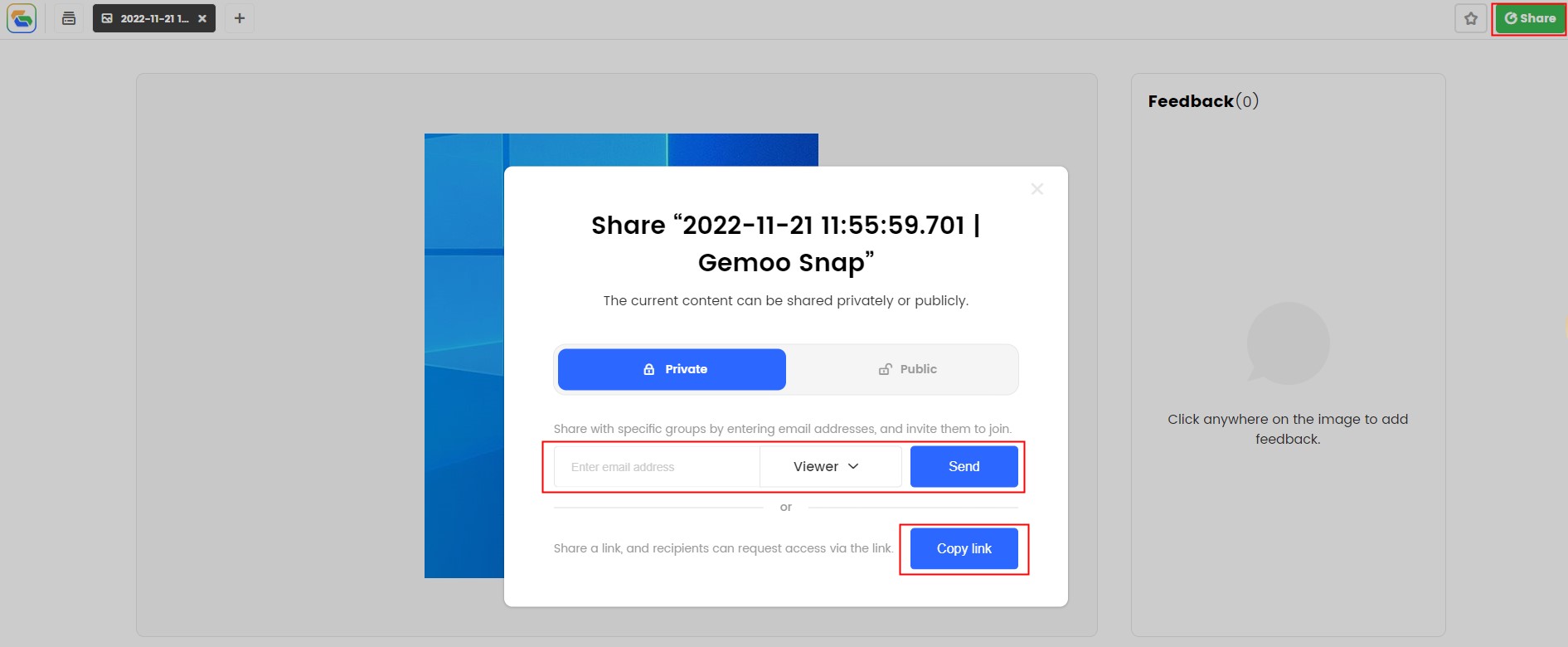 You are allowed to manage all your screenshot in the cloud: Keep all your screenshots organized, and display them in the mind map or calendar view, to make your content more structured and well-planned.

Conclusion
Overall, Gemoo Snap is very handy, no matter you are in a team or on your own. We hope that this guide is helpful to you. For further information, comment below and let us know, or you can directly go to the Gemoo official website.