We all know about The Google's camera app as from the very beginning of Android the default camera application is from Google itself. Android platform is widely known and allows any programmer and developer to upload an application or program on Google's play store programmed by themselves and hence forth there is large number of applicants for a single purpose with variety of User Interfaces and a large number of people finds it easy and creative to download other camera tools instead of Google's very own camera application. Today we will guide you about How to Install Google Camera with HDR+ on Snapdragon (820, 821, 835) Powered Android Devices.
Many of the camera applications may have an HDR mode on board but the HDR+ is something incomparable and advance, to get an HDR+ camera feature you need to Install Google Camera with HDR+ on Snapdragon (820, 821 and 835) Powered Android Devices. Snapdragon processors are outstanding and are in trend and almost every smartphone manufacturing company uses this hardware as they are faster and power efficient compared to other processors and these qualities provide a whole new lag free user experience.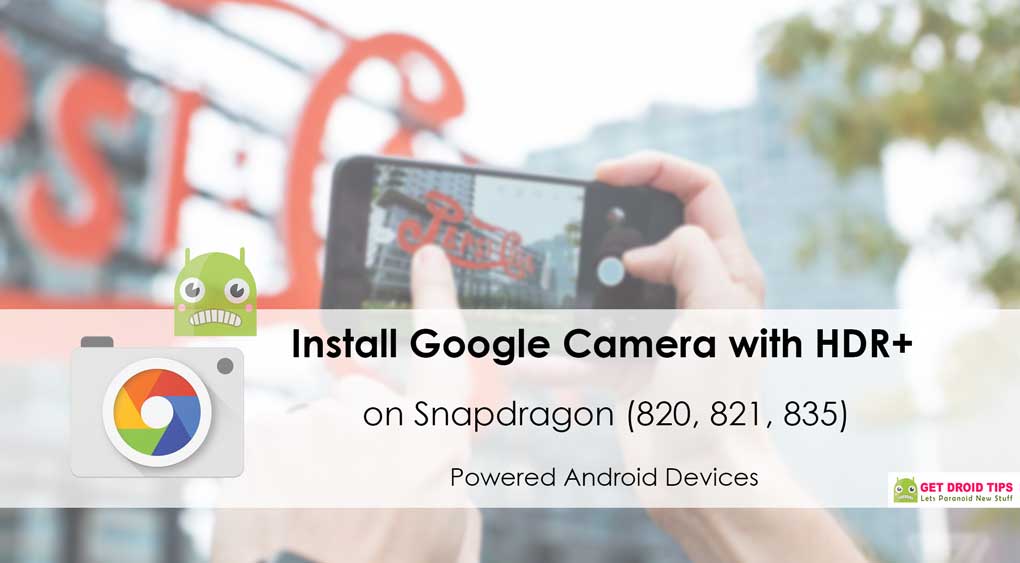 Install Google Camera with HDR+ on Snapdragon (820, 821, 835) Powered Android Devices
HDR+ allows an unprofessional user with very less knowledge of photography to capture high definition images with extra under the hood adjustments. The only hurdle is hardware and it requires Snapdragons 820, 821, 835 processors and this particular application supports only the above-mentioned Android hardware. Also Google is one of those very big organisations who has a deep roots in their field and knowledge about their consumers, and produce what the customer demands and also they have a great database containing large number of analysis and user surveys that show a company's effort and hence forth this big organisation is among those who have exponential rates of profit.
After the release of Google's flagship Pixel Smartphone having the stunning hardware, looks and flawless performance along with its camera app with overloaded features and improvisation in camera quality has made many average users very curious and found this camera application with HDR+ feature very lustrous and now many users want this particular camera application on their smartphones.
The trick is very easy and does not require rooting or root of smartphone for this very purpose and all it takes is to download and simple application file and simple single tap installation of the particular android package file (.apk)
The download link is:
Download the file and it contains both port and app file. For installing the APK, you must first enable Unknown sources under Settings > Security. And follow the instructions. Voila! You have the special camera from Google pixel.