Speaking about the most irritating issues on a smartphone, Alldocube weak signal or lost network issue comes among the few and it is really annoying. Having said that, when you are facing this problem, it restricts your ability to call or text or even browse the web either affecting its speed i.e. by being sluggish or not so good quality in terms of a weak signal where the call might be disrupted or the internet will be slow. Another big issue here is when there is no network at all which doesn't just disrupt but sweeps away the ability to call or text someone let alone browsing the web. So, we decided to provide an Alldocube troubleshooting guide to fix this problem so that our readers can follow and fix the problem accordingly.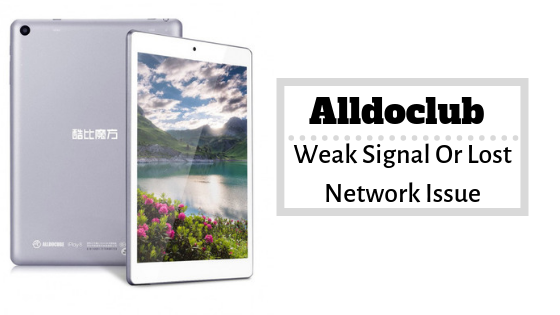 Guide To Fix Alldocube Weak Signal Or Lost Network Issue
Restart the phone
Okay, you have seen it a number of times but how does rebooting a system actually fix weak signal or lost network issue? The answer is simple. Either the system is overloaded or it is facing any resource crunch or a temperamental software glitch or crash has triggered the problem. Here, rebooting the system relieves it from any stress and software failure occurred during the last attempt. The phone actually starts afresh and registers to an available network without any further glitch.
Check out for intermediate issues
Suffering from weak signal or lost network issue? First check with the telecom carrier that you have signed up with to know more. You can first inquire about it with someone using the same carrier and preferably in the same locality as the network could fluctuate based on location as well. Note that if the problem is from their end, you don't have to do anything and wait for the resolution or you can just change the carrier to a more promising one.
Turn on Airplane Mode
This feature enables disabling all cellular and other networks temporarily but there is a silver lining as well. The feature is often summoned to fix network related issues and weak signal or lost network issue is definitely one of them. Drag down the notification panel and you'll get tons of options. Click on an airplane icon which is how airplane mode is signified on a smartphone and voila, all networks are gone. Wait for a minute and disable it to check if the network is restored or not.
Toggle between SIM cards
If you have a dual SIM card smartphone, you can use this feature to get around. Note that every Android smartphone allows you to select one SIM card as default and then, you can set whether to call, text, and browse using the default SIM card or choose another one or you can choose while making the call as well by selecting 'Ask every time'. Anyways, you can toggle between the two SIM cards forcing one with a bad network or even no network to startup.
Deactivate and reactivate SIM card
Supporting the last method of toggling between the SIM cards, you can also deactivate one of them. Tap on 'Settings' and go to 'SIM/Networks' or whatever the listing is called on your device. Here, select the SIM card which is behaving abnormally and toggle it to deactivate. This is temporary until you reactivate it. Note that you cannot deactivate default SIM just like that because you need to move the priorities of calls, text, and internet to other SIM card before doing that.
Toggle 'Network Selection Mode'
The SIM/Networks or namesake listing within the Settings app on your device has multiple settings that you can choose to resolve the weak signal or lost network issue on your Alldocube smartphone as of now. The 'Network Selection Mode' enables instructing the device to whether choose to network automatically which is quite self-explanatory. The other option available is to choose 'Manual' network selection where you can search for available networks, register on it and it is done. This method comes handy when it is difficult to stay connected to a network especially when traveling so keep that in mind.
Toggle 'Preferred Network Mode'
Now, this is an allrounder method as it instructs the device to register to various bands of network or stick to a particular band. You can choose between '2G/3G' or ' 4G only' or '2G/3G/4G' whichever is available. Note that 4G is available countrywide but 3G and 2G are far more penetrative and its availability is extensive. This means even if there is no 4G in a particular locality, you can expect 3G or at least 2G network available where you might not be able to use high-speed internet but everything else is sorted. You can check out the method via Settings >> SIM/Networks >> Preferred Network Mode.
Check out if SIM card/tray is damaged
It isn't rocket science that SIM cards are delicate and are nothing but a chip mounted on a plastic tray. Removing it and inserting it time and again can cause abrasions and stretches on the chip or even the SIM tray which is holding the card. For this, you need to remove the SIM card, check for any stretches and abrasions on it, verify it by inserting the same to a different phone or visit a nearby telecom carrier center to get a resolution on it.
Cache files
Cache files may not be directly related to the weak signal or lost network issue on your Alldocube smartphone but these memory files are notorious as vulnerable to bugs and viruses and are often related to causing a slew of problems so it is handy to get rid of it. For that, you need the Settings app where you need to toggle to 'Storage >> Cache Memory' to delete it. Next up, you need the Settings app here as well but this time, go to the downloaded section of 'Apps' where you need to select an app, click on both 'Clear Data' and 'Clear Cache' buttons, back up a bit and repeat with each downloaded apps. Lastly, you need to access the recovery mode and select 'wipe cache partition' to do the same.
Update all the apps
It must be a daily practice that you must update all the apps including third-party and bloatware because outdated apps have a tendency to attract problems. Since we are tackling all possible reasons behind Alldocube weak signal or lost network issue, you need to update all apps and check if it makes any difference or not and move on.
Upgrade the Android OS
Next up, update the Android OS your phone is running on and that will eliminate the possibility that an outdated app or firmware caused any problem with the network on your device. You need to access the 'Software Updates' section located within Settings >> About Device >> Check for Updates and if there's an update, simply download it and install.
Hard Reset
This is a major step so think through before proceeding and take a backup of data that you want to save before doing it. You need to turn off the device and repeat the procedure explained below to get this over with.
Step 01: Press power + volume up together for several seconds until the phone vibrates and boots up.
Step 02: Release the buttons when an Android logo is displayed on-screen.
Step 03: You need to select 'wipe data/factory reset' using volume rockers to scroll through the available options and power button to select it.
Step 04: Finally, tap on 'yes — delete all user data' and that concludes the methods then and there.
Get help from telecom carrier
For any problem related to the SIM card or the network at your locality or whatsoever, you need to take help from telecom carrier for it. The easy fix to resolve a weak network issue is to install a network booster or you can simply port out to a different telecom carrier which has a quality network around your house or office.
Get help from the manufacturer service center
For rest, you can turn towards the manufacturer's service center to get a resolution and fast. You can choose between an authorized service center or a third-party one where the charges could differ a lot while the warranty will get void if you choose the latter but anyways, you need to get the problem fixed before it takes a toll on your life as we are completely dependent on our devices.