Hisense smartphones are getting more powerful internally while they are getting slimmer and slenderer externally. But there are issues. You might get depressed when a tiny button ruins specific function of their smartphones, especially the power button not working problem. Manufacturers have started replacing physical buttons with its on-screen digital counterpart, but the power button has stayed and will probably stay for a long time as it is responsible for booting/rebooting, allow the phone to boot into safe mode, take a screenshot, allow to light up the screen and turn it back off and other numerous functionalities.
There are times when a software or hardware component can malfunction. You know the phone is fine, but you are unable to wake it up just because the tiny little button is broken. A broken power button does not have to mean it's the end for a phone or tablet. If the power button on your phone isn't working then don't panic. This article is going to explain how to fix power but not working problem.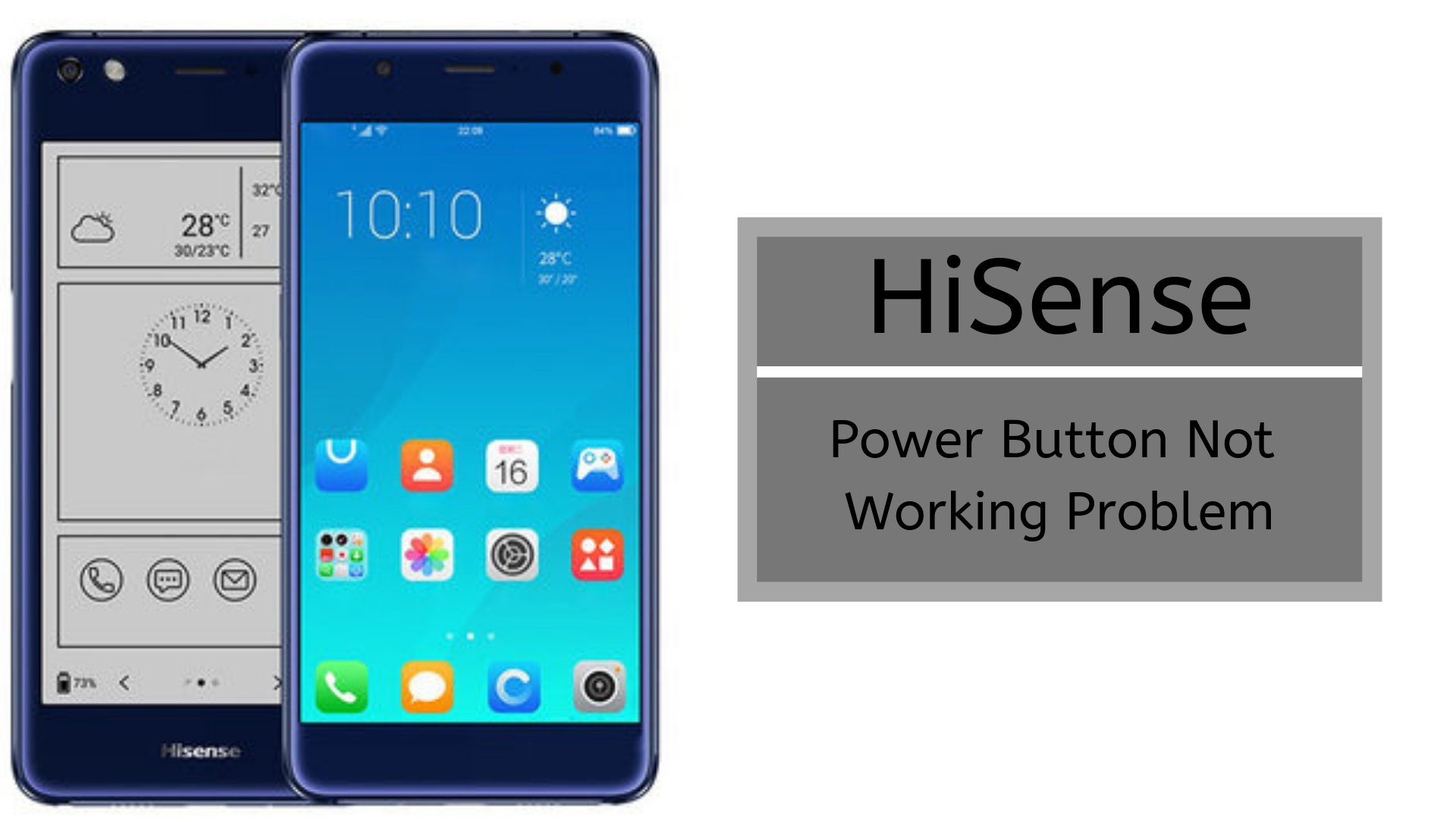 Guide To Fix HiSense Power Button Not Working Problem
Step 1: Plug in your phone to a charger (If your phone is OFF)
Chances are that your phone could have simply turned off due to low battery. If your phone is off, first you should try out this method. When you realize that your Android Power button is not working, it may result from a running-out battery. Charge your Android phone to a charger and wait for a few minutes. And now you can press your Power button to see if it works.
Step 2: Waking UP the phone's display (If your phone is ON but you are not able to wake screen)
Having a fingerprint scanner or facial recognition system on your phone could bypass the need to press the power button and unlock the phone. You can even wake up your screen by asking your friends or using another phone to call yourself or drop a message that will effectively light up the screen. You can also connect the phone to a charger or power bank that will light up the screen in no time. You can now try the following methods.
Step 3: Set the phone on be alive
If you observe power button not working the problem on your device, light up the screen by above methods. Now, go to "Settings >> Display >> Sleep" and tap on the longest duration of time the device can stay unlocked. Most of the device have 30 minutes as the total duration it can stay alive after which, the phone will lock itself if no activity is recorded. You just need to tap the screen once every 30 minutes if not in use to keep the phone alive. This will eradicate the need to use the power button at least until you get the fix for it.
Step 4: Restart Your Android phone
The power button not working problem can possibly be due to various reasons. One of these may be a software issue or minor error that occurred when you tried pushing the button. If the power button is not fully unresponsive, you can try force restart by pressing the power button and volume up/down button together. If you have a user-removable battery, you can simply remove it to turn off the phone and upon inserting it, the power button can work if it indeed was a software issue. You can use the Scheduled On/Off feature to restart the device in case if the phone is still switched On. You'll find the Scheduled On/Off feature within Settings app.
Step 5: Clear cache files
Navigate to Settings >> Apps >> Downloaded where you need to tap on each app that you downloaded and press 'Clear Cache'. Secondly, you need to get rid of storage cache which is a different section placed in the Settings >> Storage >> Cache Memory.
Step 6: Update applications and OS
Check if there is any software update available for your smartphone. The update might fix bugs related to power button not working problem. Some infected applications can have a dire result on the phone's performance. It can cause conflicts in the working of a particular button. Update the apps by navigating to Google Play Store >> My apps and games >> Update all. To update the OS, on the other hand, you need to visit Settings and proceed to the Software Updates section under About Device. Here, you must be able to check if you have received an update or not or you can pick up custom ROM as well.
Step 7: Try Hard reset of your device
This will help to fix some issues that affected from malware and other threats. Turn off the phone and then press and hold the Volume Up key and Power key simultaneously until the Android system recovery screen appears. Use the Volume Down key to highlight the "wipe data/factory reset" option and then use the Power button to make the selection.
Step 8: Approach to the service center
Unfortunately, if you cannot fix the power button not working problem, find your nearest service and approach for assistance.
Fortunately, if you are able to fix the power button not working issue with the help of the above steps, then your phone is back in form. However, it is always better to know some methods by which you can reduce usage of the power button thus extending its life.
There are some applications intended to function as Home buttons which adds widgets for physical buttons such as for the volume keys, home button, and even the power button. It puts a tiny panel on the screen and serves as Power, volume and Home buttons.
Method 2: Get aid of sensors available on your smartphone
Some apps allow to turn ON the screen when you lift your device. This makes use of the sensors on your smartphone. You can also set waves and holds in this app to perform not just locking and unlocking but also to open a certain app or feature on the phone. You can go into its settings to change the type of waves and durations to get favorable results. The only drawback is that the app needs to consume a large amount of battery.
Method 3: double tap to wake up
Your smartphone may have a built-in feature to wake up the screen by double tapping on it. It saves the usage of the power button. If your smartphone does not have this feature, download a third-party app to introduce this feature.
Although some devices allow remapping the volume button by which you can use it to wake up your screen. Otherwise, you can use an app anytime. These apps swap the functionality of a volume button to a power button as the name suggests. The app allows you to turn off the screen and light it up again.
It's really a headache to know some buttons not working. This may even lead to data lost or broken. Therefore, for the sake of your data safety, you are supposed to take measures to protect your data. It's wise of you to backup important data ahead of time so that you are able to recover those data if you encounter power button not working problem.