In times when the phone is the priority and you could leave your home without your wallet but not your phone, no network reception or lost network can't create hurdles. With lack of signal, you won't be able to connect to the internet or browse social media unless you are connected to a wifi network but then there are distance limitations. Further, with no or weak signal, calls drops, incomprehensible voice, can be a few of the problems that you will observe. That is why we decided to answer the question, how to fix OnePlus weak signal or lost network issue? Here's how you can work around a weak network or resolve lost network issue using few tips and troubleshooting tricks that you can perform.
Guide To Fix OnePlus Weak Signal Or Lost Network Issue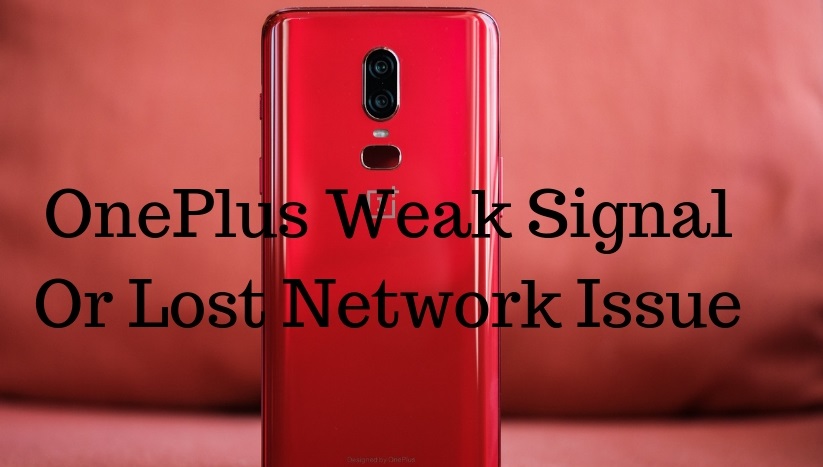 Toggle airplane mode
You'll find that most of the network related errors can be resolved using the airplane or flight mode. It is simple to activate, drag down the notification tray and tao on the airplane mode icon and there you have it. Wait for few seconds and then, tap on it again to deactivate it. Repeat the same procedure several times and check for the results.
Reboot the phone
There is a possibility that the weak signal or lost network issue that you are facing is temporary. For that, you can reboot the phone to wait for a few seconds. Now, press the power button and turn on the phone and check if the problem is resolved or not. If not, you can follow the other technique mentioned here.
Check if there's interference or not
Mobile networks are basically radio waves that are emitted by the cell towers and intercepted by the antenna mounted on your phone. Although radio waves can travel long distances, they can easily get attenuated to some materials such as the particular material that your case or cover is made up of. You can verify it by removing the cover and checking if it creates any difference.
Use signal boosters for a change
As I have aforesaid, radio waves can easily be attenuated and if you are living in a house or any other place where the network reception of poor or weak, you can buy yourself a signal booster which is actually an electronic device that amplifies and transmits quality network that can be broadcasted through the house. Although it has its own limitation, it is still a great buy if the area you live in is actually the cause of the weak signal or lost network issue.
Check for battery status
Battery life can alter the network as well. Note that searching, registering and being on the network requires battery but if your battery is draining and near faulty percentage, it can cause problems with the network as well. Plug in the charger, wait for few minutes and you'll gauge the difference by yourself.
Use Wi-Fi calling feature (limited)
This particular trick is limited to few countries where the carriers provide wifi calling feature so that users can connect to wifi and make calls which is a perfect solution to weak signal or lost network issue but it is also limited since there are limitations.
Toggle from upper bands to lower bands
Your smartphone is capable of working in various bands and network types as it is built for network reception of different bands. If you are a 4G user and having trouble finding the 4G network, you can check the network to 3G which is more widespread. In case, you are unable to find 3G, you can proceed to 2G where although you won't get access ultra-fast internet connections, features like calling and messaging someone will be available.
Toggle between network selection modes
There are actually two modes i.e. automatic and manual where the default is automatic and the term is pretty self-explanatory as automatic refers to when the phone registers for an available automatically while manual mode would require human intervention to register to an available network. If you are unable to find a network automatically, you can switch to manual mode and register to an available network. This is usually required when you are traveling and moving from urban to rural areas which have less network coverage.
Update the Android OS
Can an outdated Android firmware have an impact on my phone's network? Of course yes and that's because your phone usually slows down if you don't update the phone for long which is just one of the many problems that you will face with outdated firmware. Further, bugs can be introduced in an outdated firmware which is vulnerable to attacks and therefore, it is recommended to keep the firmware updated. You can go through the available updates at Settings >> About Device >> System Updates >> Check for updates. Note that if your phone is old or has gone out-of-support, you can downgrade or choose custom ROMs to extend phone's functionality and prevents bugs from affecting it.
Update all the applications
Yes, the same goes for all the apps that are installed on your smartphone as well. This is because outdated apps are vulnerable and can invite hackers or attackers to cause data theft or affect the phone's performance, etc. You can check out if the updates are available for apps by opening the Google Play Store and then, tap on the three stacked lines to open Settings and select My apps and games and check for available updates.
Reset the phone
This is basically the mother of all fixes if indeed the problem is due to any software-related issue. You can perform a factory reset for which, the following the procedure.
Turn off the phone by holding the power button and selecting the Power Off option from the menu.
Next is to tap on the power button plus volume down button together and remember, you need to press volume down button a fraction of second before pressing the power button since if you did vice versa, the phone will turn on in normal mode.
Wait for few seconds while holding onto the buttons and once the screen lights-up showing the Android logo on the screen, you can release the keys.
You need to select 'wipe data/factory reset' from amidst the menu and proceed by selecting 'yes — delete all user data' on the resultant screen.
Check if the SIM card or the SIM tray is damaged
What if the SIM Card is not inserted properly or it has damaged due to constant pulling and inserting it in the SIM tray which can also damage the SIM tray. If you are unable to fix the problem even now, check if the SIM is inserted properly or not. You must check if the SIM Card is working properly or not. Similarly, check if the SIM tray is proper or not by inserting another SIM card.
Ask carrier' service center for help
Still can't crank up the bars on the network display on the right/left side of the screen? Report the issue to a service center where you will be able to verify the issue and get the resolution. For SIM card, you can turn towards your service provider's gallery or store to get it replaced to fix if the SIM card was the problem all along.