Making calls and messaging someone or browsing the internet on mobile data isn't possible without a cellular network on your phone. This is where Realme weak signal or lost network issue is bugging some users as they are either experiencing poor or weak signal or the network bar on their phone goes blank hinting towards the lost network. This can cause a lot of trouble since you can't make any calls or message someone unless you have a Wi-Fi network enabled which isn't the case when you are in the move or currently at an unknown neighborhood where you can't get hold of a wifi network. But don't worry because we have it covered in this explicit guide to fix the problem.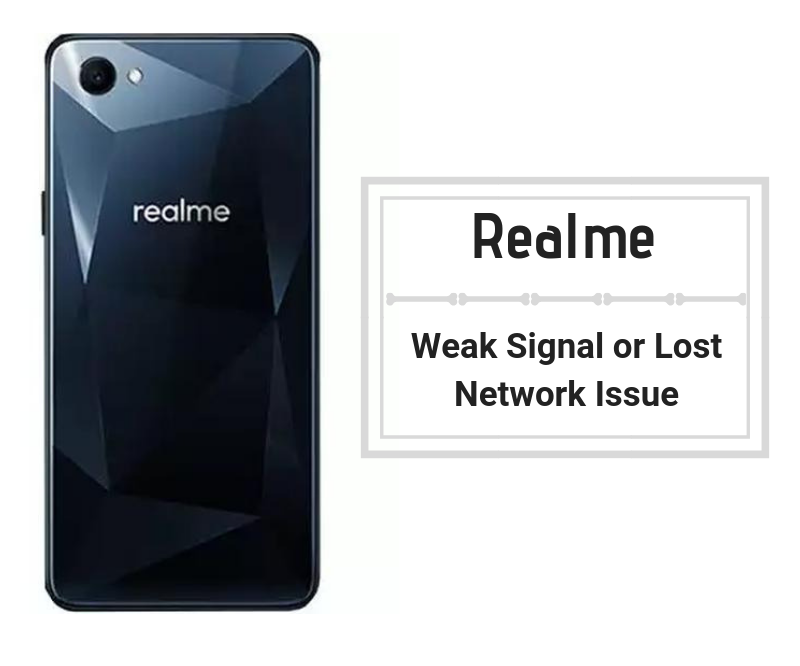 How to fix Realme Weak Signal or Lost Network Issue?
Toggle SIM card
Although this problem is not universal, I have seen this problem in a few smartphones wherein if you are using a dual-SIM phone, one of the SIM will actually lose signal but a quick SIM switch toggle or blocking off the affected SIM by navigating to 'Settings >> SIM Management (SIM & network) > Click on the affected SIM >> Toggle it Off and wait for few seconds before turning it on.
Turn off the phone
Rebooting the device can fix a lot of issues right there. You just need to long press the power button, select power off and wait for few seconds. Now, press the power button to turn it ON and see the magic unfold. Rebooting the device shuts down all running or stagnant processes and apps and also fix software bugs or glitches and that's where you can the fix for your Realme weak signal or lost network issue.
Turn on Airplane Mode
When you turn on flight or airplane mode, it basically inhibits phone's ability to stay connected to any incoming or outgoing cellular network. It is regarded as a powerful tool to fix any network or software-related temporary issues and thus, you'll find it across all the guides here on GetDroidTips and other websites although we have a ton of content on fixing problems on various smartphones segregated by brands and models so you'll find on GetDroidTips what you cannot find anywhere ever.
Check with the carrier
The U.S. has four network carriers and the same is in U.K. while India has 12. Anyhow, this creates a lot of difference in network coverage no matter where you go. If you are experiencing a terrible network reception, it could be the carrier or service provider the cause of the issue. You can verify the same simply by checking out someone's phone using the same carrier. If you feel as if the carrier isn't providing a quality network, you can always port out your number to a different carrier to get good deals and services.
Hold the phone just right
Ever heard of 'Antenna-gate' issue iPhone users found on their phones a few years ago. It was due to bad position of antenna that receives the signal from the cell tower and thus, the network reception was bad. Although recent smartphones have strategically placed antennas, you might be holding it wrong. To check, grab your phone and check for the antenna location on the internet and skip holding the phone blocking the antenna. You must get rid of any phone case or any accessory blocking the antenna before you know, you'll continue to experience a terrible network reception if you continue as it is.
Check for interference
Similar to how a phone case or your hand can cover the antenna resulting in poor network reception, a lot of things can hinder with the reception. First of all, it could be an impaired or damaged antenna or the walls, windows, glass, etc that can cause an obstacle in network reception. Since you cannot actually move all the interference, a little effort to move close to windows must resolve the issue.
Purchase a network booster
Can't fix the weak signal or lost network issue? You can always purchase a network booster which is a bit of investment but you'll get returns in the form of quality network reception.
Switch between bands and frequency
There's a lot you can do to fix Realme weak signal or lost network issue. One such method is to toggle network bands. If you have a 2G-enabled smartphone, your phone actually supports the most widespread network in India and other countries.
Further, if you have a 3G-enabled phone, it supports both 2G and 3G while a 4G-enabled smartphone would support all three i.e. 2G, 3G, and 4G network which gives you a wider network coverage. Simply go to Settings >> SIM & network >> Preferred network type and dial-down the band from 4G to 3G to 2G that'll give you a decent network coverage although not as fast as 4G.
Switch between network selection modes
Similar to preferred network type, you can toggle if the phone automatically detects available network and registers to it or you can do it yourself. The thing is, if you are in your home circle, it is better to keep it on 'Automatic' mode.
But when you are traveling between cities or villages or off-skirt area, toggle it to 'Manual' where you can search for available networks and register to it when the phone is in roaming. This increases the probability of connecting to a network when traveling. You can find the option within Settings >> SIM & network >> Tap on a SIM >> Network operators > Toggle to Manual.
Update the apps and the OS
Android smartphones allow the user to install a number of apps at once without any hassle. Using multiple apps is also a piece of cake but apps can have a dire result on the phone's performance. It can slow down the phone or apps can cause conflicts in the working of a particular app or service causing the defamed 'This app isn't working' or 'This app isn't responding' error. The simplest way to fix it is to update the apps by navigating to Google Play Store >> My apps and games >> Update all.
The same goes for the firmware or OS which supports both hardware and software components and thus, has a lot of things that could possibly go wrong. Check if you have received any updates via Settings >> About Device >> Software Updates >> Check for updates. Note that you can move to a custom ROM to get frequent updates since Android doesn't have frequent updates in a majority of smartphones.
Verify if the SIM card or SIM tray is damaged
SIM cards are nothing but a piece of plastic with a chip embedded on it. These cards are easily susceptible to wear and tear and thus, the chances of these component damaging itself is fairly high. The same goes for the SIM tray which holds the SIM which could've damaged itself which ideally mustn't be a problem but let's assume that it is a problem. To fix a broken/damaged SIM card, get it replaced from the carrier. The SIM tray can be replaced by purchasing a different either from third-party centers or retailers or from authorized service centers.
Check with a service provider
The problem could be the carrier or your phone (software or hardware-related). I would recommend you to go for carrier first and check if their incompetent services are causing the issue. You can verify the same by recording the network reception on a different phone connected to the same carrier's service. You can also switch to a different carrier to get better network reception.
On the contrary, if that's not the case, report the issue to an authorized Realme service center where you can get the problem resolved. This might take a few days depending upon the issue and also, you'll have to pay a premium to fix it if it is not covered under warranty of the phone. Hope this guide helps you get over the Realme weak signal or lost network issue asap. Let us know in the comments below.