Nowadays, smartphones have just three or four physical buttons while other buttons that were present earlier have switched to an on-screen alternative. However, it creates a big hurdle when you are facing power button not working problem since it is an imperative key on a phone that handles pretty much all the workload ranging from turning off the screen to turning it on, switching off the device to switching it back again and so on. Since power button is also used in booting into various bootable sectors as well as give the device an instant reboot or capture screenshot and even disconnect a call, it is an important button and any problem to it can trickle down to various aspects of using the device as a whole. Thus, here are a few ways you can fix the power button not working problem.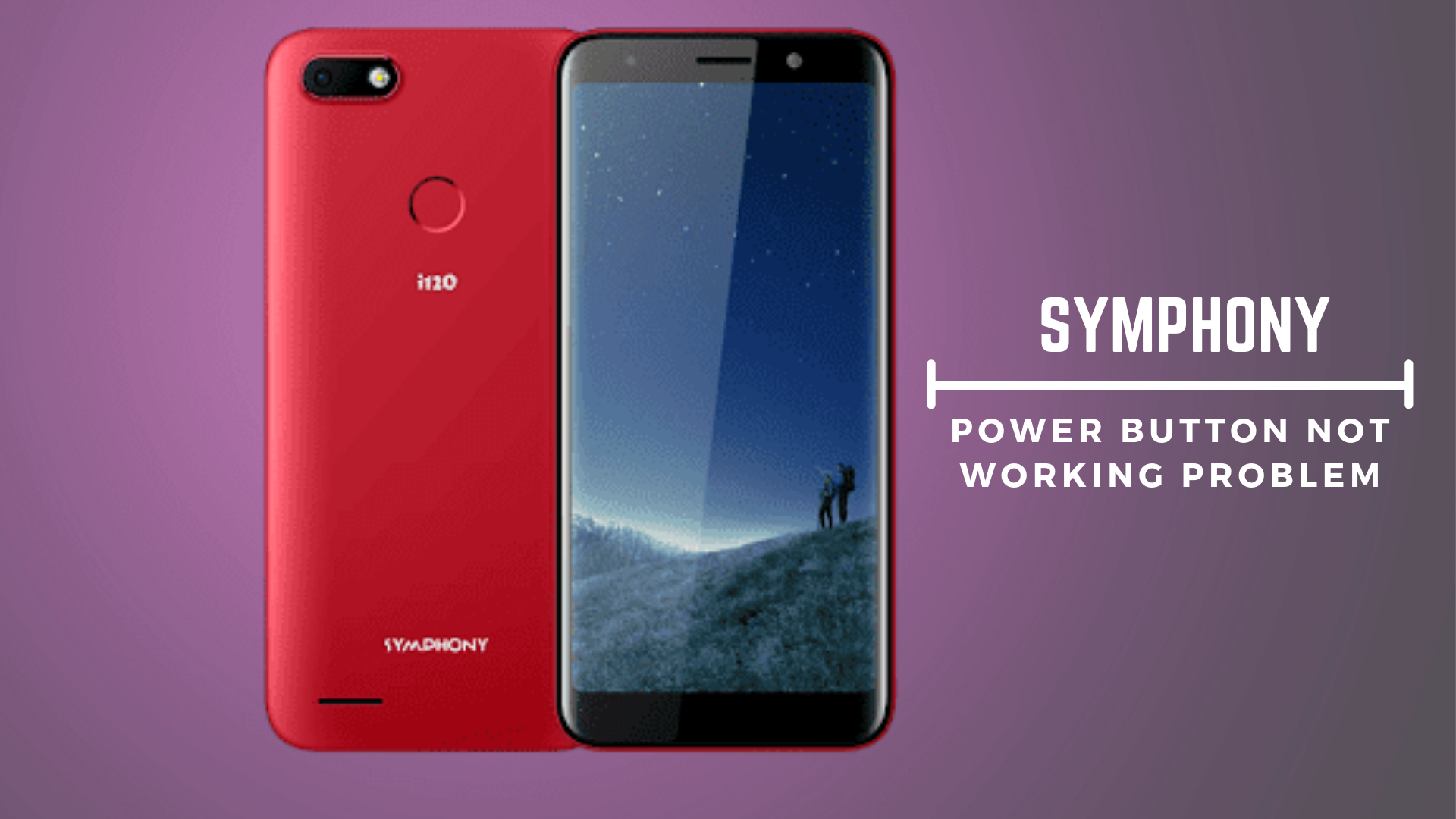 How To Fix Symphony Power Button Not Working Problem?
Assuming that the power button is not working, here are a few methods you can employ in order to eliminate any software-related issues. But perhaps, you will need the screen to be active before commencing with these methods. If the screen is not alive, you can utilize any of the methods listed under 'How to use the phone without a power button' which is the next section.
Reboot the device
Rebooting the device can resolve a plethora of issues which includes power button not working problem as well until it is a software glitch and not a hardware failure. But how to reboot the device with a broken power button? You can try scheduled ON/OFF which is a utility available within the Settings app that you can tune to shut down at this moment and reboot a minute later and that must serve its purpose of rebooting the device as well.
Purge all types of cache memory
Next thing to do is to clear all types of cache memory. This is because cache files are always related to causing bugs and issues on a smartphone which is the reason why we usually recommend you to clear it whenever facing any bugs without fail. There are different types of cache memory and thus, different ways you can clear it.
First up is the storage cache which you can access via Settings >> Storage >> Cache Memory and that is where you can delete it. Next is the app cache while is a redundant procedure to perform. You need to enter the Settings app on your device and go to Apps >> Downloaded. Amidst the list of apps that appears here, you need to click on apps individually one-by-one and tap on 'Clear Cache' under each app. This will log you off the services such as WhatsApp, Facebook, etc so be ready to log in again. Next thing you know is that you can always download a third-party cache cleaning app from the Google Play Store that will do the job for you without any hassle.
Update all the apps and the OS
No doubt outdated apps or the OS as a whole can introduce a lot of trouble on a smartphone. This is because outdated software is vulnerable to bugs and viruses and whatnot. On the other hand, updating these apps strengthen its defenses against any intruder and allows the users to rip out benefits that app developers usually add to their apps in form of UI changes and by adding features, etc. Check out if you have received any app updates or not via Google Play Store and turn to the Settings app >> About Device >> Software Updates to check out if there's any Android OS update.
If you have gone through the various methods to find and fix power button not working problem induced due to a software issue which isn't a scenario if maximum cases, here are few ways to use a phone with a broken power button.
Case 01: The phone is turned ON/Display is ON
Assuming that the phone is turned ON and the display is ON as well, here are a few methods you can utilize to get things done. You can use the methods explained in Case 02 in conjunction with these for a 360-degrees usage.
Turn on Always-ON display
Note that this particular feature is limited to premium and flagship smartphones and it might not be accessible on your phone or tablet. But if it is available, set it up. Once it is enabled, you can let the phone lock itself if you aren't using it. When you want to unlock it, pick it up, tap once or twice on the screen which isn't turned off entirely as you will see a clock on-screen and that is how you can use a phone with a broken power button.
Escalate Keep Screen Alive
Depending upon the make and model, the feature could have a different moniker but it works with the help of keeping the screen alive for the said duration. The default is usually a minute or two but you can extend it to its entirety i.e. 30 minutes. It means the screen will stay alive for the said duration without any external stimuli. But this is a redundant procedure as you will have to tap on the screen within 30 minutes to extend the duration.
Scheduled On/Off
There is a feature amidst the 'Utilities' section of the Settings app where you can actually command the phone is turn OFF and turn back ON at any given time. This could work as a precautionary measure where it will eliminate the chances that the power button not working problem is borne due to software failure. The method is also handy when it comes to saving battery when you aren't expected to use a phone such as during a meeting.
Set up alarms
This method could come handy as you can set as many alarms as you want perhaps with a silent ringtone to go off with. This will fire up the display and you can use the phone without even tapping on the power button.
Case 02: The phone is turned ON/Display is OFF
Use FPS
Since all smartphones nowadays have fingerprint scanners, it is simply a tap on the scanner and that is when the phone unlocks in a jiffy. This process is simple and since almost all smartphones may it be a budget category or flagship smartphones have it, unlocking the phone is never too difficult even without a power button.
Call or text yourself
Next up, if you have a separate phone or a landline or if you can borrow your friend's or colleague's phone to call or ping you, it will actually light up the screen and there you have it. You can use this method in conjunction with all others explained in Case 01 and Case 02 so that a broken power button doesn't limit you from using the phone.
Connect the device to a charger
If you don't have a phone to call on your device, you can always connect your phone to a charger since when the phone starts charging up, the screen goes alive and that is when you can tap its benefits in use against a broken power button.
Connect the device to a power bank or computer
If you don't have a charger at disposal, assuming that you have a USB cable available with you or borrow it from someone, you can connect it to a power bank or computer or laptop that will fire up the display as said.
Case 03: The phone is switched OFF
Although you can use a smartphone with a broken power button using the many methods I explained in both Case 01 and Case 02, there's nothing much you can do if the phone is actually turned OFF. As you need the phone button to switched ON the device, you wouldn't be able to revive it without a power button unless your phone's alarm goes off even when it is shut down or you have enabled scheduled ON before the power button could go awry. You can always use PC Suite to try and switch ON the device but I highly doubt it will work in some cases.
Are there any alternatives available?
Are there any apps that I can use temporarily to fix Power button not working problem? The answer is yes, there are apps that you can use as an alternative if the power button is not working or you don't want to use it due to any other reasons. You can download apps like Power button to volume button which is the same what it sounds like or try Proximity Actions that take the help of proximity sensors mounted on your device to do a lot of stuff including unlocking and locking the device but it needs to be programmed beforehand.
Another app that I could recommend is the Gravity Screens that takes the help of a gravity sensor to enable the phone the capability to stay put when in a pocket or when kept idle on a table. You can perform a number of tasks once it is programmed. Next, you can try Shake Screen On/Off which is exactly what it sounds like and these apps will surely help act as an alternative to a broken power button but there are certain limitations that you cannot push it.
The final frontier
Still trying to figure out ways to use a phone without a working power button and failed, it's time to call in the big guns. Since the power button is actually a crucial physical button on a smartphone, apps can barely do justice even if you want to use any app as an alternative and these apps have limitations as well. On the other hand, fixing the physical power button wouldn't cost much but it will save a lot of attempts trying to mimic any of the methods I aforementioned in Case 01 and Case 02 since these methods can be used for a short time only.