If you are trying to figure out a way to fix Symphony weak signal or lost network issue, you have landed in the right place. This explicit blog post deals with the irritating issue with the cellular network as it could exhibit a number of issues ranging from no network or weak network to call drops and whatnot even when you are having a decent network. We at GetDroidTips have crafted a guide to fix such issues for every smartphone brand and now, we are doing the same for Symphony users since it is a popular brand in most part of the world. If you are having trouble calling or sending a text or browsing the web or even weak signal strength and everything else related to a weak signal or lost network issue, follow this blog to know how to fix it.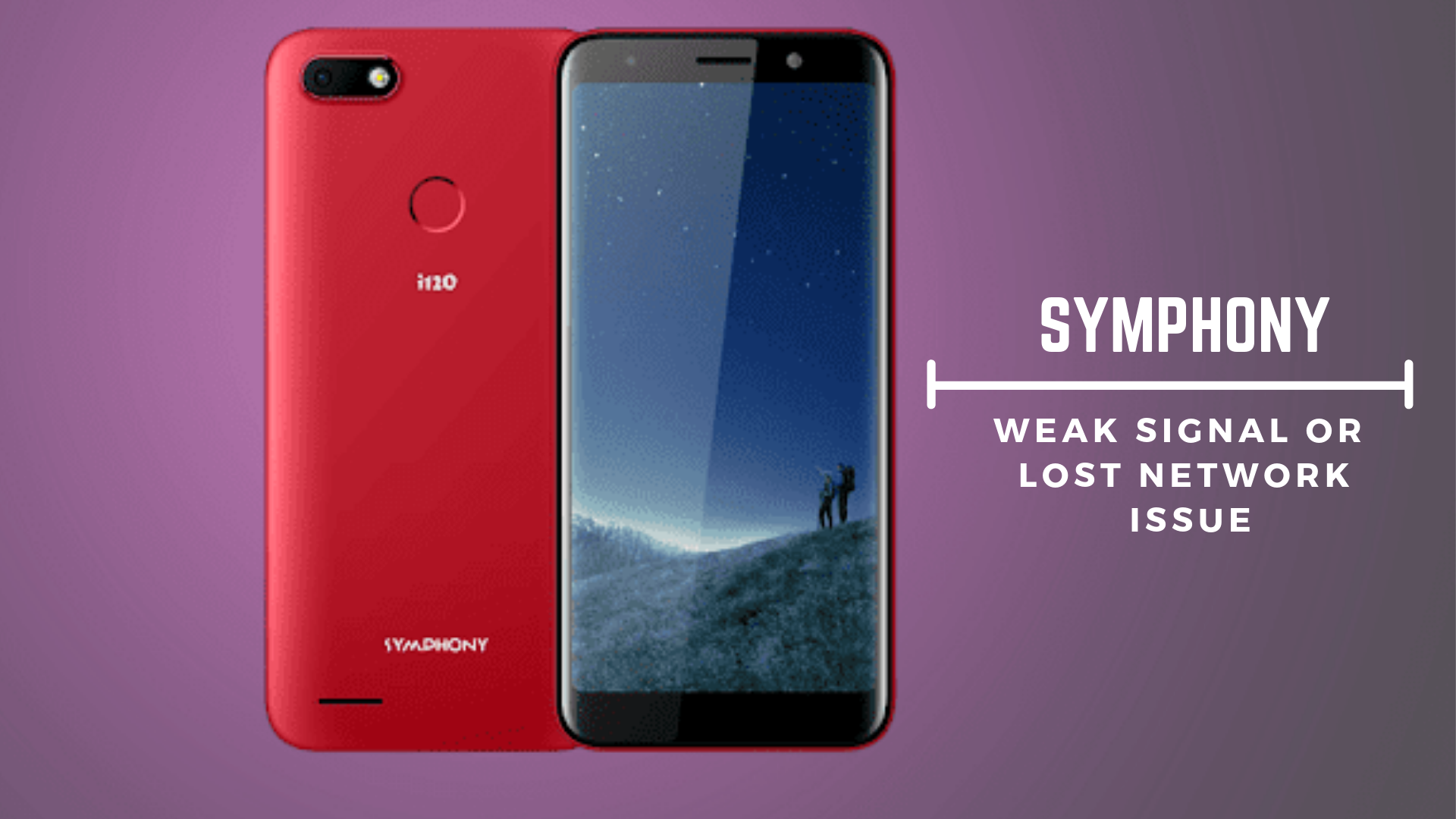 How To Fix Symphony Weak Signal Or Lost Network Issue?
Restart the phone
If you observe that the network bar on the top of the display is wiggling or fluctuating or the network is not available for a brief period before restoring either on its own or any external stimuli, restarting the device can come to the rescue here. To put things into perspective, restarting the phone has a larger than life role on a smartphone as it relieves it from acute stress that apps and services put on its battery, processor, and other components. Restarting the device actually relieves it of any stress while resolving any temporary glitches that might attract the system when you are doing any task on it. Thus, restarting the phone is efficient and effective.
Enter into the airplane mode
Activating the flight mode aka airplane mode will result in temporary blockage in the cellular network but hey, it does have a number of applications than just bring a feature to use when on a flight. You can use the feature to resolve any network-related issue such as the weak signal or lost network issue that we are talking about here. Toggle the airplane mode repeatedly for several times before disabling it and checking if it worked or not.
Call the carrier for scrutiny
If the network bar on top of the display is not strong or keeps fluctuating every now and then, it could be a problem on the carrier's end as well. Every telecom carrier has a different number of cell towers and thus, there could be a difference in the network coverage as well. This is where you need to do some research on Google or ask people in your vicinity using other carriers so that you can port to a different carrier with the splendid network coverage. Note that it is possible that the telecom carrier is undergoing any repair, maintenance or downtime at any particular instance that can disrupt the network coverage as well. Ask the telecom carrier for resolution or port out and this must resolve the weak signal or lost network issue right there.
Check whether you are blocking the antenna
If you encounter weak signal or lost network issue on your device but the issue is nowhere to be seen on a friend's phone sitting next to you using the same telecom carrier, it hints towards an apparent hardware issue. But don't gulp just now the hardware issue could be as tiny as blocking the antenna which is actually intercepting the cellular radio signals from the cell towers.
Blocking the antenna can cause interference and a serious depletion in the network strength and thus, the constant call drops, calls getting disconnecting in-between or there is no audio once the call is to connect or even stutter when you are talking, etc Refer to the user manual that comes with the device or seeks help from Google to know the antenna's position and hold the phone appropriately. Note that even phone case could block the antenna so scrutinize the situation with a mother wit before drawing to any conclusion.
Switch between network selection modes
Smartphones already have a number of settings that you can tweak to get favorable results out of any problem that might strike it. As we are talking about Symphony weak signal or lost network issue, these smartphones/phablets/tablets have a setting summoned as "Network Selection" mode under Settings >> Network (SIM). There are two options i.e. manual or automatic where the latter literally means the phone will automatically search and register for any available network while the former requires human intervention to search and register to an available network.
Depending upon the network status, if you are traveling, I would recommend setting up the selection mode to manual if you are traveling outside the home circle i.e. your city. Tweak between the two modes to find which works the best in any situation.
Toggle around the 'Preferred Networks'
Another set of settings available with respect to the cellular network capability of the device is 'Preferred Networks'. Here, you can check out if you have instructed the device to search and register from 3G/4G or 2G only or any of the network available. Note that 2G is slow but it is widely available since it has been years since it released. The same goes for 3G which might not be as widely available as 2G but it is accessible throughout the country and finally, 4G is comparatively new which means it might not be available everywhere. You can program the 'Preferred Networks' mode on your device by diving into the Settings >> Networks (SIM) >> Preferred Networks to set it up.
Purge all categories of cache memory
No doubt cache memory helps quicken the retrieval process of any app or service but these files are often considered as a notoriously vulnerable. Although weak signal or lost network may not be a result of cache memory directly but there is a chance that this memory is contributing to it. Thus, the solution is to purge all cache memory i.e. storage cache, app cache, and finally, cache partition.
Perform a hard reset on your phone
The next method you can adhere to if you aren't able to fix Symphony weak signal or lost network issue is to cling to your device, take a backup of all the files you want to save and shut it down. Here's how you can actually perform a hard reset which is technically an irreversible process.
Step 01: Press power and volume up buttons together and hold it.
Step 02: Long press on the said buttons until an Android logo doesn't pop up on the screen; leave the buttons after that.
Step 03: Select the option that says 'wipe data/factory reset' and finally, select 'yes — delete all user data' to finalize the hard reset procedure.
Step 04: Restart the device and set it up and keep an eye on the weak signal or lost network issue if it still exists or not.
Install a range extender/amplifier
This comes as a handy method if you are living in a scheduled place or somewhere the network is depleted due to interference and whatnot. You can buy a range extender from any electronics store or e-commerce site like Amazon or eBay and install it in your home or office. This will ensure that you have a sturdy and strengthened network coverage across the specified area but you will have to cope up with its limitations as well.
Seek professional help
If the matter of the fact is that you can't resolve the Symphony weak signal or lost network issue, you can report the said issue to a professional who has the mother wit to resolve the issue. He/she can check out the issue and take appropriate actions. Note that we are talking about an authorized service center where you will be able to get a sound resolution within warranty plus charges if not included in the warranty. On the other hand, there are a plethora of cheaper options available such as third-party service centers subjected to nullifying the warranty on the device so bare with it.