With the advancing technological innovations especially in smartphones, buttons have almost vanished from top-of-the-line smartphones. Nowadays, even most button-nous smartphones have not more than four buttons i.e. Power Button, Volume Up and Down and Home button. The power button is the most important button that you have on your phone as using it, you can lock and unlock the phone, switch Off or On the device and like tricks. So what would you do if you are facing Power Button not working problem? Assuming that power button is used to do a bunch of functionalities on your phone of which, some were explained above, it is the most used button without which, you cannot turn on the phone even if it is just locked and not switched off.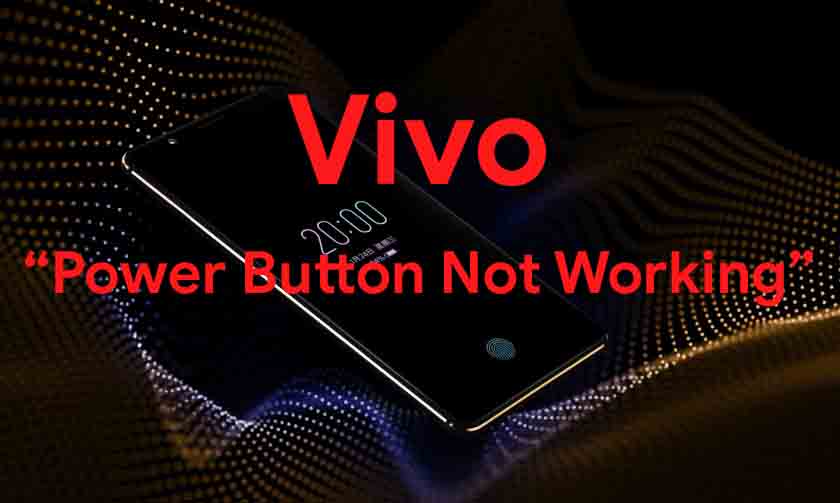 Guide To Fix Vivo Power Button Not Working Problem?
Many users have reported a similar issue with their power button not working problem and that is why we decided to provide the tips and tricks to get it fixed. First of all, understand that a power button is a hardware component and therefore, there is little that we can do to the software that will jumpstart it. However, there are a bunch of tricks that you can perform to get it start with apps but it will only serve as a temporary replacement which per se isn't permanent. If your phone has a physically damaged power button key, you can either seek help from an authorized service center or use some of the believe tricks that we have prescribed but at the end of the day, you'll have to get it fixed permanently.
Assuming that you don't have a home button which is a standard in most Samsung and other phones, Vivo smartphones doesn't entertain home button, you need to troubleshoot if your power button isn't working. Irrespective of the reason behind its failure, your phone won't turn ON if the button is broken or damaged since it is the only button to unlock the phone. If you just want to turn ON the phone without the power button, connect the phone with USB charger. Most of the phones will power up when connected to a power outlet and that is when you have your shot to unlock and use your phone.
But this won't work forever. I mean what if you want to use the phone while you are traveling and without a power bank, how would you turn it On? Even if you keep your phone on a stay alive always mode, it will suck the battery power as well as it will accidentally do a task such as send a text or call someone when it is in your pocket.
Android phones like Vivo, Xiaomi, Samsung, HTC, etc are subjected to have their share of software glitches once in a while which seems to be a common sight. If the power button stopped working suddenly, do not panic as it can be a slight software error which is commonly temporary. Assuming that you were using the phone and suddenly the power button stopped responding, you can either perform a hard-pressed reboot or you can perform a battery pull using the Power button and Volume Up/down button. If you have a removable battery, then what are you waiting for? Simply, jack up the back cover and remove the battery and keep it idle for a second and then, place it inside and restart the phone. If it is a minor software glitch, it must have been rectified by now.
#3 Solution – Use PC Suite for a change
It is possible that your phone won't respond when you press the power button repeatedly since the latter might have generated a minor software glitch. If you were unable to perform "#2 Solution", try this method instead. Connect your phone to your computer, open the PC suite of your smartphone and command it to reboot. You can also enter into recovery mode using competent commands and instruct it to wipe the cache memory and partition which might be a problem. If you have a strong intuition that the power button is working properly and it is due to a software error, perform a factory reset instead.
#4 Solution – Check for the stuck debris
Debris which includes lint, dust, even the tiniest piece stuck between the button and the conductor plate can cause a problem. In such scenario, when the user presses the power button, it won't respond. What do you do in such circumstances? Well, take a vacuum cleaner and set it to a low setting and then, vacuum between the button and see it works or not. In most cases it will work, however, for those unfortunate users who still have the issue, they mustn't remove the button to do it. This needs special attention though.
#5 Solution – Switch the keys
Okay, so this particular method is probably not available for all Android smartphones since only a few of the devices have it. Consider that the power button of your phone got malfunctioned or damaged, you can use the volume button to wake up the screen for meanwhile until you don't find a permanent solution for it. You'll have to go to Settings > Additional Settings > Buttons. Now, you'll have to select the option to use Volume button to wake up the screen and now try it out. Simply let the phone to lock itself and then, use the Volume Up or Down as per you have set it to unlock it.
#6 Solution – Use third-party apps as an alternative for a change
You decided to use third-party apps as an alternative to your broken or damaged power button for the time being. Believe me, there are a bunch of apps available on the Google Play Store that lets the user choose volume buttons to be used as an alternative in case the power button is broken. These apps have more functionalities than an actual power button. I have discussed few of the apps that you can use but these are only a few apps whereas there are plenty more available on the play store.
Volume UnLock
This is one of the most powerful and highly recommended apps that you must have as an alternative to if you are facing power button not working problem. The app is simple to understand and has a lot of features to try. First, you need to download it from the Google Play Store and install it on your device. Then, go to Device Administrators which is a feature available on your phone and set the Volume UnLock as the administrator and most of the work is done now.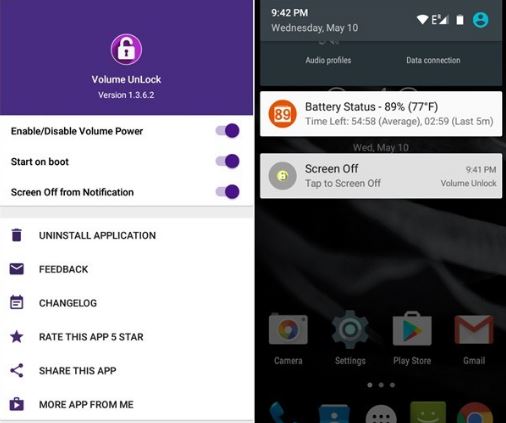 Next is to open the app on your phone, select whether you want to use volume buttons for reboots, lock/unlock, notification only, etc. This will allow the users to check out notification while the phone is locked and also, use Volume button to power ON their phone instantly. There is an option on the notification tray titled 'Screen Off' which when tapped, it locks the volume instantly. Next, if you want to unlock the phone, simply tap on the Volume button and voila, it is On. It is a simple and easy to understand app and won't take much time to adjust to it.
Proximity Actions
Your phone has a proximity sensor that senses out if someone is near to the device or not. This is what automatically shuts the screen when you are talking to someone on a phone call. With Proximity Actions which is available on Play store for free, you can set up a number of options that will enable you to unlock the phone without any buttons. Simply, download it, tweak into its settings and adjust the level of wave duration that you'll need to do to unlock the phone and it will unlock the device. Another feature of this app is to set up wave options to enable Wifi, Music, Flashlight, Camera, and other apps with just a wave over its sensors.
Smart Screen
Smart Screen is an intuitive and easy to use app available on the Google Play store that you can download without paying a penny. The app lets the user turn the screen On and Off. It detects if the phone is in a pocket or not and if yes, then it will automatically turn off the phone to avoid any unwanted calls or messages that would occur when the phone is in the pocket.
Gravity Screen
Okay, so this app is very helpful when it comes to using an alternative to the damaged or broken power button. The app uses the gravity sensor on your phone and then automatically turn on screen off when it is in the pocket. You can set the parameters so that the phone will perform as per the fed settings.
Did you saw that coming, don't you? The power button is essential since, without it, you won't be able to unlock or lock the phone, switch it On or turn it Off, boot into recovery or any other mode, etc which is quite disturbing. As I said earlier, you can use alternatives as mentioned, however, you will soon get tired of it or there could be any other reason because of which, you'll eventually head towards a service center.
You can either walk in an authorized center or a third-party store or center for its fix. I recommend you to walk into the former one since this is where you can be assured that the phone will be fixed within few working days, unlike any third-party store where users don't often get a fixed date of delivery. Also, the cost of an authorized center isn't too high and it accepts insurance and warranty which is enough to express its prowess over other options that you will see. Why I recommend authorized service center is due to the fact that the warranty of your phone will stay intact even if the technician opens up the device to repair it while on the contrary, it will void if you get it repaired from any third-party center or store. This is a major difference and that is what you must know as you'll be investing a pretty good amount in both the sides.
Continue Reading: