Android Operating System is one of the most widespread OSes in the world along with Apple's iOS. It has thousands of features and that is why all major smartphone manufacturer use Android OS on their phones since it provides the users with whatever they need. Speaking specifically about Vivo, these phones work great when bundled with Android but there is a flip side too. Users have complained about its weak signal or lost network issue which seems to be reported by all Android users irrespective of the make and model. In this era when people are addicted to their smartphone and spent a very good amount of their day socializing and connected to the internet, no signal reception is a major problem. In fact, you are here to get the solution for the very same problem which is huge.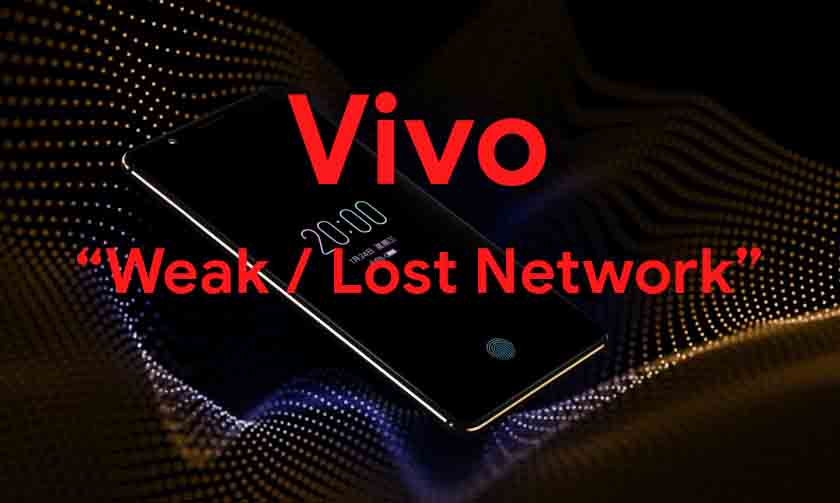 There can be a number of issues faced by users such as the phone is unable to register to a network or the signal is weak, the phone is unable to detect SIM card, the strength of the signal seems high but it is not working, call drops, no delivery of messages, call not connecting and the list goes on and on forever. In fact, there are more issues then we just named here and that is why users come online to get the perfect solution for all signal and network-related issues. Fortunately, you have come to the right place as at GetDroidTips, we will discuss some tips and tricks that can help you get the temporary or permanent fix for the issues so let's dive into this explicit guide.
Guide To Fix Vivo Weak Signal Or Lost Network Issue
First of all, you must understand that this explicit list covers all the potential and probable causes of a weak signal or lost network that you might be experiencing. You can try the tips mentioned below and proceed to the next one if the previous one didn't work.
Check for intermittent issues with the service provider
Mostly, service providers send a message or intimate the users through any other means of the upcoming disruption in the network due to some maintenance or repair work. It mustn't take much longer and the services generally resume shortly. If you are experiencing the weak signal or lost network issue on your phone which is apparently, use another device and call your service provider to check the reason behind weak network reception. If it is indeed an intermittent issue, you can ask for the estimated time and date when the network will be restored.
Users do report issues ranging from call drops, call not connecting, internet not working, etc which is covered by weak signal whereas lost network is more grieve. Follow the tip and call your service provider right away, check if there is any problem on their end to get a satisfying answer. If the problem is on your end, follow the other tips that we have mentioned below.
Toggle into airplane/flight mode
There is no satisfying answer behind this tip, however, it has worked wonderfully with many users and that's why it is here. When you are experiencing weak signal or lost network issue on your phone and you have been trying a lot to get reception, simply drag down the notification tray on your phone, switch to the section where all the shortcuts are available and tap on Airplane mode. This will disable all the cellular and wifi networks to and fro your phone. Wait for a few seconds and then, tap on the icon again that will disable the airplane mode. The phone will automatically search for available network and hopefully register to your service provider thereby sorting the issue right there.
Register for a network automatically
The default mode of network selection is automatic that is, the phone will automatically search for the available network and connect to it. However, in case if it didn't automatically search for the available network, you can change the mode.
Simply open the 'Settings' app on your phone.
Proceed to 'Mobile Networks' and then, tap on 'Network Operators'.
If your phone has dual SIM cards, then tap on the card that you are looking to troubleshoot.
Now, tap on 'Choose automatically' that will register on your home network directly.
But, it doesn't work all the time. In case if you have a network and want to troubleshoot its strength, this method can be handy but if you are trying to get a network in case of lost network issue, the next method can come handy.
Set a manual network selection
This method is useful when there is no network available that the phone can recognize and register automatically. If you are out of the home network like out of town, it is subjected to roaming and that is when you need to practice this method.
Firstly, open the Settings app on your phone.
Secondly, tap on the Mobile networks and press the Network operators.
Select the SIM card that you want to troubleshoot and then, tap on 'Select manually' and tap on 'OK' button.
This will initiate the search to the available networks which can take some time.
Check for your network provider's name in the results and tap on it to register manually.
In case if you are roaming and your network isn't showing up, check for associated networks since service providers usually collaborate with other networks for the users in roaming.
Change the preferred network
I was using my phone on a 3G network while I was traveling somewhere. Suddenly, I lost network and the internet went down. Since I was completely unaware of the issue, I tried whatever I can to get a network reception and complete my now disrupted work on the phone. I tried rebooting the device but it didn't help much. While I was going through the Settings checking out possible ways to get a reception, I came across 'Preferred Network' which is one of the feature on your phone that lets you switch between 2G, 3G, 4G or other available bands. Since I was unable to use 3G at this point in time, I tried downgrading to 2G and guess what, it worked. It is so simple that there is no network available for higher bands, there are chances that you can downgrade to lower bands to get at least a network that would be slow for sure, but worthy when you need to send that important email or call somebody which is better than nothing.
To toggle between the Preferred Network, proceed to the Settings app on your phone.
Click on Mobile networks and check out for options such as '3G Service'. 'Preferred Networks', and other monikers depending upon your make and model.
Now, select the Network Mode to 2G if you have a 3G enabled phone or switch to 3G if you have a 4G enabled phone.
This should restore the network on your phone.
Reboot the phone
Now don't be a surprise to see this tip in this list. It is a powerful method that you can use to solve minor glitches. It can solve issues ranging from phone lagging, screen freezing, hanging, as well as Wifi issues, no network reception etc and that is why you need to do this. Although other websites might suggest you do this at the first place itself what if your issue was not related to any minor glitch and that is why I suggested the do's that require priority which is always over accessibility.
Check if the SIM card is inserted properly or not
This could happen to you if not others. Consider a scenario when you took the SIM card out of the slot due to "xyz" reasons and when you put it back, there is no network. It is possible that you may have inserted the SIM card improperly. Either the phone will show an 'Insert SIM' notification on the phone or it might show nothing and the network will be NIL and that is why you must understand it. Simply, pull out the SIM card tray out of the system, take out the SIM card and place it back again. This must resolve the lost network issue that you have been noticing lately.
Swap SIM Cards
Consider you have a smartphone with a single SIM card or it is dual SIM card of which, one isn't working. Try this method to check if there is an issue with your SIM card or the slot where you will put the card in. Take a SIM and put it into the slot where the issue is being observed and check if the problem persists or not. Most of the phones have dual slots with different network bands that they can run on. This means you could have mistakenly inserted a 4G SIM card in the slot that supports 3G only. There is a simple tip to remember while inserting the SIM card which is, the 1st SIM slot in a dual-SIM phone supports 2G, 3G, and 4G while the other will still support its lower versions that is 2G and 3G.
Update the software on your phone
Outdated firmware has its own bugs and issues that can pose a problem while the phone is searching for the network as it can totally inhibit its capability to search for it or it can dampen its strength. The quick fix for this issue is to update the software on your phone and hopefully, the issue will be sorted if indeed outdated firmware was the reason behind its bad reception.
To update the firmware, simply zoom into the Settings tool on your phone.
Scroll down the screen and choose the option 'About Phone' and finally select 'Software Updates'.
This will initiate the phone to search for the available updates on Wifi but you can switch to do it on mobile data.
If the update is available, download it which will take some time.
After the download, install it on your phone.
Do a Factory Reset
I can name hundreds of issues that you might have under the category of a weak signal or lost network issue, however, Factory Reset or FDR is a sole powerful tool that can fix the majority of software-related issues on your phone. Although it will erase all the data from the phone leaving no traces behind and thus, rectify the issue as well.
Android smartphones like Vivo have two options to reset the device. First is by using the built-in 'Backup and reset' feature which is simple to understand.
The option 'Backup and reset' is located in the Settings app on your phone.
Once you choose it, the phone will prompt you to confirm erasing the data by asking you to enter password or PIN.
Once entered correctly, tap on 'Erase Everything' to finally initiate FDR.
The process is automatic and won't take much time, however, ensure that you have at least 20% battery life before you start it.
When the phone reboots itself, check if the network issue has been sort of not.
Another way around to do FDR is by using the recovery mode which you can access using hardware keys or PC suite on your computer.
To enter the recovery mode, switch off the phone.
Now, press the Power button and Volume Up button together to initiate the commands to enable recovery mode.
Hold the buttons until the phone vibrates and leave when it does.
Next is to use the Volume Up/Down button to scroll through the available options and Power button to accept or select the options.
Now, proceed to the 'wipe data/factory reset' on your phone and select 'wipe all data' to perform FDR.
Once it is done, reboot the device and check for network reception which must have treated by now.
Use Network Boosters
If your phone has a history of intercepting weak signal ever since you bought it you accidentally dropped it somewhere and it impacts has dampened its ability to intercept high strength network which is although available, you can use network boosters for your device if walking into a service center is not in your plan for the time being. Google is enough to search for information on the available network boosters as well as the device's compatibility so that you can order the right component for a good quality network.
Report it to the service center
The methods mentioned above contains some of the handy and useful tips to recover the lost network issue or bad signal which needs professional help. You can walk into the nearest Vivo service center, report the issue, get the diagnostic reports for it. Then you can perform the do's as said to fix the issue once-in-for-all. I have been asking users to report their issues to the authorized centers because it will protect their interest and warranty which would otherwise become void if a third-party dismantles the phone to repair it.