Imagine that you are traveling somewhere irrespective if it is a short trip to the office or a family outing, what happens when the signal is lost or it is so weak that you can assume it to be practically lost? This is when you lose the ability to call or drop a message or connect to the internet and watch that favorite video, etc. The situation becomes dire when the phone is facing a weak signal or lost network issue pretty commonly and that's when you need to take the following methods to fix it.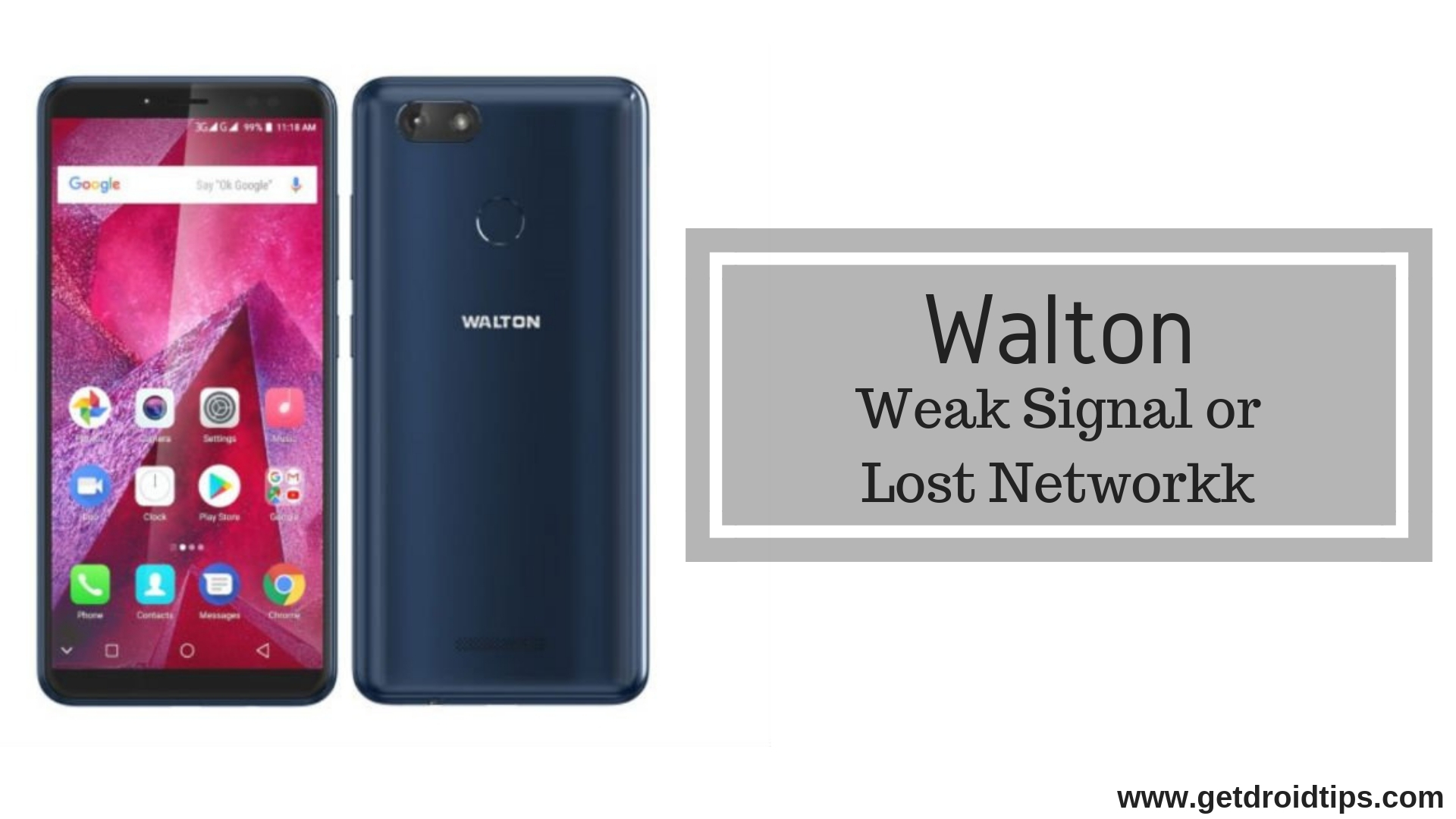 Guide To Fix Walton Weak Signal Or Lost Network Issue
Check for intermittent issues
If the problem has surfaced just recently and not an older one, the weak signal or lost network issue that you are facing could be due to intermittent issues such as when the carrier/operator disconnects or restricts the signal or carry out certain tasks life upgrading, maintenance, etc. For this, you can either call from another phone of the same operator and check if the issue is from their end and how long would it take to resolve it. If not, please carry out with the rest of the guide hereon.
Restart the phone
Doing so will refresh the system and it might search, register, and cling to the network firmly without losing it unlike when the system is strained with too many tasks, apps, and processes running on it day-in and day-out. The fact is, whenever you have any software-related problem with the phone, you restart it and check if the problem is gone or not because it could be a temporary bug happened when you press certain option or combination of steps, etc.
Toggling airplane mode
This might sound weird because when you turn on airplane mode, it will actually disconnect all incoming and outgoing signals from the system and how else would you expect it to fix the weak signal or lost network issue. The fact remains that toggling to and fro airplane mode can resolve network-related issues too which is easy since you just need to tap on the airplane mode option by sliding down the notification panel and toggling the icon listed.
Inspect the SIM card
This is very important because you need to find out why there is no network or if there is, why it is so weak. SIM cards are tiny pieces of plastic-made components that are subjected to abrasions or in simple terms, scratches, and dents that might not be too visible but if you resort to removing and inserting them again and again, it would cause the SIM card to become useless due to excess scratches. Other reason could be the fact that you haven't inserted the SIM card properly or the SIM card itself has gone rogue or the carrier has accidentally shut down the operations on your SIM card and what not. For this, you need another phone to verify the possible issues. If the SIM card has become useless or something, you'll get 'No SIM card' or 'Insert SIM card' error on the screen.
Choose the appropriate mobile network mode
Android smartphones can either register to a network automatically or the user can manually do it. The feature is extremely useful to extend the network coverage because when you are in home network or any city, you'll get unrestricted network coverage and thus, you can keep it on 'Automatic' mode. But when you are traveling to and fro two cities or village or another place where the network might not be healthy, you can set up the 'manual' mode where you need to register to the available network whenever you phone loses network coverage by itself. This process might be redundant but it actually works when you are traveling since the phone might not be able to automatically search and register to a network unless the quality network is available.
To access this feature, go to Settings.
Now, you need to tap on Networks and select 'Network operators'.
You can either select between 'Automatically' or 'Manually' and take the necessary steps needed to secure proper network coverage.
Backtrack from upper bands to lower bands
Assume that you are now using the phone on 4G which might be popular but it is not available everywhere. On the other hand, 3G is far more penetrated in every nook and corner and similarly, 2G is actually available everything. Your smartphone has a setting as per which, you can either automatically set the network on 4G or 3G/2G or prompt the phone to automatically register to available bands.
You can access the feature by navigating to Settings.
Tap on 'Networks' or 'SIM & network settings' according to which smartphone you are using.
Tap on Preferred Networks and select a network from '2G/3G/4G' or '2G/3G' or '2G only'.
Clear Cache files
It is ideal to clear cache files whenever you face any problem with the smartphone and the Walton weak signal or lost network issue is no different. There are three places where cache files are stored and here are three ways to get rid of it.
Open Settings >> Storage >> Cache Memory.
Open Settings >> Apps >> Downloaded >> Clear Cache & Clear Data.
Boot into the Recovery Mode >> wipe cache partition >> yes and note that the procedure to boot into the recovery mode is mentioned in the later method titled 'reset the phone'.
Update the software (firmware)
If the firmware is outdated, it could obstruct the system from working properly and that includes the ability to register and cling to a network allowing the user access to calls, messages, and ability to browse the web on mobile data and what not. On the contrary, the outdated firmware is known to cause a problem when bugs enter into the system and thus, updating it helps get rid of these issues once and for all.
Restore the phone to factory settings
Restoring the phone to its original factory settings would require you to boot into the recovery mode where all the powerful options like restoring, wiping cache partition, update the phone through sdcard or ADB tools, etc are available. You can access the recovery mode using this method since doing so needs you to stick to the procedure listed below.
Start by turning off the phone.
Now, you need to press two buttons at the same time i.e. power button and volume up button and keep it still for a few seconds.
The screen will light up and show an Android logo on the screen and that's when you leave the buttons.
Now, you need to select the option titled 'wipe data/factory reset' and then, finally select 'yes — delete all user data'.
That's the procedure to restore a Walton smartphone using the hard reset method.
Install network boosters
If you are living in a place where the network coverage may not be too great or it suffers attenuation too much, you can buy network boosters or range extender that actually works as the name suggests, it extends the strength of the signal by amplifying it similar to how cell towers amplify and broadcast the signals that your phone intercepts.
Reach out to the smartphone manufacturer
Still stuck with the Walton weak signal or lost network issue but can't rule it out yet? You need to get help from the smartphone manufacturer in case if any hardware component has gone haywire or if the software is causing trouble. You can turn towards an authorized service center to get help for the same.