With more than 828,000 cases reported across the globe, coronavirus or novel coronavirus is spreading exponentially. The acute respiratory syndrome causing a virus is a part of a group of Coronaviruses that causes a disease called COVID-19. Now that India is under a massive 21-days lockdown, people aren't allowed to exit their homes unless it is for something essential.
At present, there are a few authorized coronavirus testing centres across India that are authorized to conduct 'COVID-19 SARS-CoV-2 Detection' which takes more than a day to three days for the reports to arrive only after that, the suspect is let go if the reports are negative while a positive result could trigger a number of outputs such as home quarantine to isolation at home or hospital based on the condition of the patient.
This has apparently given rise to people falling ill or having fever or cold which are a few symptoms of novel coronavirus and this has sparked scare around India even though the majority of cases will be usual flu or cold. Practo, a popular doctor appointment booking service is now offering a home-based COVID-19 detection test that you can book online.
Partnered by Thyrocare, the COVID-19 detection test has been approved by the Indian Council of Medical Research (ICMR) and the Government of India. There are a few requisites that are required to fulfill in order to book the test online.
Who Should Book a Coronavirus Test?
Practo has added a few directives that anyone can go through before booking the COVID-19 test. According to the directives followed during this outbreak, symptoms like respiratory illness, shortness of breath, frequent headaches, high fever, sore throat or cough or any other breathing difficulties are linked as the precursor to COVID-19. Furthermore, if anyone has these symptoms, do not panic and consult a qualified physician and explain the symptoms before going into the frenzy that you might have the virus.
Practo has made it compulsory to obtain a valid doctor's prescription along with a photo ID card, a 'Form 44' duly signed by a qualified physician which includes patient's travel history and other details, and he/she must be a resident of Mumbai or Pune where the online booking is currently available while other locations will be added soon.
How to Book Coronavirus Test Online?
Here's how you can book an online test for Coronavirus detection on Practo.
Step 01: Firstly, you need to install the Practo app or you can visit its website and go to 'Lab tests at home'.
Step 02: Click on a new option i.e. 'COVID-19 test booking'.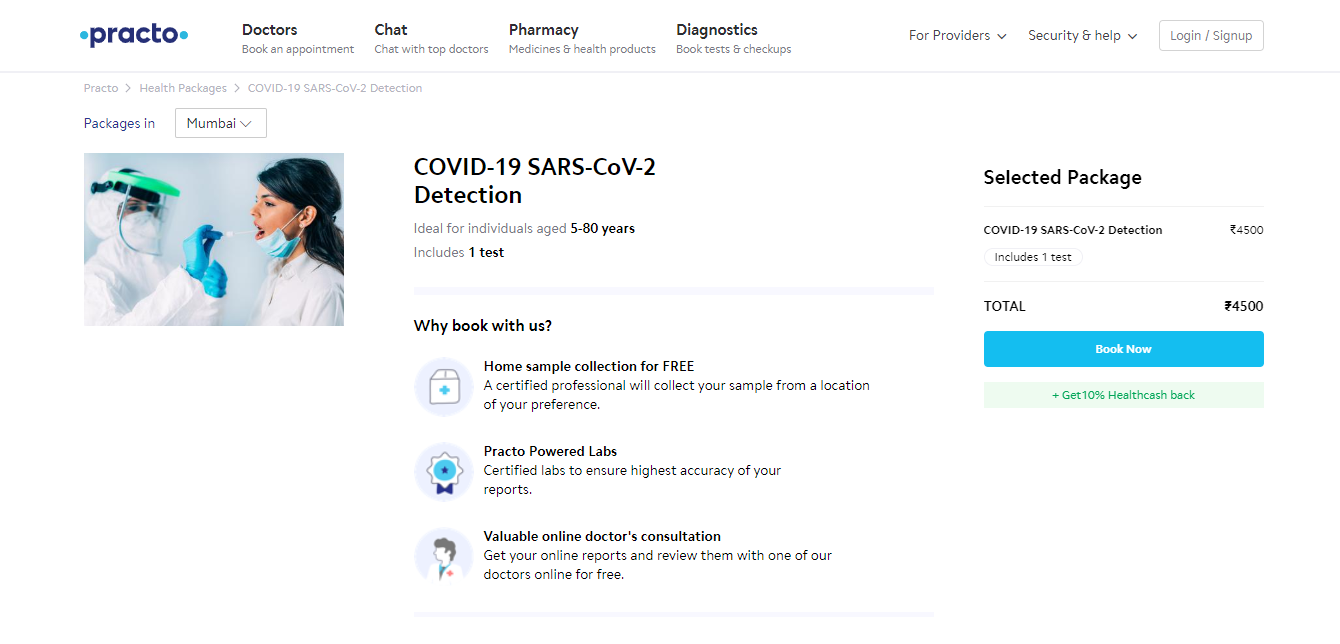 Step 03: Now, you need to tap on 'Book Now' after going through the prerequisites and all other details available.
Step 04: You need to fill in the form as asked, address for sample collection and suitable time slot for sample collection and proceed.
Step 05: Pay an amount of Rs 4,500/- to confirm the booking.

According to Practo, a trained lab technician will arrive at your doorstep wearing a single-use biohazard suit to collect the throat swab sample. The test would take around 48 hours after which, both the patient and the government will be notified of the results.
The Government of India is doing everything it can to contain the outbreak. All internal roads and those connecting cities, districts, and states have been closed to prevent the spread of the virus. The best solution is to self-quarantine yourself if you want to avert getting caught by the virus. You can still go out to buy essentials or to the bank or a doctor's clinic although a proper mask is required and it is highly recommended not to touch eyes, nose, and mouth which are the three entry points from where coronavirus could enter.
You can also call helpline number 1075 to get further assistance. Click Here to Book a COVID-19 test right now.