The battery is a crucial aspect of a smartphone as, without it, the phone is useless. If you are a heavy smartphone user like me, you definitely suffer keeping the battery charged because there are lots of heavy apps that require a high percentage of battery life. But in case if you have a moderate or low usage and the battery is still draining quickly, then you are observing battery draining problems. There could be a number of underlying issues with the same and you are required to narrow down the search to detect the culprit and take the required steps to curb the same.
We decided to tackle yet another issue BQ Aquaris users have trouble with i.e. its battery draining problems and guess what, we have a slew of methods that you can use to get rid of this problem not only on BQ Aquaris but also across all Android devices through the effects could vary.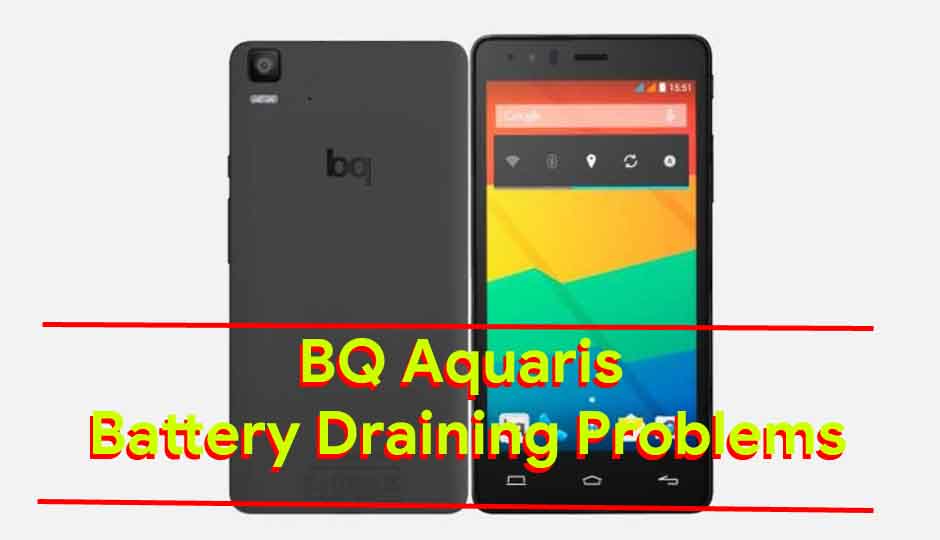 How to Fix BQ Aquaris Battery Draining Problems?
Restart the device
This is the first thing you can do to resolve battery draining problems. A smartphone can handle a number of apps and processes at once but if there are many power-hungry apps or if there is any bug, the phone will draw in more power from the battery thereby draining it quicker than usual. When you reboot the system, all the apps and processes are closed abruptly that relieves the battery from the strain that these apps put on it and thus, might even resolve the draining problem.
Tweak brightness settings
If you have a smartphone with LCD or OLED display, the LEDs that combine work towards powering the display consume a lot of battery. But there is a feature that either increases or decreases the brightness of these backlights which makes it easy to view the display even in the brightest day or the darkest night by tweaking the brightness settings. Similarly, if you observe that the battery is draining rather too quickly. You can reduce the brightness when not needed to extend battery life.
Check for battery-hungry apps
These are apps that are heavy and consume more battery power than others. It could put a lot of strain on the battery by drawing in chunks of battery power even when not in use and therefore, you must verify and limit the usage. You can opt for 'Settings >> Battery' or use third-party apps to know how the battery is being used and its breakdown to reveal the apps consuming the most power. Now, you can limit the usage or take necessary actions such as force stop it or uninstall those apps which aren't required.
Close apps/force stop apps when not in use
Open WhatsApp, read the messages and tap on 'Back' button to get out of the app. Did you close it? The answer is no is and this will contribute to the battery consumption. This isn't happening with WhatsApp but any app that you open, you wouldn't close it righteously which slides these apps in the background where they consume power to be active and usable and then you complain that the battery is dying out too quickly. To fix it, you can either close the apps or use a most stringent solution that is to force stop apps to get rid of the same.
Uninstall unwanted apps
Apps are freely available on Play store but that doesn't mean you can actually download and install plenty of apps on your smartphone as it can lag or crash the phone for sure. But there are users who would resort to installing apps that aren't useful or those apps which aren't relevant anymore. Such apps must be removed from the phone because the still consume space on the memory and munch on the battery power just to be idle on the phone.
Update all the apps
Keeping apps updated is imperative if you want to use new features and check out UI changes as well as a performance boost that these updates provide. Failing to update an app can cause it to develop issues, conflict with other apps or crash at some point which is something you must get rid of even before it commences. It is highly advisable to update all the apps manually or at least keep the apps on 'auto-update' in order to get rid of such issues.
Check for software updates
Software updates on Android smartphones aren't regular as compared to iOS which takes a toll on smartphone's ability to do stuff with updated firmware. Now, you can check for updates available by navigating to 'Settings >> About Device >> Software Updates >> Check for available updates' in an attempt to resolve battery draining problems that you are addressing. If there's no update available, you can retreat back to a previous Android OS or you can download custom ROMs available to get frequent updates and resolves any bugs or errors.
Turn off GPS/Wifi and other services
Services like GPS, Wifi, Bluetooth, and even mobile data consume battery which isn't surprising though but it actually consumes power even when not in use which contributes to the already declining battery life. Thus, we recommend our users to keep a tap on these services and turn them off when not in use. These all services are available on the notification tray which is just a swipe away.
Use power saving mode
Most of the smartphones now come with a built-in power saving mode that limits battery usage by apps and services. If you don't have one on your BQ Aquaris phone, you can install it right from the Google Play Store so that you can exercise certain guidelines on apps on how much battery can be used and take precautionary measures to tackle battery hungry other stimuli causing faster battery draining.
Wipe cache files
Cache files faster the load time that occurs when you open an app but these temporary files are susceptible to errors and bugs which is the reason why we recommend our users to get rid of cache files every now and then.
Method 01: Navigate to 'Settings >> Apps >> Downloaded >> Clear Data >> Clear Cache'.
Method 02: Navigate to 'Settings >> Storage >> Cache Memory >> Delete it'.
Use recovery mode to wipe cache partition
This is the third method listed on this explicit guide on how you can clear cache files saved on your phone. For this, you'll have to boot into the recovery mode which is elaborated below.
Power down the device at first.
Press power button + volume up button together and hold it.
Let go the buttons once the display shows 'Android logo' on the screen.
As soon as you enter into the recovery mode, touchscreen won't work and then, you would have to press the volume up or down buttons in order to navigate and press the power button to select an option.
Tap on 'wipe cache partition' and there you have deleted the last bit of cache files stored on your device
Perform a hard reset
This is an irreversible method where although any minor or major software-related problems could be resolved, however, you need to take a backup of the data before doing the same.
To perform a hard reset, you need start by turning off the phone.
Next is to press the power button and volume up button together and hold it similar to how you did in the previous method on 'wipe cache partition'.
From amidst the options, you need to select 'wipe data/factory reset >> Yes — delete all user data'.
This will set the device in motion where it will perform restore factory which could take few minutes and then, you'll have a new-like phone in your hand.
Seek help from the experts
Considering that the problem is still there, it could a faulty or damaged battery or the battery has exceeded its life cycle causing it to suffer faster-draining problems. Seek help from an authorized service center to get the proper resolution to the problem.