Updating apps on iOS devices such as the iPhone XS Max is imperative as it tends to bring in new features and UI changes while strengthening the app and the overall system against intruders and bugs that could kick off a string of problems and issues with the phone. Updating apps is a simple easy-to-do job and takes a few minutes to do the same but it isn't always easy. The apps may face issues when updating by itself or via manual intervention. Well, here's a troubleshooting guide on how to fix apps that won't update on Apple iPhone XS Max or if you are facing apps updating error. Read along to know more about it.
Before proceeding, you need to check a few things if in case any of these functions or components are causing the issue. First of all, check if you have a working internet connection or not which includes both mobile data and Wi-Fi connection depending upon which one you use to update apps. Next, check if the router is working properly or not as it is quite common for routers to stay active but suffer overload due to constant use without giving it a rest which is only possible if you turn it off for some time. Luckily, any temporary issues with the router or modem or the firmware crash on its end or any temporary internet outage can be solved simply by rebooting the router or modem once. You can also check if the problem is due to any intermittent issues with your ISP or the mobile carrier if you are updating apps on mobile data.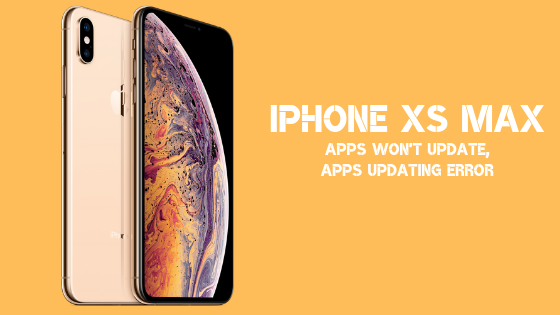 Furthermore, check if you have agreed to allow app updates on either mobile data or Wi-Fi connection since the apps won't update if you have set it on either of them and using other services to update an app probably. You need to verify if the storage is not the problem as inadequate storage can cause apps to stay outdated. If that's the case, you can free up some internal memory that will enable the apps to update freely. These are several things that you need to take care if you are encountering issues regarding apps that won't update on your phone or are showing any updating error, etc. If neither of these tips helped you in your endeavor to update the apps, proceed with the detailed troubleshooting guide prepared by GetDroidTips that must come handy in fixing the issue once and for all.
How to fix apps that won't update on your Apple iPhone XS Max, apps updating error?
First Solution: Toggle Wi-Fi or Mobile Data
Isn't it the most common and recommended troubleshooting method you would find on the internet? Well, indeed it is easy as whatever the problem with apps updating error, it could be a dubious and temporary internet issue that you can kickstart simply by toggling the Wi-Fi or the Mobile Data depending upon what you are using to update all the apps.
The process is simple as you just need to drag the Control Center and tap on Wi-Fi icon a few times to kickstart it. If you are using mobile data to update the apps, make sure you have enabled it via Settings >> iTunes & App Store >> Updates >> Enable Mobile Data. Now, pull the Control Center and repeat the same procedure as Wi-Fi I aforementioned but this time, do it with the Mobile Data icon and check if it makes any difference. You can also toggle Airplane or Flight Mode since it can also kick start any services interrupted due to a network-related issue.
Second Solution: Configure Date & Time
Invalid or inaccurate time and date set on your iPhone XS Max can exhibit similar apps updating error as well. This is because the Apple server will detect a different time than the actual time and thus, could pose as an issue and wouldn't permit apps to update either manually or automatically. However, configuring date and time will effectively fix the problem if indeed incorrect timing was the issue in the first place.
If you want to reconfigure date and time, launch the Settings app on your device and proceed to General.
Click and open the tab that says 'Date & Time' where you can either set the time manually or you can click on 'Set Automatically' that will configure the time and date on its once.
Once you are done with it, I would recommend giving your device a quick reboot which you can do so using this procedure.
Press the Side button and any of the volume button and hold it.
Drag the slider that says 'Slide to Power Off' towards the right and the phone will turn off.
Wait for a few seconds and then press the Side button and hold it until the Apple logo is not displayed to turn on the phone and that's all.
Third Solution: Manage App Restrictions
You can tighten the restrictions on permissions that app secure once downloaded or you can loosen the restriction parameter based on your requirements. You need to check if the app restrictions are inducing the apps to fail to update further so here's how you can disable it.
Open Settings app and navigate to 'General >> Restrictions'.
Here, enter the device passcode to gain access to the said section and toggle OFF the 'Installing Apps' section. Verify the same by going to the App Store to update an app or proceed with the next methods.
Fourth Solution: Log out and then, log in to the App Store Account
If the apps won't update on Apple iPhone XS Max is due to complications with the App Store Account or ID, you can give it a tweak by logging out of it and then logging in again and here's how you can do it.
Firstly, navigate to the Settings app from the Home screen.
Tap on 'iTunes & App Store'.
Click on your Apple ID that you set using your email address and select 'Sign Out'.
Wait for a few seconds and then launch the Settings app and proceed to 'iTunes & App Store' and use the email address to sign in to the Apple ID and hopefully, it goes through. Clear all the background apps and try updating the apps again to see if this method did help or not.
Fifth Solution: Clear cache memory of the App Store
Apps can create a tonne of problems on their own let alone the bugs and other intrusions. Although your iPhone XS Max is made to handle plenty of apps and services at once without any hassle, with time, the performance tends to take a dip which is why app updates and firmware upgrades came into play by optimizing the system and facelift the performance of the device as well. Cache memory can add a lot of pressure on the system as it is created and accumulated by apps over time and with their susceptibility to bugs and other issues, it is highly recommended that you clear cache memory of all the apps and especially the App Store which is currently the center of attraction here.
First up, clear all the background apps by dragging from the mid-bottom to the center position which launches the cards containing previous of all the apps you have used and hadn't exited.
Simply swipe up each card to exit and repeat the procedure for all apps.
To clear app cache for App Store, you can proceed to Settings >> General >> iPhone Storage and check out the App Store and clear the concerning cache files right away.
I would recommend doing the same with other downloaded apps and observe if there's any difference or not.
Sixth Solution: Upgrade to the latest iOS version
It may not be always but outdated iOS firmware has its own sets of issues that it has been handled. First up, you'll see a slight drop in the performance as the firmware gets older and you don't upgrade even though Apple releases a new iOS firmware update every other month or so. It also reflects by the virtue of bugs which are now truly powerful without any apparent protection against newer malware and viruses while hackers find it easy to penetrate and hack into a system with an outdated firmware compared to a stealthy upgraded firmware. Also, one of the reasons why you are facing trouble updating the apps because the outdated firmware might be obstructing the process or there's a bug causing the system to dwindle whenever you try to update an app and thus, follow this procedure.
First up, launch the Settings app which contains everything you need to check, toggle, and configure.
Proceed to the General >> Software Update section and check out if there's any update available.
Is there is an update available, download and install it and if there isn't, wait for a few days since a new firmware update might be on its way.
Seventh Solution: A few additional troubleshooting methods at your disposal
Still facing issues with updating the apps from the App Store, well, you can opt for these techniques that might end up getting you out of the issue before you make a run to an Apple Service Center.
Delete the app and reinstall
If there's a particular app which is facing updating error or if there are a few but not all the apps having issues updating, try deleting the app(s) and reinstalling it. This might fix jumpstart the apps to update themselves either automatically or when you manually update the apps. If this doesn't work, you can always refer to other techniques listed here to check if any of these techniques work in your favor or not.
Toggle automatic updates
If the apps are not updating on their own, maybe you need to toggle it and give it a shake to jumpstart it. You can access the automatic updates by diving into Settings >> iTunes & App Store >> Updates where you need to toggle it a few times that might jumpstart it.
Toggle Allow Mobile Data
Mostly, apps are set on auto-update on Wi-Fi only although there is an option to update the apps on mobile data as well. This means that if you are trying to update apps on mobile data when the default setting is Wi-Fi only, you won't be able to update the app and thus, the updating error will show up. However, you can turn on the mobile data access by diving into the Settings app >> iTunes & App Store >> Updates where you will see the option to turn on Mobile Data for updates. I hope it works in solving the iPhone XS Max apps won't update issue right away.
Eighth Solution: The Ultimate Fix
Unless you are trying to let go the apps updating error, you need to find a way out to fix these problems as the apps might forgo a few updates but might turn obsolete on certain iOS firmware version with time although this is applicable for those who are using their iPhone XS Max or any other iPhone without keeping the apps updated for a long time and thus, doesn't concerns all. To ultimate fix behind this problem is to book an appointment of any Apple Service Center or walk-in to a nearby third-party service center depending upon your preference and get the problem diagnosed and acted upon by the technicians.